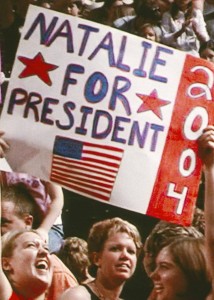 The Dixie Chicks run afoul of their country music fan base when lead singer Natalie Maines publicly mocks President Bush in the early days of the War in Iraq.
Almost everyone & everything in this documentary was new to us, but the directors stitch together a highly compelling narrative for both novices & aficionados. (JLH: 4.5/5.) Click here for our FF2 Haiku.
YOU GO, GIRLS: The Dixie Chicks Take the Long Way 
Review by FF2 Managing Editor Jan Lisa Huttner
Full Disclosure: I hate country music.  I once did a long project in Amarillo, Texas and the radio options (or lack thereof) made me nuts.  But I knew I had great respect for two-time Oscar-winning documentary film director Barbara Kopple, so when I saw her new film about The Dixie Chicks on my Chicago International Film Festival schedule last September, I immediately ordered tickets.
I have now seen Shut Up and Sing three times, and the more I know, the better it gets.  This is by design.  Kopple and her co-director Cecilia Peck set themselves a difficult task: they wanted to make a film that would satisfy the thousands (and probably millions of people) who have been and continue to be consistent fans, but they also wanted their film to appeal to those of us with no knowledge of– or even interest in–the "controversy."
In brief, here's what happened: Martie Maguire, Natalie Maines, and Emily Robison (aka The Dixie Chicks) were at the peak of success (with multiple Grammy awards, platinum & diamond record sales, and highly successful worldwide tours) when they arrived in London to kick-off their "Top of the World Tour" on March 10, 2003. The invasion of Iraq was imminent and protesters were marching in London (and in many other cities as well).
Buoyed by the spirited crowd and apprehensive on her own account as a mother, Maines, the lead singer, made a spontaneous remark that echoed all around the world: "Just so you know, we're ashamed the President of the United States is from Texas." By the time the invasion began ten days later, the Dixie Chicks were considered traitors by a large portion of their historic fan base and blacklisted by the radio stations most responsible for their continued revenue stream.
Kopple and Peck were not formally on board at this point, although they had connected with the group prior to the tour.  But as ripples from Maines offhand remark spread though the media, interest in having their story told by a filmmaker of Kopple's stature grew, and Kopple and Peck were given access to all the footage shot in London and immediately afterwards.  Kopple and Peck then brought their own team into the mix, filming Maguire, Maines, and Robison as they took tentative next steps which eventually lead to the creation of a whole new professional identity.
The main arc of the story is spread over three years, but Kopple and Peck choose to tell it as a spiral rather than a straight line.  The film keeps circling around critical events, so that at each point the viewer knows more than before and therefore has more understanding of what's really at stake.  "Fly on the wall" scenes capture intimate moments which are juxtaposed with "talking head" interviews and frenetic concert scenes.   Watching Shut Up and Sing the third time, I was frankly amazed by how much detail Kopple and Peck were able to capture in the brief 93 minute runtime.  I now feel I really understand why Maines' remark triggered such a huge outcry, and why this event became the catalyst for artistic transformation.
Ultimately the great accomplishment of Shut Up and Sing is to expand our notion of courage, and define new ways in which women can be genuinely courageous.  Despite what this year's Oscar candidates The Departed and Letters from Iwo Jima would have you believe, genuine courage requires more than carrying a gun. For Maines, courage means refusing to back down after saying something she believed, even though she apparently neither planned her remark nor anticipated the onslaught.  For Maguire and Robison, courage means facing the outrage of friends and fans, and believing in the future of their group as well as its past.
There is one sequence that mesmerized me the first time, and it grows more intense every time I see it: The Dixie Chicks are in Dallas getting ready to perform in the face of death threats.  But this is Dallas, and they know–and everyone knows–that someone in this town once had the determination to shoot a president. So no matter how much police protection they have, no, they do not feel safe.  Nevertheless, they get ready and they go on stage and they do their show.  John F. Kennedy–the author of Profiles in Courage–was watching over them that night, and I know he was impressed.
© Jan Lisa Huttner (1/31/07)
Top Photo: Fans cheer for The Dixie Chicks.
Bottom Photo (from left): Emily Robison, Natalie Maines & Martie Maguire aka "The Dixie Chicks."
Photo Credits: The Weinstein Company.  All Rights Reserved
EDITOR'S NOTE:
This review was originally posted on The Digital Filmmaker website (http://www.dvnetwork.net/tdf/dv).
2015 Update: Does Shut Up & Sing pass the Bechdel Test?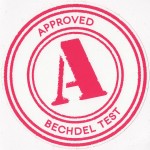 Yes!
The only man these women discuss is George W. Bush, and trust me on this readers: Bush is not a "love object" in this film!