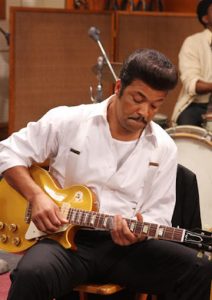 Cadillac Records is a musical history of Chicago Blues starring Adrien Brody as Leonard Chess and Jeffrey Wright as Muddy Waters (with Beyoncé Knowles as Etta James, Columbus Short as Little Walter, and a host of other wonderful actors in key supporting roles).
Ironically, it didn't get much buzz when it opened on December 5, and it quickly disappeared from theaters when it failed to receive any major Golden Globe nominations on December 11, but luckily it's now available to all on DVD.  Tremendously entertaining, Cadillac Records has powerful resonance; it was one of my favorite films of 2008. (JLH: 4.5/5)
Review by FF2 Editor-in-Chief Jan Lisa Huttner
Cadillac Records is a history of Chicago Blues, starring Adrien Brody as Leonard Chess and Jeffrey Wright as Muddy Waters.  Since musical bio-pics combine two of my favorite movie genres, I've seen all the likely candidates you can name, from The Glenn Miller Story (1954), Lady Sings the Blues (1972), and What's Love Got to Do with It (1993), to Ray (2004), Walk the Line (2005), and Dreamgirls (2006).  Think of similar films before, after, or in between, and I've likely seen them, too.  Telling a credible story in approximately two hours while still doing justice to great music is always a challenge.  So while I enjoyed all of these films, none of them fully satisfied me.  ButCadillac Records won me over completely!
The narrative arc of Cadillac Records begins in 1941 with the introduction of its two protagonists.  McKinley Morganfield was born in Rolling Fork, Mississippi in 1913; Lejzor Czyz was born in Motal, Poland (now Belarus ) in 1917.  By the time they meet in Chicago in 1947, Morganfield has created the persona of Bluesman "Muddy Waters" and Czyz has reinvented himself as entrepreneur "Leonard Chess," but they both know where they've come from, and they're both determined never to fall back.
Writer/director Darnell Martin lays down key events in each life, one after another, creating the parallel rails which kept them on track for 22 years.  While never denying their differences, her primary goal is to illuminate what they had in common.  Driving south through miles of open fields on their first road trip together, Muddy asks: "How come you didn't stay your ass in Poland?"  And Leonard answers: "How come you didn't stay your ass in Mississippi?"  Muddy just laughs.
Leonard has chutzpah, Muddy has talent, and together they agree to gamble big on post-War prosperity.  "This is America," Leonard insists early on.  "Stop with 'enough.'  The word is 'more.'"  The Holocaust, never mentioned but always present in the background, has united most Jewish-Americans with African-Americans in the battle against Jim Crow.  As simplistic as this may sound now, you won't truly appreciate what you see onscreen if you ignore this common frame of reference.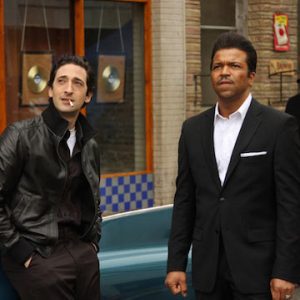 Most of the film takes place, as it should, right in the recording studio.  The Chess Records label (established in 1950) makes its first serious money promoting Muddy's music to Blacks, but Leonard and Muddy soon bring others into the fold.  Little Walter(Columbus Short) plays a mean harmonica.  Howlin' Wolf (Eamonn Walker) has a guttural roar.  Then Chuck Berry (Mos Def ) adds a country twang, and suddenly white audiences are dancing to his "Rock & Roll."  Leonard surrounds Etta James (Beyoncé Knowles) with strings, and she crosses over, too.  The times may be a-changin,' but that doesn't stop Willie Dixon (Cedric Kyles , aka Cedric the Entertainer ) from writing more hit songs.
Leonard is a workaholic and Muddy is a womanizer, yet they both find good, patient wives who tolerate their excesses. They have lots of children but no divorces—on screen or in life.  By the time Leonard dies (in 1969), their partnership has acquired a mythic dimension.  Over the closing credits, Martin tells us that they were both inducted into The Rock & Roll Hall of Fame in 1987 (one year after it opened).
The casting is impeccable.  This is the most multidimensional, fully adult performance of Adrien Brody's career (way better than the monotonous misery of his Oscar-winning turn in The Pianist).  Beyoncé Knowles and Columbus short both create indelible characters desperately clinging to their music—lifeboats rocked by emotional storms of inner anguish.  Mos Def provides just the right cockeyed charisma for Chuck Berry, and Eamonn Walker (a personal favorite of mine since his days as "Kareem Said" on the HBO series Oz) burns up the screen as Wolf.  Gabrielle Union is sexy, warm, and totally believable as Muddy's wife Geneva (particularly in her scenes with Columbus Short ), and Emmanuelle Chriqui manages to convey Revetta Chess' off-screen evolution, even though she's only seen in snippets.  Jeffrey Wright's singing may lack sufficient power in itself, but the music is so strong that it carries him through, and it's hard to imagine anyone doing a better job of embodying Muddy in the dramatic scenes.
Voice-over narration typically annoys me, but in this case there's a perfect fit.  Determined to cover the whole Chess/Waters marriage from courtship through "death do us part," Martin gives Willie Dixon (Cedric Kyles ) the strategic role of "traffic cop"—individuating the members of her huge cast while also providing historical context.  (Emmet Till, Rosa Parks, Elvis Presley, and Mick Jagger all make brief appearances, as do recording industry giants such as Alan Lomax and Alan Freed.)
Although he began his career as a songwriter, Willie Dixon ended his life as an impresario, arranging worldwide tours for Muddy and other American Blues giants (just as Cadillac Recordsshows) and helping them access their copyrights and royalties.  In 1993, Willie's widow Marie purchased the building at 2120 South Michigan Avenue that housed Chess Records for all the years depicted in the film.  She donated it to the "Willie Dixon Blues Heaven Foundation," and it's now a protected Chicago landmark operating under Willie's motto: "The Blues are the roots; the rest are the fruits."  So Martin's decision to use Kyles ' booming off-screen voice in this way is both historically accurate and cinematically sound.
Cadillac Records didn't get much buzz when it opened on December 5, and by December 12 most theaters were already pushing films on the Golden Globe list (almost all of which were of much lower quality).  Cadillac Records only received one Golden Globe nomination (in the Best Original Song category), and it was totally shut out when Oscar nominations were announced on January 22.  According to The Internet Movie Database, it grossed a paltry $8.1 million at American box offices and quickly disappeared from view.
What a historical irony!  On November 4, 2008, exactly one month before Cadillac Recordsopened in urban theaters, Barack Obama became President-elect of the United States.  People all around the world watched as Obama gave his acceptance speech that night in Grant Park (less than two miles from 2120 South Michigan Avenue!), and one of his first official acts, a mere two days later, was to name Rahm Emanuel his White House Chief of Staff.  What better moment to open this lively film about Chicago's first triumphant African-American/Jewish-American collaboration?  But alas, as I learned way back in college: "The owl of Minerva only flies at dusk."
Luckily, Cadillac Records is now available to all on DVD.  I've watched it three times already (once with the English subtitles on so I could catch all the dialogue), and I find it gets better and better every time I watch it.  Most of the musical numbers (artfully glued together by Terence Blanchard's subtle background score) still send shivers up and down my spine, and the more I look, the more I see the nuanced character development and carefully crafted period detail.
Shout out to Darnell Martin: You Go, Girl!  Now when ya' makin' that Bessie Smith biopic starring Queen Latifah?!?
---
Excerpts from Jan's Chat with Bluesman Jerry Portnoy
For an expert opinion on the overall veracity of Cadillac Records, I turned to Blues harmonica genius Jerry Portnoy (a longtime member of Muddy's band):
An extraordinary percentage of present-day Blues musicians are Jewish.  Of course I have real roots, because my father had a store on Maxwell Street [Max Portnoy & Son, King of Carpets], and Chicago's Maxwell Street Market was just a magical place.  Little Walter used to play right down the street from my father's store!
The wailing of the cantor—that kind of sound—there's a musical relationship to the sound of the Blues; the minor feel establishes a certain similarity between synagogue music and the music of Blacks singing in the Deep South.
Leonard Chess started out as a bar owner in a Black neighborhood, and they had bands to draw in the customers, and the bands were playing the popular music of the day: Blues.  So it was just a natural extension.  He decided to open up a recording arm; he'd record some of these artists and try to sell their records and promote their appearances in his club.  He was this guy who saw a synergy between his needs and what he loved about this music (and the artists who played this music).  It was a natural fit.
To a large extent, most of the film was accurate.  Chess did whatever he could to keep the wheels turning.  He knew the ins and outs of royalties, and there's no doubt he was operating in his own self-interest, but Muddy was never bitter, and I think he and Leonard got along well."
To read all about Jerry Portnoy, visit his website: http://www.harpmaster.com
Feb 17th phone interview conducted, condensed, and edited by Jan Lisa Huttner.
---
Jan's Final Thoughts
I never read my colleagues' reviews until after I've seen a film for myself, but sometimes I read some of their reviews later, and my mouth falls open: did they see the same film I saw???  In our defense, professional film critics see lots and lots of movies, and often we only have a chance to view something once before turning in our copy.  Furthermore, we usually watch films at preview screenings arranged just for us (so we can publish our reviews right before a film opens); therefore most of our editors can't do any fact-checking.  No wonder "s–t happens" sometimes!
In this specific case, I missed the critics screening, so I saw Cadillac Records for the first time in a regular theater on December 5.  Since I was already late, I decided to wait and watch it a couple of times on DVD before writing my review.  I even watched it once with the English subtitles turned on so I could catch every bit of dialogue.  Maybe I wouldn't have gone to such great lengths if I hadn't been so baffled by some of the things I read.  Of course, we're all entitled to our own opinions, and I'd never contest the ratings of colleagues who gave Cadillac Recordsthree stars, two stars, or none.  But having said that, I still think some of my colleagues saw things in Cadillac Records that weren't really there, but they didn't see some obvious things that were…
---
SPOILER ALERT:  If you have not seen the film Cadillac Records yet, then please DO NOT read any further, but if you have seen it, then please read on.
To my colleagues baffled by a dichotomy ("Darnell Martin can't decide if Leonard Chess was a man who genuinely loved Blues music or someone who merely exploited Blues artists for his own financial gain."), the answer is yes: yes, Leonard Chess genuinely loved Blues music (and the artists who created it), and yes, Leonard Chess made a great deal of money from the music he created with these artists.
Can anyone watch Cadillac Records and not see that Leonard Chess literally worked himself into an early grave?  His mind is always on business; he's forever "cooking the books" and struggling to keep people productive in spite of their damaged lives and self-destructive habits.
The period right after WWII was an extremely paternalistic era, so, of course Leonard Chess carried all the cultural baggage of his time.  But almost all of the Chess Records artists outlived him (by decades!), and I think fair-minded people will understand that he deserves some credit for this fact.  Minimally, Darnell Martin wants you to see Leonard Chess the way Muddy Waters saw him, and if you don't, then you won't really understand what Muddy and Wolf are fighting about when the time comes to pay for Little Walter's funeral.
So, OK, Jan, let's say Leonard Chess really did "love" Blues artists; was that love literal or metaphorical?  To my colleagues who come out of Cadillac Records convinced that Darnell Martin thinks Leonard Chess and Etta James had an affair, I say: watch again.
The Leonard Chess we see in Cadillac Records is consumed by his need to make money.  This is where Martin's references to Poland and poverty become critical.  He equates money with power at the most primal level: power to provide, rescue, and yes, "repair the world."  Darnell Martin shows Muddy Waters bringing Geneva Wade to orgasm, and she shows Leonard and Revetta Chess in a moment of marital coitus, so if she had wanted to show Leonard Chess and Etta James having sex she surely would have done so.
What Cadillac Records tells me is that great music was created through the elemental relationship Muddy Waters had with Little Walter—and that Leonard Chess had a parallel relationship with Etta James.  There are no easy labels for these intense collaborations.  We've known they had an "erotic" component since Plato wrote his Symposium, but what drives them is never the alignment of body parts.
The Leonard Chess we see in Cadillac Records knows this; while he's certainly drawn to the flame, we never see him singe his wings.  But Beyoncé Knowles singing the Etta James classic At Last over and over again while Barack and Michelle Obama dance their way through a night of Inaugural Balls… well now, I think this is just the kind of consummation the Leonard Chess of Cadillac Records truly craved!
© Jan Lisa Huttner (3/21/09) FF2 Media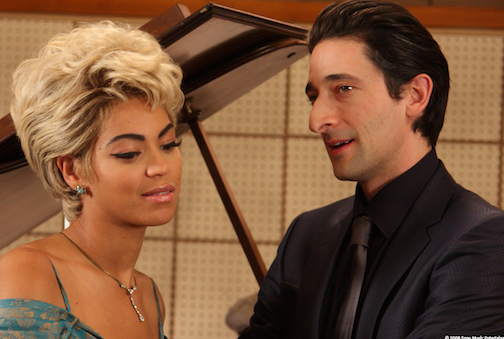 Top Photo: Jeffrey Wright as "Muddy Waters."
Middle Photo: Adrien Brody "Leonard Chess" and Jeffrey Wright as "Muddy Waters."
Bottom Photo: Beyoncé Knowles as "Etta James" and Adrien Brody as "Leonard Chess."
Photo Credit: Eric Liebowitz © Sony Pictures.