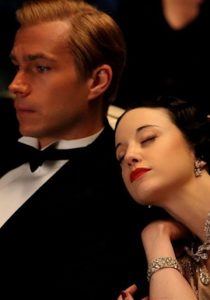 Pampered "Wally Winthrop" (Abbie Cornish) has reached a crisis point in her marriage to a man she thought was Prince Charming. The year is 1998, and Wally seeks refuge at Sotheby's New York at the precise moment in time when they are preparing for one of the biggest auctions in history: 44,000 items once owned by the Duke and Duchess of Windsor.
As Wally surveys the contents of the Windsor collection, Madonna and co-writer Alek Keshishian counterpoint Wally's private grief with the all too public travails of Wallis Simpson aka the Duchess of Windsor (Andrea Riseborough). Cinematographer Hagen Bogdanski fills the screen with gorgeous images, while composer Abel Korzeniowsk creates an equally lush and memorable soundtrack.
In the end it turns out that Madonna has used all her considerable talents to puncture, once and for all, the myth of "Wallis in Wonderland." Be careful what you wish for girls: "When the Gods want to punish you, they answer your prayers." (JLH: 4/5)
Review by FF2 Editor-in-Chief Jan Lisa Huttner
"When the Gods want to punish you, they answer your prayers."
These words are spoken by Meryl Streep in her Oscar-nominated performance as Baroness Karen von Blixen (aka Danish writer Isak Dinesen) in Out of Africa, but she is actually quoting a line from Oscar Wilde's 1895 play The Ideal Husband. And Wilde makes it clear that his character (Sir Robert Chiltern) is actually quoting someone else too. ("In all things connected with money I have had a luck so extraordinary that sometimes it has made me almost afraid. I remember having read somewhere, in some strange book, that when the gods wish to punish us they answer our prayers.") So this idea has been around for a long time now:
"When the Gods want to punish you, they answer your prayers."
I don't know this for a fact, of course, but I'm willing to bet that, like me, Madonna Louise Ciccone first heard these words when she saw Out of Africa in late 1985 (when it opened) or early 1986 (when it was nominated for eleven Oscars and received seven including Best Picture). And I'm also betting that whether she's conscious of it or not, these words are now implanted in Madonna's brain, as they are in mine, because they are the perfect epigraph for her new film W.E.
The main character in W.E. is a 27-year old beauty named "Wally Winthrop" (Abbie Cornish), who appears to be living a perfect life. She is married to a wealthy, handsome, and accomplished physician named "William" (Richard Coyle), and he has ensconced her in a huge Park Avenue apartment on Manhattan's exclusive Upper East Side.
Married now for several years, Wally wants a child and she thinks he does too, but William (never Will or Bill or anything less formal or more affectionate) is increasingly resistant, and the more Wally tries to seduce him, the more he avoids her. One night William gets paged. He tells her he must go to the hospital to care for a patient, but hours later, when he's still not home, Wally grows desperate. She calls the hospital, but they tell her they haven't seen him all evening. Where is he?
All of this is happening in February 1998, while Sotheby's New York is preparing for one of the biggest auctions in its history: 44,000 pieces—primarily personal items and household effects—once owned by the Duke and Duchess of Windsor. (Sotheby's Geneva had already auctioned off all the famous Windsor jewelry over a decade earlier.)
Wally, frightened and no longer sure who she can trust with her secrets, becomes a regular at the pre-sale viewings. Gradually we learn the source of this behavior: Wally is her nickname; her real name is "Wallis" (the name her mother gave her because of her own obsession with Wallis Simpson aka the Duchess of Windsor). We also learn that Wally worked at Sotheby's New York for a while before her marriage to William, so she has access to the entire collection as well as plenty of time to survey its contents.
Once the action shifts from the Winthrop residence to Sotheby's New York, W.E. hits its groove as Madonna and her co-writer Alek Keshishian counterpoint Wally's private grief with the all too public travails of Wallis Simpson. I can't imagine how anyone other than Madonna could have pulled this off in such splendid fashion. Who but Madonna could have had such access to all the designers who combined to create the lavish world of the Windsors? Couture gowns; glittering necklaces, bracelets, and hair ornaments; heirloom furniture; it is all on display in W.E.
"Little girls love fairy tales," says Wally ruefully; only now, with her own marriage turned sour, can she see what a bill of goods her mother sold her about the Windsor romance. And in the end, once the auction is over, Wally decides to write a book about her namesake: "I think it's important to tell the story from her point of view."
As good as Cornish is as "Wally," W.E.'s dominant figure is "Wallis" (played with heartbreaking perfection by Andrea Riseborough). Cornish has an Amy Adams problem here: no matter how good Adams was as "Julie Powell" in Julie and Julia (and Adams was very good!), no mere mortal can hold her own against the phenomenon called "Julia Child" (especially as embodied by the incomparable Meryl Streep). (Click here for my review of Julie and Julia for WomenArts.)
In 1996, People magazine published a Valentine's Day issue celebrating "the Greatest Love Stories of the Century." The Duke and Duchess of Windsor, who referred to themselves as "W.E." (for Wallis and Edward), are number two (right after Elizabeth Taylor and Richard Burton). Out of all the lovers of the 20th Century, Wallis Simpson and her husband—who was once King Edward VIII of the United Kingdom and the Dominions of the British Commonwealth, but who famously gave up his throne to marry the woman he loved—this couple is number two!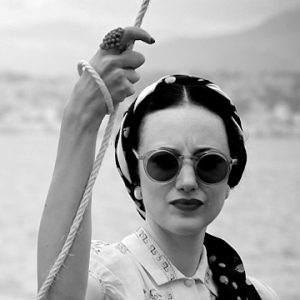 "Little girls love fairy tales." Indeed they do, and there is nothing wrong with that. But Madonna, now 54 years old and the mother of a teenage daughter, has clearly learned the difference between fantasy and reality. She herself has lived an extraordinary life, and that is one reason she can tell the twin stories of Wally and Wallis with such authority.
What we see on the screen (credited to cinematographer Hagen Bogdanski) is as beautiful as what we hear on the soundtrack (credited to composer Abel Korzeniowski). One would expect nothing less from Madonna, known first and foremost for her music, and then as a fashion icon. And in W.E., she has used all her considerable talents to puncture, once and for all, the myth of "Wallis in Wonderland."
Be careful what you wish for girls: "When the Gods want to punish you, they answer your prayers."
---
Jan Rants
Spoiler Alert: Please do not read until after you have seen W.E.
Sometimes I think my fellow film critics live on another planet. After screenings at the Venice Film Festival and the Toronto International Film Festival (both in September of 2011), followed by limited release in New York and Los Angeles in December (so it could qualify for Academy Award nominations), W.E. had such bad buzz that in the entire city of Chicago, it is only opening tomorrow in one theater and even that one is way off the beaten path. (It's the Regal Webster Place 11, just off the intersection of Clybourn and Southport.)
The reviews are scathing, excoriating Madonna for her supposed obsession with luxury, as if these same critics had no idea that one of Madonna's most famous early videos was "Material Girl" (in which she spoofs Marilyn Monroe singing "Diamonds are a Girl's Best Friend" from Gentlemen Prefer Blondes).
Well, maybe it's already too late to knock any sense into them (since they've already had their say), but here are some easily verifiable facts for the rest of you:
* According to the online website Voguepedia, Vogue magazine ran its first photo of Wallis Simpson in 1935. One year later, she became the first woman to be named "Person of the Year" by Time magazine. (The second woman was Queen Elizabeth II in 1952. The third was Corazon Aquino in 1986. So far, that's it although "American Women" were honored as a category in 1975.) After decades of prominence on the International Best-Dressed list, Wallis Simpson was inducted into the newly formed Fashion Hall of Fame in 1958.
* When Sotheby's Geneva auctioned off the Windsor's jewelry collection in April 1987, they raised $45 million for Wallis Simpson's primary beneficiary, the Pasteur Institute in Paris. (This was approximately seven times the pre-sale estimate.)
* When Sotheby's New York auctioned off the Windsor's personal effects in February 1998, they raised more than $23 million, most of which was donated to various charities designated by Mohamed Al-Fayed in honor of Princess Diana. (The pre-sale value was approximately $7 million.) The auction catalog—a three-volume, encyclopedia-sized tome—sold for $90.
* On April 29, 2011, when Diana's son Prince William married Kate Middleton in Westminster Abbey, approximately 24.5 million people in the United Kingdom watched the event live. Estimates of the worldwide global audience range from one to two billion people.
Suffice it to say, therefore, that Madonna has neither invented nor exaggerated this enormous, unquenchable interest in British Royalty!
So why is it that movie audiences are routinely encouraged to identify with male mentors like Obi Wan Kenobi ("Use the Force, Luke!"), but when a female film character gets advice from an idealized mentor ("Get a life!," says Wallis to Wally in one sequence, and guess what, Wally does!), most critics—most of whom are male—snicker?
I find it amazing that with all of her impressive credentials, Madonna gets so little support. But here's some consolation for her. Guess what the Rotten Tomatoes score is for Out of Africa? Answer: 59% = Rotten. Sort by "rotten," and you will find 14 reviews, 11 of which are by male critics (e.g., "Fantastic acting or not… seven Oscars or not… I was bored."), and 3 of which are sexless (Film4, TimeOut, and TV Guide's Movie Guide).
As it happens, Out of Africa is one of my all-time favorite films. It was one of the first films my husband and I entered when we created our Films for Two database way back in 1999, and we both gave it really high scores.
So if you're a fan of Out of Africa too, then I suggest you ignore the male-dominated "consensus" on Rotten Tomatoes and see W.E. for yourself. I think you'll be glad you did!
© Jan Lisa Huttner (2/9/12) FF2 Media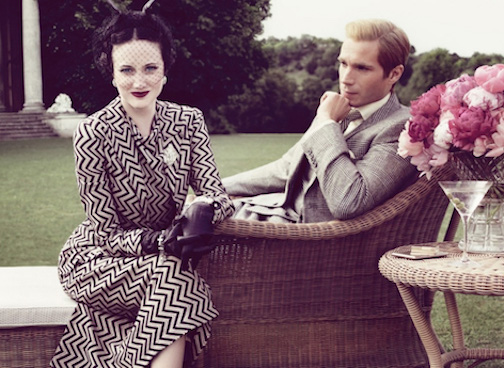 Top Photo: James D'Arcy as "Edward" and Abbie Cornish as "Wally."
Middle Photo: Abbie Cornish as "Wally."
Bottom Photo: Abbie Cornish as "Wally" and James D'Arcy as "Edward."
Photo Credits: Anthony Souza