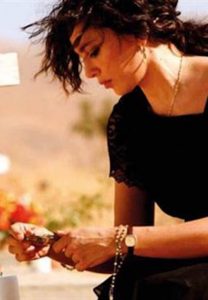 Nadine Labaki's breakout film Caramel was firmly set in contemporary Beirut, but her new film Where Do We Go Now? is magical realism.
A mythical Lebanese village, surrounded by landmines, is dominated by one church & one mosque. Exhausted by intramural feuding & senseless death, the women of the village seek ways to distract their men long enough to hide all the guns. Brilliant dramedy: Romance! Laughter! Tears! (JLH: 4.5/5)
Review by FF2 Editor-in-Chief Jan Lisa Huttner
Lebanese director Nadine Labaki was born in Baabdat (a resort community in the hills above Beirut) on February 18, 1974. She was barely a year old when four people in East Beirut were killed in a drive-by shooting in April 1975, igniting a civil war that blazed through hot and hotter phases for over 15 years. By the time the Syrian military ended the war by entering Lebanon in force in October 1990, Labaki, already an adolescent, had known nothing but a lifetime of conflict.
When we met face-to-face during her Chicago Press Day on May 1, Labaki told me: "We used to spend a lot of our time at home—no school, nothing. We couldn't even play outside." She immersed herself in films and television shows, and created a personal fantasy world. "Very soon I understood that in order to be able to create these worlds that have nothing to do with my world, these stories that have nothing to do with my story, the way was to become a filmmaker."
Using her technical skills to create increasingly popular commercials and music videos, Labaki built her reputation slowly and was finally able to direct a feature film, Caramel, in 2006. Worldwide praise for Caramel (one of the most commercially successful films ever directed by an Arab woman) now weighs heavily on Labaki.
"I truly believe that cinema is one of the most powerful non-violent weapons for change. I truly believe it because you are able to entertain people but at the same time tell them stories about the world… I am not looking for confrontation. I'm just trying to say: 'What if we could explore a different way of thinking? What would happen? What if we can see things in a different perspective?' It's an invitation from me to see things in a different way."
In her new film Where Do We Go Now?, Labaki pulls out all the stops. The film is an emotional rollercoaster ride that flies from high to low and back again with dazzling dexterity. Although I sincerely hope she is still at the beginning of a long and fruitful career, Where Do We Go Now? is so accomplished that Labaki's legacy is already assured.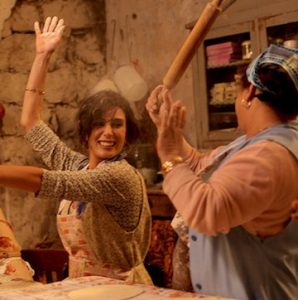 Where Do We Go Now? is a work of magical realism—a Middle Eastern riff on a Latin American tune ("Like Water for Hummus" so to speak). It is set in a mythical village that is dominated by the church and the mosque which sit side-by-side at its center, and surrounded by landmines at the fringe.
Men who have nursed grudges for generations await the next conflagration, while women dressed in black tend to the communal cemetery. They beat their breasts in unison as the tears flow from their eyes, but the life force will not be denied. Romance vibrates through the makeshift outdoor movie theatre, and children run abundant through the streets.
The plot is anchored by the coming and goings of two teenagers, "Roukoz" (Ali Haidar) and "Nassim" (Kevin Abboud), who haul supplies in and out of the village. One day Roukoz, who is Christian, inadvertently defiles his own church, setting off a chain reaction. Afraid new acts of "revenge" will result in another cycle of violence, the women of both communities plot and scheme together to defuse the escalating tension. Sometimes their actions result in high tragedy, sometimes in low comedy.
Labaki plays a widow named "Amale," and she surrounds herself with an enormously likeable group of "real people." No one in the large cast of villagers (except for Labaki herself, of course) has any prior screen credits. No one seems to be "acting" in this film; everyone just seems to be who they are.
This unforced naturalness perfectly captures Labaki's intentions. Even in big dramatic scenes that require lengthy emotional speeches, the uncanny casting of novices like Claude Baz Moussawbaa (who plays Nassim's mother "Takla") is spot on. To play her love interest "Rabih," Labaki chose an athlete named Julian Farhat who seduces the audience with a shy smile and robust physicality in a duet set to playfully sensuous music by Khaled Mouzanar (Labaki's husband).
I expect my colleagues—especially my male colleagues—to complain about "shifts of tone" in their reviews, but that's precisely Labaki's point. "Real life" has no consistent tone. Although she sometimes exaggerates a bit for effect, Labaki's commitment is to the amazing miracle of human life as it is actually lived. The little girl who spent 15 long years of war filling her imagination with dreams and fantasies has now become a masterful conjurer able to evoke raucous laughter one moment and misty tears the next.
Brava!
© Jan Lisa Huttner (5/18/12) FF2 Media
Top Photo: Nadine Labaki as "Amale."
Middle Photo: Nadine Labaki as "Amale" and Claude Baz Moussawbaa as "Takla."
Bottom Photo: Nadine Labaki as "Amale."
Photo Credits: Rudy Bou Chebel