6/14/13: Click here to read my "Jewish Take" on Fill The Void (posted on the JUF website).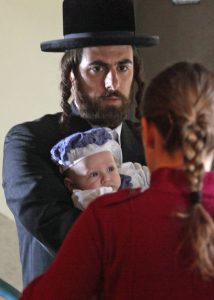 Imagine: An Israeli woman filmmaker garners worldwide awards & nominations but I am not rooting for her? Despite beautiful technique and deep anthropological detail, this story of a young woman pressured into marrying her dead sister's husband is like an Orthodox version of Jane Eyre.
Next time Rana Burshtein should focus on directing and get herself a better screenwriter. (JLH: 3/5) Click HERE for a Jan/Rich FF2 haiku.
Review by FF2 Managing Editor Jan Lisa Huttner
Last year, Rama Burshtein set the Israeli film scene ablaze, receiving thirteen Ophir nominations ("the Israeli Oscar") from the Israel Film Academy for her very first full-length feature Fill The Void. When Ophir Awards were presented in Haifa on September 21, Fill the Void received seven, and as the winner of the Ophir Award for Best Picture, Fill the Void automatically became Israel's candidate for the 2013 Best Foreign Language Film Oscar.
As a Jewish critic with an international reputation as an advocate for women filmmakers, you would think I'd be jumping for joy. After all, this was only the second time in 31 years that a woman had received an Ophir Award in the Best Director category, and only the fifth time in 45 years that a film directed by a woman was Israel's candidate for the BFLF Oscar. So why am I gritting my teeth?
Fill the Void is the story of "Shira" (Hadas Yaron), the eighteen year old daughter of a prominent religious family based in Tel Aviv. In the opening moments of Fill the Void, Shira is with her mother "Rivka" (Irit Sheleg) at the supermarket, and it looks like a Jewel or a Dominick's or any one of the myriad grocery stores you might find in any modern metro. Who are they speaking with on their cell phone? Maybe they are consulting with a friend about what ingredients are needed for a special recipe?
The person on the other end is actually a matchmaker, and what they are shopping for is a prospective groom. Rivka and Shira sneak over to the aisle specified by the matchmaker and see a young man who does not see them. Nevertheless, one look is enough; without ever speaking with this young man, Shira agrees to marry him.
But in the midst of Shira's happy report about her trip to the supermarket, her older sister "Esther" (Renana Raz) excuses herself, walks into the rest room, and never emerges. Esther, heavily pregnant, has had a miscarriage, and Shira's marriage plans are put on hold as a grieving family copes with the death of a beloved daughter and the birth of a motherless grandson.
If we are just watching what is on screen without paying too much attention to the dialogue, everything will look totally familiar to us. Like women everywhere, Esther, Rivka, and Shira spend much of their screen time in kitchens, grocery stores and other domestic spaces. It is only when their men enter the frame that we feel the impact of religious orthodoxy on daily life. 
Holding our hearts in her hands after Esther's tragic death, Burshtein wants us to believe that Shira has full freedom to choose her own fate, and therefore, only prejudiced people believe that women are "second class citizens" in Orthodox Jewish communities. Shira and Shira alone can say yes to one prospective husband and no to another, and therefore, the rest of us, whatever our own religious beliefs may be, have nothing to fear from the Orthodox Jewish community.
I have no quarrel with Burshtein-the-Director. She has, in fact, made a gorgeous film that is filled with well-defined and deeply-cherished anthropological detail. She has elicited lovely performances from all her cast members, particularly Yaron (who had very little film acting experience prior to being cast as Hadas). And she clearly worked very closely with her cinematographer (Asaf Sudry) and her costume designer (Hani Gurewitz) to create glowing images of religious life.
But I am not so enamored with Burshtein-the-Screenwriter. To my eyes, she has "gone Hollywood," creating a Jewish version of Jane Eyre that deliberately romanticizes the story of a young woman falling prey to an older man who is still in thrall to his first wife.
I am sure Burshtein would be genuinely shocked to hear me say this, but I also think Fill The Void is propaganda. I felt this the first time I saw Fill The Void last September at the New York Film Festival. I felt this again when I saw Fill The Void a second time last February at an IFP screening. (Fill The Void was on the IFP screening list because it had received two Independent Spirit Award nominations: Best First Feature and Best First Screenplay.)
When Charlotte Bronte wrote Jane Eyre way back in the middle of the 19th Century, she gave her novel a triumphant but hard-earned ending. Bronte equalized Jane's relationship with Mr. Rochester by providing her with a large inheritance from her uncle (John Eyre) and a marriage proposal from an impressive suitor (St. John Rivers). And oh yes, she blinded Mr. Rochester in the fire that destroyed his mansion (Thornfield Hall). In other words, Bronte gave her heroine genuine options. So if Jane still chooses to marry Mr. Rochester anyway, purging her mind of the now-dead madwoman in the attic, that is her choice. But I challenge you to watch Fill The Void and walk out believing Shira's "choice" is even half as free.
SPOILER ALERT:
Please do not read until after you have seen Fill the Void
Old English Proverb: "Nothing succeeds like success!"
I have a very healthy respect for success, and I am always impressed when an underdog beats the odds. As of today (6/19/13), Fill the Void has an 85% "fresh" score on Rotten Tomatoes (which is really, really fresh), and I heard a promo on NPR this morning announcing that, even though it has been playing in Metro NYC theatres for almost a month already, Fill the Void will expand to even more theatres come Friday.
Frankly, in this particular case I am more than amazed; I am gobsmacked! Many of my colleagues (including several women who I know to be strong-minded and thoughtful writers) are buying into a film I have called "propaganda" (which is a very harsh word that I would never use lightly)… How can this be?
As I said above, I was skeptical the first time I saw Fill the Void and just as skeptical the second time. When Shira finally made her "choice," everything inside me screamed: "No!" This was my spontaneous reaction, even though I never had any doubt that this would be the totally predictable ending.
So let me ask those of you who have already seen Fill the Void some questions. (I don't want to bully anyone, so I honestly don't care if you take the time to answer me or not. Just ask yourself these questions and see if any of the answers matter to you.)
What has happened to Shira's first suitor (the guy in the grocery store)? Their marriage has already been announced, so why is it suddenly cancelled with no explanation?
What's wrong with Frieda? We never hear Esther tell anyone that she wants Yochay to marry Frieda if anything ever happens to her. That's something Frieda says to Shira, so maybe it is true; who knows? But why does Yochay recoil when Shira tells him this? Frieda seems to be a perfectly acceptable person, and given her connection to the family, why not? And doesn't it seem awfully convenient when the matchmaker suddenly proposes to Frieda himself, making the whole problem of Frieda's fate disappear?
Where are Shira's siblings? Religious Jewish families are typically quite large (with as many as eight or nine children in the house), so why is Mordechai depicted not only as Rivka's first grandson, but as her one and only grandchild?
Why such a big rush to marry Yochay off so fast, and why to someone as far away as Belgium? Mordechai is still a tiny infant, which means Esther is barely in her grave. It's not like Yochay needs immediate help caring for Mordechai. Rivka has already made both herself and Shira totally available to her son-in-law and her grandson.
And now the $64,000 Question: Why does Shira agree to marry Yochay? Here I must be blunt: Isn't Yochay just a bit too handsome and a bit too sexy to be anything other than a conventional leading man (albeit dressed in unconventional clothing)…?
One night, Shira and Yochay are alone together in the moonlight, and Shira says: "You are standing too close." And Yochay replies: "It could have been closer." This is swoon-inducing stuff, meant to melt the resolve of an innocent virgin and set the hearts of all romantics aflutter. So please don't tell me Shira marries Yochay for the sake of her family.
Dear Reader, the filmmaker has set us up to root for this union. She has cleared away all the obstacles and cast her leads to sweeten the outcome. Many of my colleagues have compared Rama Burshtein to Jane Austen. So maybe if Mr. Collins had been half as yummy as Yochay, we would all believe that Mrs. Bennet was a very wise woman. But I am quite sure that was never Jane Austen's intention!
Top Photo: Shira opens the door for Esther's husband Yochay (Yiftach Klein) with baby Mordechai.
Middle Photo: Women in an Orthodox synagogue must sit behind a barrier (called a mechitza) so they do not "distract" men from prayer. Left: Shira's mother Rivka (Irit Sheleg). Right: Esther's Best Friend Frieda (Hila Feldman). Shira (Hadas Yaron) is in the middle.
Bottom Photo: Shira, all dressed up in her wedding finery, gets ready to marry her dead sister's husband.
Photo Credits: Karin Bar/Sony Picture Classics
Q: Does Fill the Void pass the Bechdel-Wallace Test?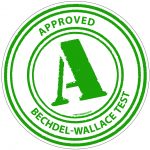 Only kinda sorta.
Since this film is almost totally focused on the issue of marriage, scenes of women discussing anything else are rare. However, there are some instances of sisterly bonding at the beginning, and Shira's mother Rivka does fret about her daughter Esther's pregnancy and then mourn her tragic loss, so the answer is yes… but by a hair…