Ralph Fiennes and Felicity Jones star as secret lovers Charles Dickens and Nelly Ternan in the film adaptation of Claire Tomalin's bestselling biography. The slowly-paced love story allows Jones to shine in her emotionally complex role as an infatuated, frustrated young woman in love with an older man. (BKP: 4/5)
Review by Associate Editor Brigid K. Presecky 
This is a tale of woe, this is a tale of sorrow, a love denied, a love restored to live beyond tomorrow. Lest we think silence is the place to hide a heavy heart, remember to love and be loved is life itself, without which we are naught. – The Frozen Deep
Screenwriter Abi Morgan and Director Ralph Fiennes set the British drama on two timelines. In the late 19th Century, we meet Ellen "Nelly" Ternan (Felicity Jones) as a mother and wife, watching her son perform in his school play, The Frozen Deep, material written by Wilkie Collins with the guidance of Charles Dickens. Without Jones speaking a word, the audience can sense Nelly's distraction.
Flashbacks fill us in. The first in 1857, as middle-aged Charles Dickens casts a young 18-year-old Nelly, her mother "Frances" (Kristin Scott Thomas) and sister "Maria" (Perdita Weeks) in a production of The Frozen Deep in Manchester. With brief moments alone together, the married Charles Dickens begins to form a bond with the passionate, intelligent young Nelly with whom he shares a common passion for literature.
Their mutual adoration for each other is obvious to Frances, who wants her daughter to have a stable, financially set future. She encourages Nelly to pursue a life with Charles – even if it means living with a scandalous secret. Before Nelly can agree to anything, Dickens announces his separation, leaving his wife and children in devastation. Joanna Scanlan gives a heartbreaking performance as Catherine Dickens, a woman left abandoned and unloved by her infamous husband.
Nelly and Charles create their life together, one filled personal and professional triumphs, along with sadness and frustration in keeping their life out of the public eye.
Although Ralph Fiennes pulls double duty as director and star, the film belongs to Felicity Jones. The decades-long time span allows her to play Nelly in different stages in her life, evoking emotions from youthful naivety to a regretful, sorrowful woman in despair. From the acting to the costuming department, almost every element of the film immerses you into 19th Century England.
So much is known about Charles Dickens, the characters he created and the stories he told. Like so many conceptualized names, cemented in history as artistic giants or creative powerhouses, it humanizes the man and peeks into a little-known part of history. In The Invisible Woman, screenwriter Abi Morgan shifts the perspective by introducing the real-life character of Ellen "Nelly" Ternan, who, unlike Dickens, is not fictionalized by the passage of time.
© Brigid K. Presecky FF2 Media (12/27/13)
Top Photo: Nelly (Felicity Jones) as a woman.
Bottom Photo: Nelly, with Dickens, barely on the cusp of womanhood.
Photo Credits: David Appleby, Courtesy of Sony Pictures Classics.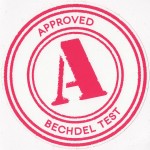 Q: Does The Invisible Woman pass the Bechdel Test?

Yes. Nelly's mother "Frances" (Kristin Scott Thomas) wants a stable life for her daughter. However, the majority of the scenes focus on Nelly's relationship with Charles Dickens.
Director Ralph Fiennes casts himself as "Charles Dickens" in a film about his obsession with the teenage actress who became his secret mistress. Then Dickens dies, leaving her, at barely 30, with the rest of her life to live. Felicity Jones is luminous as "Nelly" & Joanna Scanlan is equally good as Catherine Dickens, brutally discarded after giving her life to her mercurial husband & their 10 children.
We wonder today how JFK managed to cavort with so many women with no public comeuppance, but in this story author Charles Dickens—almost as famous in his own time–romances a girl on the cusp of womanhood & no one betrays him for over a century! But as screenwriter Abi Morgan shows, powerful men have always been able to set the terms of most transactions. (JLH: 4/5)
Click HERE for our FF2 Haiku. Note yet seen by Rich.