In this tense, terrific drama from Colombia, teenage Mateo and his mother, Made (pronounced Mah-Day), find themselves in the grip of poverty. Made, working tirelessly to keep her son safe from urban warfare, knows there are no short cuts, so she collaborates with other women at a local laundry to open a lime orchard. (JLH: 4.5/5)
Written & Directed by Maria Gamboa. Click HERE for our FF2 Haiku. NOT YET SEEN BY RICH.
*************************
Maria Gamboa's debut feature finds teenage "Mateo" (Carlos  Hernández) and his mother "Made" (Miriam Gutiérrez) fighting for their dignity in the midst of Colombia's internal gang wars.
The film begins with Mateo and two buddies strutting through a marketplace in Barrancabermeja (due north of Bogota), picking up protection money for local mob bosses. When he gets home, Mateo gives some of his earnings to his mother Made (pronounced Mah-Day), who responds with an icy glare. The next morning, Made reminds Mateo that he will be expelled from school if he doesn't join a local drama program run by a priest named "David" (Felipe Botero). Mateo doesn't want to go, but Made insists, so he grudging agrees to give it a try.
From here, Mateo tells three overlapping stories. The first story is set in a mostly-male gang world. This story is very familiar from many similar films set in different countries all around the world. The second story is set in the world of the teenage drama group, in which young men and women interact as equals. This story is familiar too, and follows a relatively predictable trajectory. The third story, on the other hand, is set in a female-centric world in which women working for very low wages band together to improve their lot through microfinance projects. Although there have been a couple of great documentaries on this topic (such as Rafea: Solar Mama), this story has rarely been shown on screen in narrative feature form before, and it propels Mateo from the ordinary to the extraordinary. 
It goes without saying that even though he is instantly mesmerized by a beautiful dancer named "Anna" (Leidy Niño), Mateo has trouble fitting into the drama program. David's touchy-feely "trust" exercises enrage Mateo, and he storms out. What keeps him in the group, however, is the intervention of a gang leader named "Walter" (Samuel Lazcano), who we soon learn is also Made's brother. Walter sees a chance to take advantage of the situation by getting Mateo to gather information about David and his theater group members. In exchange, Walter – now acting the part of a proud uncle — promises Mateo a higher status in the gang, and he gives Mateo his own gun as a sweetener.
Meanwhile, Made, who is a single mother, goes to work every day in a laundry. She and her co-workers – all of whom are women – have heard that other women nearby started a profitable lime orchard, so they decide to pool their pennies and do likewise. For some of the women, this investment represents a real sacrifice, but when Made offers to pay more than her fair share, she is rebuffed. Then a friend takes Made aside and tells her on the QT that the other women don't want her money because they all know it comes from Mateo and therefore "her money" is tainted by his gang activities.
If you look at Mateo as a coming of age story with a teenager guy at the center, you will see a very good albeit somewhat routine film from Colombia. But if you look at Mateo as a story about a single mother fighting with all her might to make a better life for her son, then you will see an extraordinary film about one woman who stands in for women all around the world who daily earn our empathy and respect.
Director Maria Gamboa, her co-screenwriter Adriana Arjona, and her whole cast and crew have created a vibrant world filled with vivid characters. By the inevitably violent climax, I cared about them all so deeply that my heart was in my throat. I was transported from a dark Manhattan theater right into a slum in Colombia, and for me this is the essence of the most powerful movie-going experiences. Days later, I still find myself thinking about these people and their world, and hoping against hope that somehow life will be good to them.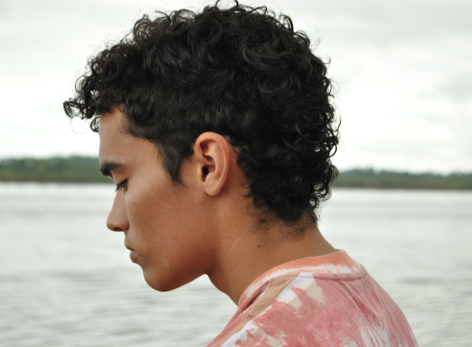 Review © Jan Lisa Huttner (7/17/14)
Photos: Carlos Hernández as "Mateo."
Q#1: Does Mateo pass the Bechdel test? 
Definitely!
Without the relationships Made has with the women who surround her (first at the laundry and then at the orchard), Mateo would never be so much greater than the sum of its parts…
Q#2: Where does Mateo take place?