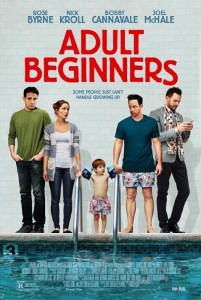 BONUS POST: 2 Reviews from 2 Points-of-View!
Nick Kroll and Rose Byrne star in a film about a washed-up man living with his sister's family, a well-intentioned project that relies on its talented cast to carry a middle-of-the-road plot. Directed by Ross Katz and co-written by Jeff Cox and Liz Flahive, Adult Beginners has just enough heart and humor to keep the audience sufficiently entertained. (BKP: 4/5)
*************************
Review by Associate Editor Brigid K. Presecky
The comedy opens with pure satire as "Jake" (Nick Kroll) creates a commercial to sell new investment – an eyeglass gadget similar to Google Glass. A few minutes into the film, however, the project collapses and Jake is left completely broke. His solution? Return to his childhood home where his semi-estranged, pregnant sister "Justine" (Rose Byrne) resides with her husband "Danny" (Bobby Cannavale) and their three-year-old son.
They make a deal: Jake can sleep on the guest air mattress for three months in exchange for nannying duties. This way, exhausted Justine can focus on her work as a school guidance counselor and Danny can build their new, downsized house. In predictable fashion, Jake and Justine grow closer as they rehash their past and reconnect as adults. Like any family drama, there are layers to the relationships implying a past life that you have never – and will never – see. The combination of comedy and drama add up to a heartfelt, albeit familiar, story about the enduring support of family.
Rose Byrne stands out among the cast with her understated acting range. She defies the commonplace norms and embraces roles that stray from the typical stay-at-home-mom or workaholic witch. Instead, Byrne brings a realism to each role all while managing to hide her Australian accent. Nick Kroll is comedically charming, particularly in his scenes with the young toddler, and brings out his serious side as down-and-out Jake.
The mix of comedy and drama make Adult Beginners enjoyable and relatable, despite a familiar plot. The film survives on the multitude of storylines occurring at the same time: Justine's marriage, Justine's job, Jake's job, Jake's relationship, Justine's pregnancy, etc. It never feels complicated, but is interesting enough to keep the audience engaged. Cameos from Joel McHale and Jane Krakowski pop up every so often, making the heartfelt movie that much more enjoyable.
Review © Brigid K. Presecky (4/23/15)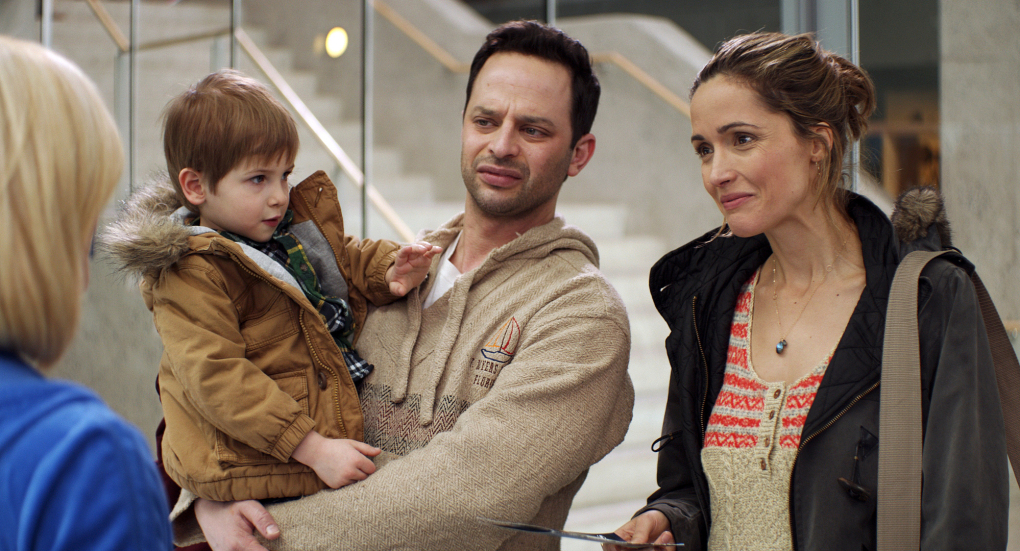 Presecky Photo Pick: Nick Kroll as "Jake" and Rose Byrne as his sister "Justine."
Photo Credit: Radius-TWC
Q: Does Adult Beginners pass the Bechdel Test?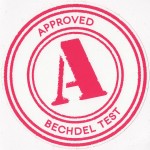 Yes.
Woman-to-woman scenes all occur at Justine's workplace at a the high school. She has a close relationship with one of her students played by Sarah Steele of The Good Wife (who is mysteriously missing from the IMDb credits). They discuss potential colleges and the future. It's sweet and heartbreaking at the same time as Justine remembers her own unfulfilled potential.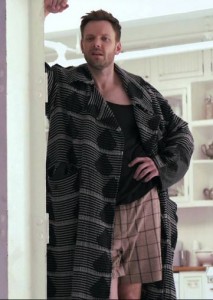 BONUS POST: 2 Reviews from 2 Points-of-View!

"Jake" (Nick Kroll) loses all his money after a business venture crashes and burns. With no moves left, he ventures back to his hometown, inviting himself to stay with his pregnant sister "Justine" (Rose Byrne), her husband "Danny" (Bobby Cannavale), and their 3-year-old son. However, as a condition to stay, Jake must play nanny to his young nephew.
Hilarious consequencess ensue, but more importantly the estranged siblings find solace in each other with the realization that neither has it all figured out. (JEP: 3.5/5)
*************************
Review by Contributing Editor Jessica E. Perry
Adult Beginners directed by Ross Katz and written by Jeff Cox and Liz Flahive, had the potential to be great but the end result was just good. "Jake" (Nick Kroll) is a self-absorbed entrepreneur who put all his eggs in one basket and is financially devastated when his business fails spectacularly. Turns out, Jake is not the type to pick himself up, dust himself off and start over. And let's be honest, flimsy encouragement from his friend "Hudson" — Joel McHale playing Joel McHale (not really, but if you know any character McHale has played, you know Hudson as well) – does nothing to rouse Jake from his well-deserved slump. So what else is there to do but high tail it out of Manhattan and return to your hometown?
Uninvited, Jake knocks on the door of his childhood home, where his sister now lives with her family. Enter "Justine" (Rose Byrne), an overwhelmed pregnant mother, who knew nothing of her brother's arrival. From how little they know about each other's lives, it is apparent Jake and Justine are estranged siblings, but all is about to change as Jake invites himself in.
As a condition to stay, Justine and her husband "Danny" (Bobby Cannavale) tell Jake that he must nanny their son Teddy for $300 a week for free room and board. Jake reluctantly agrees and hilarious scenarios follow. Case in point, when Jake takes Teddy to the park in a suitcase because he cannot figure out how to open the stroller.
During a family Skype session, their father insists it is time Teddy learns to swim. Apparently he waited too long to teach Jake and Justine, and it is something he regrets. At her father's bequest, Justine signs Jake and Teddy up for a "Mommy & Me" swim class. Naturally, Jake is not having it unless Justine agrees to go as well. The two adults are both terrified of the water, and after an embarrassing first swim class with Teddy, the swim instructor (Jane Krakowski) suggests that Jake and Justine take an "Adult Beginners" swim class. Their answer? A resounding no.
Don't let the title fool you, Adult Beginners has very little to do with swimming and everything to do with admitting you don't have it all together, and finding yourself along the way. The film was enjoyable but sleepy. The second act dragged slowly along and the ending was predictable. As a huge fan of Rose Byrne I was excited for Adult Beginners, but sadly Justine was a character I had already seen from Byrne before. Although Adult Beginners may be a story we've all seen many times, it was an enjoyable new take on an old plot, and there were moments where I found myself laughing out loud.
Review © Jessica E. Perry (6/3/15)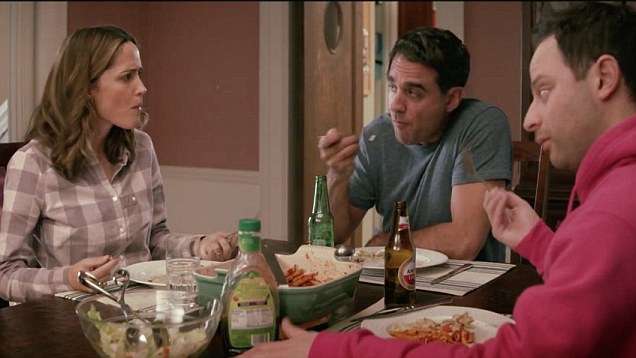 Top Perry Photo Pick: Joel McHale as "Hudson."
Top Perry Photo Pick: Rose Byrne as "Justine" with Bobby Cannavale as "Danny" and Nick Kroll as "Jake."
Photo Credit: Radius-TWC
Q: Does Adult Beginners pass the Bechdel Test?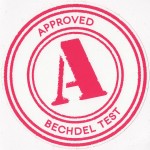 Yes.
Justine works at a high school and there is a female colleague that she is constantly butting heads with about work-related issues throughout the film. Additionally, Justine is teaching college prep to a star student, and the two talk about SATs, college (both Justine and Jake are Ivy League grads), and the curveballs of life.