Review of Helicopter Mom by Associate Editor Brigid K. Presecky
Nia Vardalos stars as "Maggie Cooper," a trying-too-hard mother who can't seem to let her son find his own identity. From its depiction of LGBT youth to the caricatures of women on the PTA, Helicopter Mom is inundated with stereotypes. However, the well-intentioned film has the right amount of sweetness and sincerity to save it from being an outdated mess. (BKP: 3.5/5)
************************
Maggie Cooper is a not like a regular mom, she's a cool mom. Or so she thinks. Through the eyes her 17-year-old son "Lloyd," (Jason Dolley) she is pushy, she hovers and asks inappropriate questions about his sexual orientation. But Lloyd's love for his mother stops him from pointing out the boundaries she has long since crossed. He can't give his mother answers because he can't give himself answers. Since he has never dated or kissed a girl, people assume that he is gay – including Maggie.
Having a gay son is a Maggie's dream-come-true. Not only could they shop for purses and go to the Opera, but his sexual orientation could lead to a college scholarship and save her money. Thanks to a suggestion from her friend (whose son is straight because "he doesn't like pesto") Maggie applies for a college aid scholarship specifically for homosexuals, without permission from Lloyd. Her "coolness" factor is dialed down immensely when the scholarship is posted in the high school hallway and gives Lloyd's classmates confirmation that he is gay, even when he isn't.
The heart of the story is sprinkled throughout the film, in scenes when the script diverts from its titular character. Lloyd can openly talk to his understanding father "Max" (Mark Boone Jr.) about girls, relationships and the confusion of being 17 years old. The tender, heartfelt scenes between these two characters give the film the depth and weight it needs.
As expected, Nia Vardalos is humorous as the zany, overbearing Maggie. Likewise, Jason Dolley is lovable and gives a convincing performance as her insecure son. Although the two have chemistry (and despite the title Helicopter Mom), the father/son relationship is the true highlight of the film. Director Salomé Breziner attempts to make Duke Tran's outdated script into a modern film when it seems better suited for decades past. With acceptance and anti-bullying being so relevant in today's high schools, the "gay" storyline doesn't quite hold up to today's realities.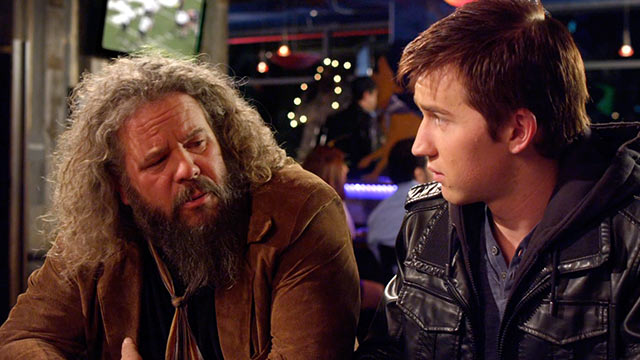 Review © Brigid K. Presecky (4/27/15)
Top photo: Nia Vardalos as "Maggie Cooper" and Jason Dolley as "Lloyd"
Bottom photo: Mark Boone Jr. as "Max" and Jason Dolley as "Lloyd"
Q: Does Helicopter Mom pass the Bechdel Test?
Technically yes.
When "Maggie Cooper" (Nia Vardalos) joins the PTA, she is immersed into a world of perfectly-groomed women speaking in the third person. They talk about prom themes and suggest to Maggie that Lloyd have his own prom since gay people shouldn't be allowed.