Am I never satisfied?
Here is a film with prominent actresses like Elizabeth Banks, Dakota Fanning, and Diane Lane carrying a woman-centered film, plus award-winning female filmmakers behind-the-camera. (Amy Berg is the director while Nicole Holofcener wrote the screenplay.)
It passes the Bechdel Test with no if, ands, or buts, so am I satisfied? Not I am not satisfied. Sad to say, Every Secret Think is a grim and tedious a mess 🙁 (JLH: 2.5/5)
Review by Managing Editor Jan Lisa Huttner
When a bi-racial toddler goes missing, "Detective Nancy Porter" (Elizabeth Banks) immediately sets out in search of two local girls known to have murdered an African-American baby years back.
Ronnie Fuller and Alice Manning were only 11 when they kidnapped and then murdered the little Barnes baby. Now 18, they have been released from juvenile detention and sent back to the troubled homes in which they were raised.
"Alice Manning" is played in the present tense by Danielle Macdonald, a plus-size Australian actress with a couple of screen credits on IMDb, but nothing substantive. "Ronnie Fuller" is played by Dakota Fanning, one of the most accomplished young actresses of her generation. I don't know if anyone could have rescued the Alice part from its inherent melodrama, but the talent imbalance definitely makes matters worse. Every scene that Fanning is in feels tense, raw, and heartbreaking. Every scene that Macdonald is in strains credulity.
At the helm is Amy Berg, an award-winning documentarian making her feature film debut. And her surprising screenplay collaborator is Nicole Holofcener, well-known for trenchant Indie dramedies  like Enough Said and Please Give (all of which she both wrote and director). The film is an adaptation of the best-selling eponymous novel by Laura Lippman, so it must have seemed like a relatively safe property, and yet squeezed down to a 93 minute runtime, whatever was good about this 450 page novel is now just as dead as the little Barnes baby. 
Unfortunately is the main casualty is Diane Lane as Alice's mother "Helen Manning." Before I saw Every Secret Thing, I would have said Diane Lane can do anything, but now I know otherwise. Although she starts off fine, by the end she is as crazy mad as Rosamund Pike–another actress I have always loved–in Gone Girl. But then Rosamund Pike was nominated for a Best Actress Oscar for her Gone Girl performance, so maybe Lane is giving just the kind of performance Hollywood now requires from gorgeous women aging out of f%$kability???
Curiously we find out next to nothing about the Fuller Family except that Ronnie is desperate to escape her home in order to seek solace with the Mannings. Ronnie's parents are barely seen in the background–"White Trash" who live one step up from a trailer–whereas Helen Manning, albeit a single mom, is at least an art teacher with the resources to raise her daughter in the respectable part of town.
Since I haven't read Laura Lippman's source novel, I can't provide specifics, but my gut tells me there is some genuine sociological depth in her 450 pages. Alas, all that remains on screen are a statistically-improbably number of interracial relationships and a strong whiff of economic bias against members of the Working Class.
The final nail in the coffin for me was a young white woman accusing a black man of rape on camera long after the audience knows that the relationship was totally consensual… Really??? Really 🙁
© Jan Lisa Huttner FF2 Media (5/13/15)
Top Photo: Dakota Fanning as "Ronnie Fuller" taking a break at her bakery job.
Middle Photo: Elizabeth Banks as "Detective Nancy Porter" taking a break during an interrogation scene.
Bottom Photo: Diane Lane as "Helen Manning" and Danielle Macdonald as "Alice Manning" in a patrol car.
Photo Credits: JoJo Whilden/Starz Digital Media
Q: Does Every Secret Thing pass the Bechdel Test?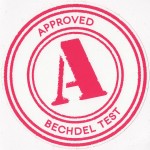 Yes.
Men are definitely on the edges of this story. All the main roles are held by women in mother/daughter, boss/subordinate, and friend/friend relationships.
Such a waste of time and talent!

It's just as I feared… I have now read Laura Lippman's source novel and it is actually quite good. Unfortunately, Nicole Holofcener seems to have made egregiously poor decisions when writing her screenplay adaptation.
Here's an example: When Young Alice and Young Ronnie are at the birthday party at the very beginning, Young Ronnie gives the birthday girl an African-American Barbie doll. The birthday girl (who is white) looks embarrassed, all the  other girls (who are also white) snicker, Ronnie gets upset, and this triggers the tragedy to come.
But why is the Barbie African-American? In the film, Ronnie's gift seems wildly inappropriate. It sticks out like a sore thumb with no explanation and no justification.
In the novel, Lippman tells us that Ronnie father brings a lot of rejected stuff home from work. In this case, the Barbie was probably overflow from a Christmas Toy Drive. Ronnie's mother takes this stuff, re-wraps it, and re-gifts it, so the Barbie is very likely something Ronnie herself had already rejected.
I think director Amy Berg should have shown a tight close-up of the wrapping paper, making the visceral point that the gift inside had been clumsily wrapped and then re-wrapped. Focusing on the actual contents of this re-gifted reject adds nothing but confusion.
This is just one example. Alas, I could give a dozen…
As for the rape accusation, Lippman tosses it in with the implication that the idea is a "Hail Mary Pass" from Alice's attorney (a critical character in the novel who doesn't even appear in the film). In Lippman's version, Alice is not quite so malevolent, nor is Helen such an eye-rolling lunatic.
In short, I still await the day when American films can show troubled women as multi-dimensional individuals rather than over-the top Bunny Murders like infamous "Alex" in Fatal Attraction 🙁