Marah Strauch's documentary debut tells the story of adventurous Carl Boenish and his team of adrenaline-seeking BASE jumpers. Beautiful, thrilling archival footage and detailed narrations string together a story about a man who lived life from one exhilarating moment to the next. (BKP: 4.5/5)
Review by Associate Editor Brigid K. Presecky
"One of my mottos is 'There is no future in growing up.' I just never want to grow up. Most people, I guess, grow old. I don't want to grow old or grow up. I don't want to be childish, but I think there are a lot of virtues in being childlike. Because if you look at a child, he hasn't been taught what he can't do." – Carl Boenish
From an early age, Carl Boenish defied his circumstances. He conquered the polio disease that left him paralyzed as a child and grew up to be one of the most physically active human beings. Living a sedentary life as an operator was an option, but not one that Boenish embraced, saying,"The man who knows 'how' will always have a job. The man who knows 'why' will be his boss." He knew how to operate machinery, but he knew why was a parachutist. And parachute he did. Boenish jumped out of planes and buildings with a parachute on his back and a camera on his helmet, filming his daredevil escapades on a 16mm camera. In 1969, filmmaker John Frankenheimer took notice and hired Boenish for sequences in the film The Gypsy Moths – and the rest is history.
Throughout the 1970s, Boenish became the face of thrill-seekers everywhere. He met and married Jean, an equally-adventurous partner, and formed his unafraid "BASE jumping" team. They leapt from cliffs and buildings, recording every second of their heart-pumping free falls. Aside from the video footage on surface, Sunshine Superman is an in inspirational story about making the most out of life. Not everyone will plummet off of a cliff for a thrill, but because of Carl Boenish, people might reflect on what scares them and make their own metaphorical jumps. He wanted to represent accomplishment, and he did.
The narrative, while awe-inspiring, is also well-constructed. The documentary follows the challenges Boenish faced while trying to accomplish his dreams – more specifically, facing the jump off El Capitan in Yosemite National Park. The perfectly-paced story leads to a tragic climax and hopeful falling action, shifting its focus onto Jean Boenish and her outlook on life.
Touching on a range of emotions, from fear and adrenaline to love and grief, Sunshine Superman is a thrill ride in itself. Newly captured BASE jump footage blends with the original film and news clippings from the 1970s, exemplifying how times change – people don't. There's a blink-and-you-miss-it shot to Boenish's notes, a handwritten sentence that captures both his message and the documentary's central theme:
"Just jump, the angels will take care of you."
© Brigid K. Presecky (5/20/15)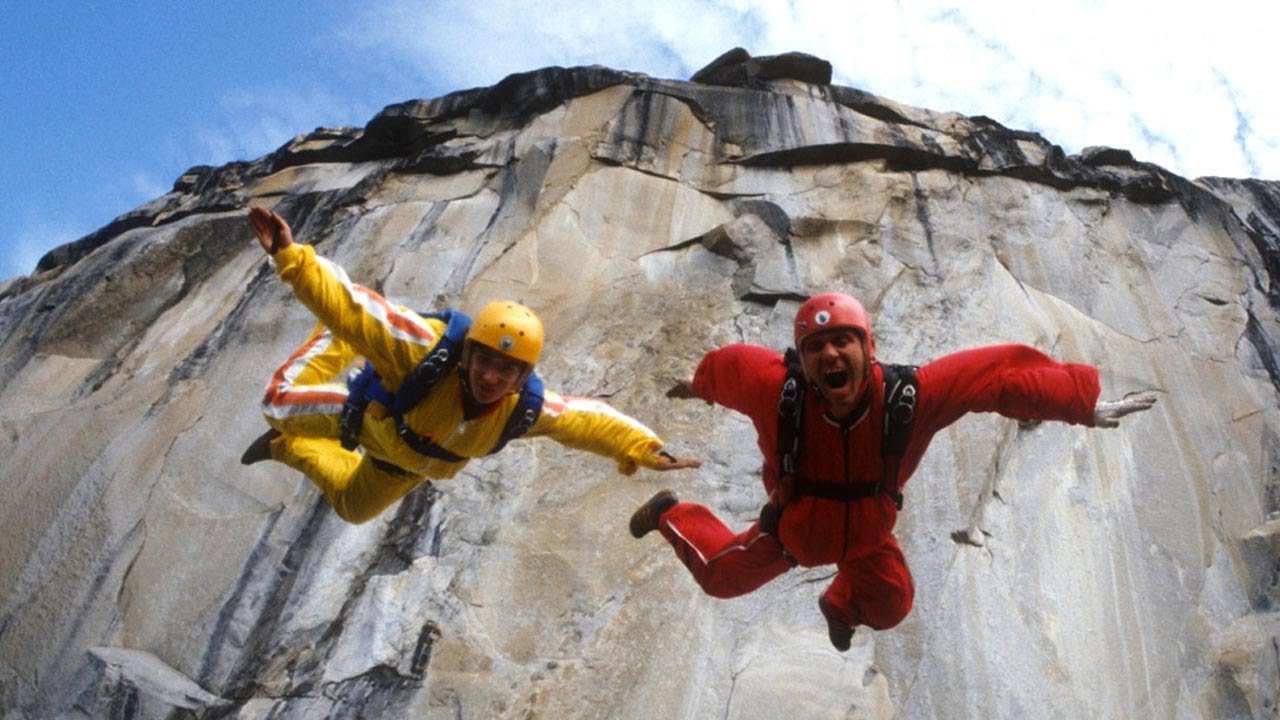 Photos: Carl and Jean Boenish BASE jump off of a cliff
Photo Credit: Magnolia Pictures
Q: Does Sunshine Superman pass the Bechdel Test?
No.