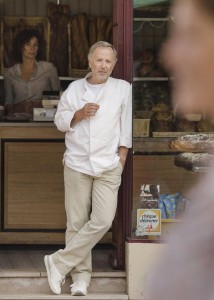 A middle-aged French baker believes his new English neighbor is a literary archetype come to life, and falls head over heels in love with his own fantasy. What looks to be a period comedy slowly reveals itself as an erudite and insightful modern tragedy.
Gemma Bovery is a "Personal Best" for French director Anne Fontaine. The screenplay–which Fontaine co-wrote with Pascal Bonitzer–is based on Posy Simmonds' eponymous graphic novel Gemma Bovery. Brava! (JLH: 4.5/5)
Review by FF2 Managing Editor Jan Lisa Huttner
"Martin Joubert" (Fabrice Luchini) is a baker. Years before, Martin left Normandy behind for a literary life in Paris, but now, in middle age, Martin has returned home with his wife and teenage son to take over his father's bakery. Mon Dieu!
Suddenly, just when he is at the point of giving up and giving in, fate throws Martin a curve: an English woman named Gemma Bovery moves into the rundown cottage right across the way with her husband Charlie.
Can it really be true? Can a couple named Bovery actually exist? OK, so her name is Gemma not Emma… And Charlie Bovery's "patients" are not people but pieces of furniture… No problem! Martin is wise enough to take what is on offer. Reaching out to embrace his good fortune, Martin falls head over heels in love with Em… oops… Gemma Bovery.
Of course, "Gemma" (Gemma Arterton) is oblivious. For her, Martin is not just a great baker who owns a local shop filled with yummy baguettes and croissants, he is also a considerate neighbor who knows how to get the lights going after an electrical short. But a man? No, Gemma has no interest in Martin as a man. Her heart is already taken.
Gemma has come to Normandy after a bad break-up. She was in love with "Patrick" (Mel Raido), but married "Charlie" (Jason Flemyng) on the rebound when she found out Patrick was cheating on her. Unfortunately, Gemma and Charlie are not the only English people in Normandy. They soon find themselves in a social circle of expats much wealthier than they are, and life in their darling little cottage turns into a tawdry charade.
Gemma's discontent grows as her status shrinks from guest to hired help. Then "Wizzy" (Elsa Zylberstein) opens a fancy magazine to show Gemma a certain shade of blue, and without meaning to cause pain, inadvertently throws Gemma into a funk. This blue that Wizzy wants Gemma to put in her home is the same blue Patrick has in his home… the fashionable home in London that Patrick now shares with his new wife Pandora! Gemma looks at the magazine photo and instantly understand the implication: Wizzy, Patrick, and Pandora are all members of the 1%, whereas Gemma–and Charlie–will always be in the 99%.
To calm herself, Gemma takes to long walks with a barking little bundle named Paddington, so Martin, always watching from his window, heads out the door with his own dog Gus. Burning with lust, Martin insinuates himself into Gemma's life through these "chance meetings" he has engineered, and soon he is her confidant.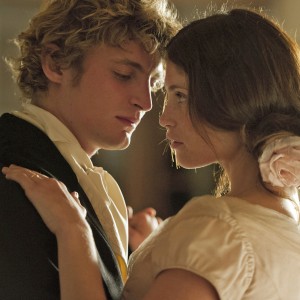 Their relationship cannot end well, but we already know this because Gemma is dead when the film begins. In fact, almost everything we know about Gemma, we know from Martin's POV, and almost every time we see Gemma, we see her in one of Martin's flashbacks. He even has fantasies in which Gemma appears dressed as Emma in a 19th Century gown!
But in the end, after Gemma herself is just a memory, Martin starts the whole cycle anew when his next neighbor turns out to be a woman almost–but not quite–named "Anna Karenina"…
Gemma Bovery was directed by French filmmaker Anne Fontaine, and Fontaine based her screenplay (which she co-wrote with Pascal Bonitzer) on Posy Simmonds' graphic novel Gemma Bovery. So this is not an adaptation of Gustave Flaubert's classic novel Madame Bovery, and it is also something very different from the Vincent Minnelli film released in 1949–the one starring Jennifer Jones–that most Baby Boomers grew up on, and presumably something very different from the Sophie Barthes film scheduled for release in the USA in two weeks–the one starring Mia Wasikowska–which I haven't seen yet.
(6/12/15 EDITOR's UPDATE: I have now seen Sophie Barthes' Madame Bovary. Click HERE for my review.)
Fontaine is known for her very sexy and somewhat subversive stories in which modern women shape their own destinies and then face the consquences. I love her film Adore (which she based on a Doris Lessing novella) and I love her film Nathalie (which was remade in English as Chloe). Her biggest commercial success to date is Coco Before Chanel (which is way too safe for my taste). Gemma Bovery is a "Personal Best" for Fontaine, combining the high production values of Coco Before Chanel with the edge of the films I like more.
Fabrice Luchini as "Martin Joubert" and Gemma Arterton as "Gemma Bovery" are perfectly cast. She is sweet and trusting. Who could doubt his good intentions? Everything is light and lovely until it isn't, and what looks to be a period comedy slowly reveals itself as an erudite and insightful modern tragedy.
© Jan Lisa Huttner FF2 Media (5/28/15)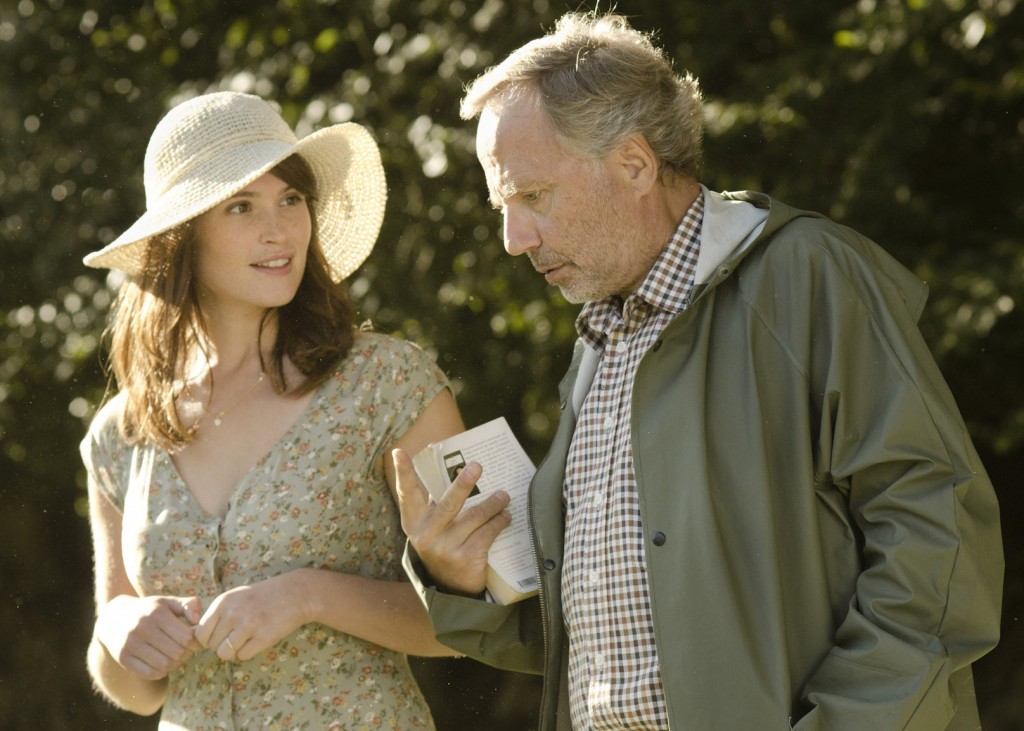 Top Photo: Fabrice Luchini as "Martin Joubert." Martin doesn't notice that his wife "Valerie" (Isabelle Candelier) is watching him watch "Gemma" (Gemma Arterton)…
Middle Photo: Martin looks at Gemma but sees Emma (seen here dancing with Niels Schneider as "Herve de Bressigny" in their 19th Century costumes)…
Bottom Photo: Martin with Gemma on one of their "chance meetings." Martin is actually carrying a well-thumbed copy of Madame Bovery. "Have you ever read it?" he asks. "No," she confesses sheepishly (feeling somewhat abashed and uncultured).
Photo Credits: Jérôme Prébois courtesy of Music Box Films.
Q: Does Gemma Bovery pass the Bechdel Test?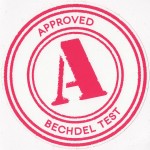 Yes.
Gemma's relationship with "Wizzy" (Elsa Zylberstein) revolves around girly chit chat. Mostly they talk about stuff, especially once Gemma begins working on the interior design of Wizzy's mansion. But Wizzy prides herself on maintaining "the body of a teenage stripper," so she also wants curvaceous Gemma to adopt her own ferocious exercise regime and an austere diet based to almonds.
Wizzy is so self-absorbed that she doesn't even notice Gemma's reaction to the magazine photo of Patrick and Pandora. But in her defense, why would Wizzy think Gemma might know Patrick when–in her mind at least–they clearly come from two very different social worlds?
Q: Where is Gemma Bovery set? Gemma and Martin live in a French village close to Rouen (in Normandy).  We know this because Gemma drives to Rouen for shopping and other meet-ups.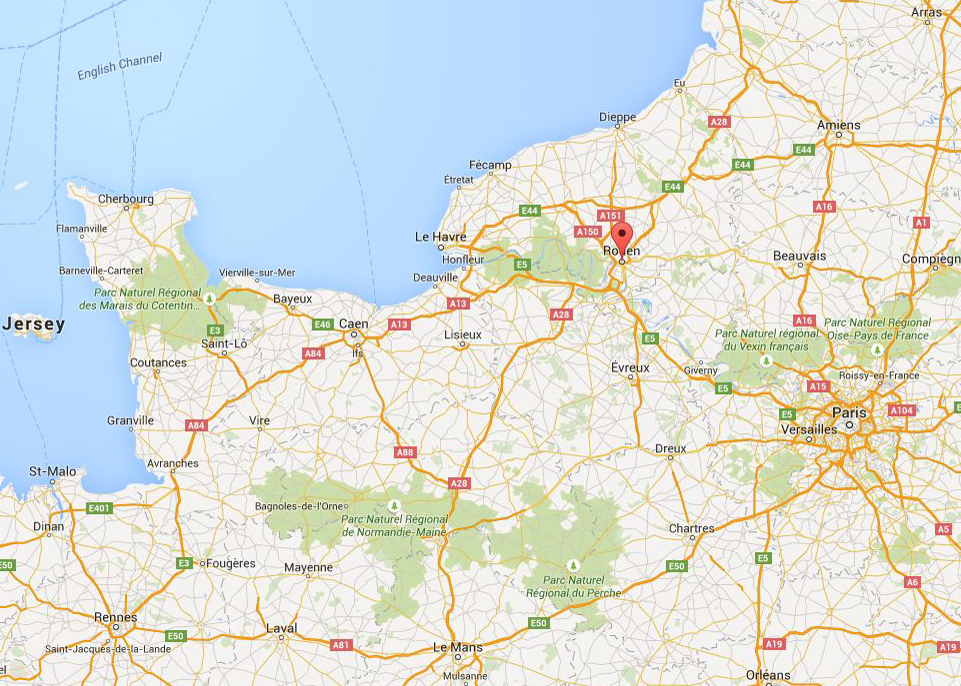 As I have already said, Anne Fontaine's film Gemma Bovery is based on Posy Simmonds' graphic novel Gemma Bovery; it is emphatically not an adaptation of Gustave Flaubert's classic novel Madame Bovery.
Days after writing my review, however, I am amazed to learn that some very prominent colleagues (such as New Yorker critic Anthony Lane) don't get the difference. Quel Dommage! It seems they have missed the whole point of Fontaine's film, so is it any wonder they have also minimized her accomplishment as a filmmaker?
Let's start with one critical difference: There is no one remotely equivalent to the character of "Martin Joubert" in Flaubert's original!
The conceit that Gemma is really Emma is a figment of Martin's imagination, and his actions are based on his own retreat into ennui, not hers. Martin's behavior has nothing to do with Gemma's own sense of her predicament, and yet his actions not only impact her ability to make her own life choices, they actually help to bring about her untimely death.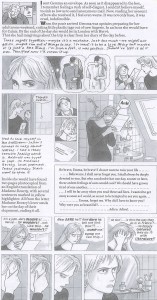 Fontaine and Bonitzer make their intentions perfectly clear by eliminating almost all of the backstory Posy Simmonds provides for Gemma through her diaries. For example, we don't know that Gemma's father wanted her to have a big wedding but she used his money to buy the cottage instead. And we don't know that when she bought the cottage, Gemma's goal wasn't just to put distance between her and Patrick, but also to escape from Charlie's first wife Judi (someone who has a very large role in the graphic novel, but an extremely limited role in the screenplay).
One wonderful thing about the graphic novel format is that Simmonds is able to clearly individuate the voices, therefore the reader always knows Martin's reaction to the things he reads in Gemma's diary after she is dead, and how he plays with this new knowledge in his head, remembering what he thought he knew–and what he did with his faux "knowledge"–while Gemma was still alive.
But in the end, the greatest difference between Gemma Bovery and Madame Bovery is the reason for this lovely young woman's death, and Fontaine makes this difference abundantly clear in her adaptation.
In Flaubert's version–Madame Bovery–Emma kills herself, deliberately choosing the method she will use to commit suicide well in advance of the act itself. She backs herself into a corner, alienates everyone who might be of help to her, and then shoves a fistful of arsenic into her mouth.
In Fontaine's version–Gemma Bovery–Gemma gets the quick and painless death Emma craved, but it is not anything she either planned or wanted. Gemma dies because the men in her life are so focused on their own needs that even in extremis they barely acknowledge her needs. They fight about her, but they do not fight for her… and suddenly she is gone.
Has Martin learned anything? By adding the brilliant Anna Karenina coda–a scene she invented with Bonitzer that is not in  Simmonds' sourcebook–Fontaine makes it clear that Martin has learned nothing. And that's what elevates Gemma Bovery and makes it a true tragedy.