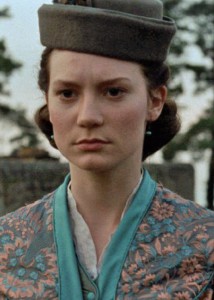 Stultifying. That's the only word to describe this latest adaptation of Gustave Flaubert's classic about a woman suffering from "ennui" in 19th Century France. Mia Wasikowska as Emma Bovary drowns in molasses, bringing the whole cast down with her.
Written and directed by Sophie Barthes with co-writer Felipe Marino, credited under the name "Rose Barreneche." (JLH: 2/5)
Review by Managing Editor Jan Lisa Huttner
Stultifying. That's the only word to describe the latest adaptation of the Flaubert classic staring Mia Wasikowska as the eponymous Madame [Emma] Bovary. It's as if Wasikowska–who was so good as Jane Eyre a few years back–is drowning in molasses, and all the other actors swimming around with her go down too.
The only way to excuse this mess is to assume that director Sophie Barthes made her most fundamental decisions for the sake of budget, but all her decision turn out to have been bad decisions, thereby dooming the efforts of all concerned.
Only two people make it onto the life boat: costume designers Chrisian Gasc and Valerie Ranchoux.  Gasc and Ranchoux also worked on the costumes for Farewell My Queen a few years back, for which Gasc (but curiously not Ranchoux…) won his fourth Cesar Award. So clearly Gasc is a reliable "Go To Guy" for costume drama (with or without and Ranchoux). But everyone else should immediately delete Madame Bovary from their cyberspace profiles.
Even though it was written way back in the middle of the 19th Century, Madame Bovary is a story with the potential to say important things about modern life. In the right hands, "ennui" is still a provocative topic. Most of us–as members of what we now call the 99%–can easily empathize with a woman tormented by all the things she cannot have.
Who can blame Emma for wanting the passionate emotional life she reads about in novels? Who can blame Emma for wanting the gorgeously appointed rooms she sees in magazine photos? Is it any wonder that she succumbs to the enticements of men like "The Marquis" (Logan Marshall-Green)–who seduces her for his own pleasure–and "Monsieur L'Heureux" (Rhys Ifans)–who offers her an inexhaustible line of credit, and then sells her loans to a shark?
But Barthes should have spent more money on her male cast members (even if that meant spending less on Emma's dresses), because the actors in the main parts are simply not strong enough to carry them.
Henry Lloyd-Hughes is a bit too good looking and level-headed to be a believable "Charles Bovary." From the moment we meet him, Emma's husband should instantly feel like the wrong fit. And yet, Wasikowska has the very same chemistry with him that she has with her two adulterous lovers, first "The Marquis" and then young "Leon Dupuis" (Ezra Miller). So she gains nothing from her affairs, even on screen.
Reader: The blunt truth is that I trouble staying awake, and since it just so happens that I had a very good night's sleep last night, I'm afraid that says it all 🙁
© Jan Lisa Huttner FF2 Media (6/12/15)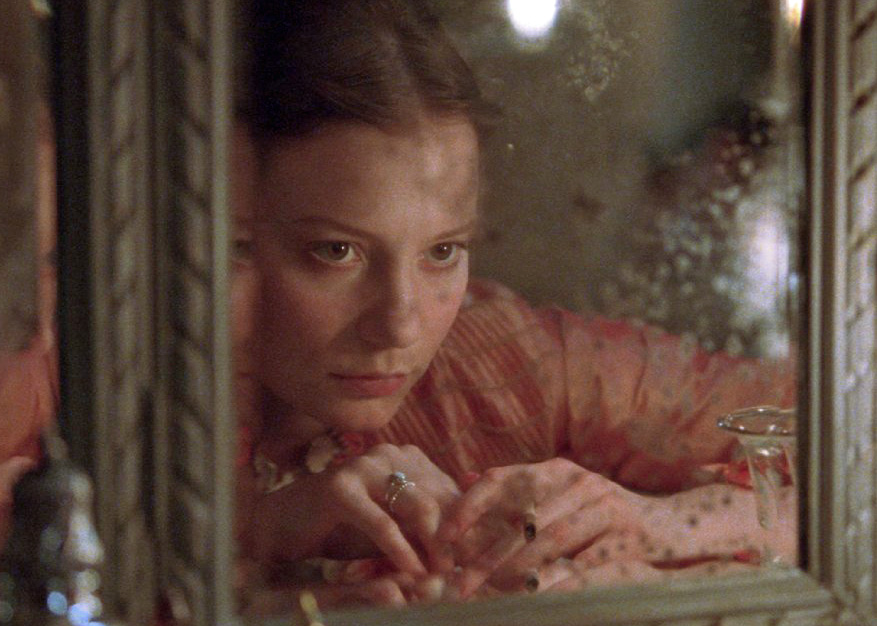 Top Photo: Mia Wasikowska as "Emma Bovary," out & about in the French town of Yonville in Normandy.
Bottom Photo: Emma moping alone at home. What is "ennui" anyway and why do so many of us believe Flaubert's "Emma" had a condition of some significance? I don't doubt Sophie Barthes' intentions, but I do wish she had done more thinking about the matter before she started filming…
Photo Credits: Carolina Ardizzone
Q #1: Does Madame Bovary pass the Bechdel Test?
Technically yes, because Emma does have a few interactions with her maid, for example this one: "You should wear a uniform. Go see Monsieur L'Heureux and he will fix you up." But even though the credits show the name "Henriette," I don't think Emma actually calls on this put upon young woman by name.
Flaubert readers will know from IMDb know that actress Laura Carmichel is playing the character "Henriette" because Henriette is a relatively important character in the novel. (Someone who appears to be too good to be true, and then turns out to be clever enough to steal everything she can get her hands on at the very end.) But if you don't take any of this information into the theatre with you, then there will be no way to extract it from what is actually on screen.
Emma has no conversations with any other female characters–named or otherwise–in the course of these very long two hours, so I say no. No, Madame Bovary (2014) does not pass the Bechdel Test.
Q #2: Where is Madame Bovary set?
A: In and around Rouen in Normandy (France).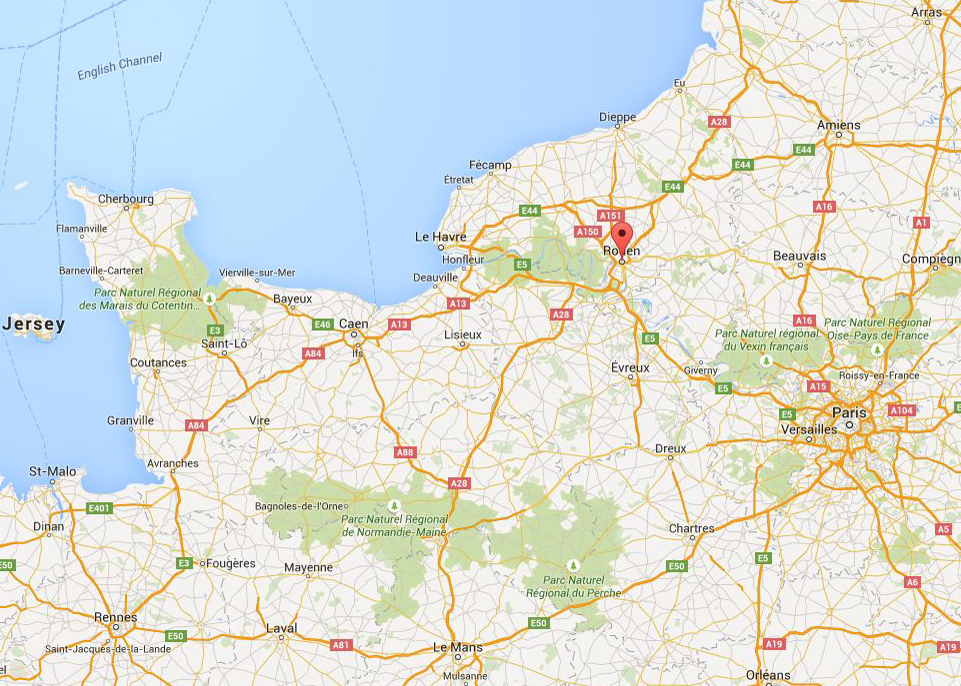 Why do I talk so much about budget in my review? For those who have yet to read Madame Bovary, I'm here to tell you that the novel contains two extravagant set pieces which trigger the end to Emma's equilibrium, and both are totally missing from Barthes' version.
The first is an elegant ball given by the Marquis d'Andervilliers, which makes Emma susceptible to seduction soon after by the wealthy rake Rodolphe Boulanger. (In the novel, the Marquis d'Andervilliers and Rodolphe Boulanger are definitely two different people. I have no clue why Barthes and Marino decided to combine them.)
The second is a performance of Donizetti's over-the-top Bel Canto opera Lucia di Lamermoor, which sets up the consummation of her long flirtation with Leon Dupuis. Charles takes special pains to arrange this trip to the opera house in Rouen to cheer Emma up after Rodolphe dumps her. But alas, since he is oblivious to what is really going on, Charles thereby makes an already bad situation far worse.
However, without these two magnificent evenings which are so removed from the humdrum of her daily experience, it is hard to understand why Emma feels so cheated by life.
Regular readers know that my practice is to read the source material after I see a film, however the recent release of Anne Fontaine's wonderful film Gemma Bovery caused me to go all out. I not only read Posy Symonds' graphic novel Gemma Bovery for the first time, I also re-read Flaubert's Madame Bovary too. So all the Flaubertian details are very fresh in my mind.
Honestly, though, I don't think that affected me too much. Regardless of what I had read and when I read it, if I had felt any genuine chemistry between Mia Wasikowska and any of her male co-stars (especially Logan Marshall-Green as the Marquis/Boulanger mash-up), I am sure I would have known it. 
This is the point at which I should also say that Ms. Wasikowska was a poor casting choice for Emma for all the same reasons she was such a brilliant casting choice for Jane in Jane Eyre. Even as a teenager–when she first came to attention as the gymnast in the HBO series In Treatment–there was never anything "delicate" about Ms. Wasikowska. She is simply too strong-willed on screen to be believable as ethereal Emma. Furthermore there are no scenes of her escaping into novels, and when she plays the piano, she is so bad that it's painful to listen. Simply put, I saw no longing for transcendance in this Bovary home.
There are many other differences in the screenplay–such as the fact that Emma gives birth to Charles' daughter–but that is only to be expected. As I said above, Barthes had choices to make and unfortunately, too many of them were bad choices. And so it goes…
What to do? Go see Gemma Bovery instead!
Final Photo: Emma with Logan Marshall-Green as "The Marquis." Photo Credits: Carolina Ardizzone