A young man fascinated by the underground music scene in Paris, forms a DJ duo group called Cheers. The film spans about 20 years of music, drugs, and sex, portraying all the ups and downs of the life of a struggling artist. (JEP 3.5/5)
Review by Contributing Editor Jessica E. Perry
 This music centric foreign film boasts a superb soundtrack and spans decades of the underground French music scene. Directed by Mia Hansen-Løve, Eden is loosely based on her brother Sven's (who co-wrote the script with her) life.
The film opens in France in the 1990s, at the onset of "Paul's" (Paul Valilee) introduction to the world of Garage music. As Paul's interest in this new genre of music grows, he vows to start a music duo.
Jump ahead to three years later, and Paul has done just that. Living in a small apartment with mattresses on the floor, and drugs at the ready, Paul is making a career (or at least he's trying to) spinning music and playing small gigs.
This goes on for years, as Paul's success seems just on the verge of breaking through, yet never really does. While Cheers does take a small tour around the US, playing cities like Manhattan and Chicago, not much more becomes of their success. But all the while, Daft Punk's growing fame is following Paul around like a shadow.
With a closet drug addiction, slew of girls, and a mounting pile of debt, Paul's life in music never seems to truly take off. He is unwilling to compromise his style of music for the change times, and years of the industry wear on him. Finally out of money and out of options, Paul takes a desk job in 2013, begins a writing course, and starts anew.
But does he really? When we leave Paul, he has moved very little from the place he started. Eden is not a film that glorifies the music industry nor is it one that captures the success story of a star. Instead, it is a portrait of one man's reality, as he pursues his passion and a success he never quite reaches, standing still while everyone else has moved forward.
Reader, I will tell you what I told the lovely older couple who asked how the film was as I left the theater and they were waiting for the next showing to begin: the film was good…but long. With a runtime of 131 minutes the story begins to feel repetitive and all the time jumps within the film make for a confusing sequence of events. But Eden is graced with solid performances and a stellar soundtrack, making for an enjoyable afternoon at the theater.
Review © Jessica E. Perry (7/2/15)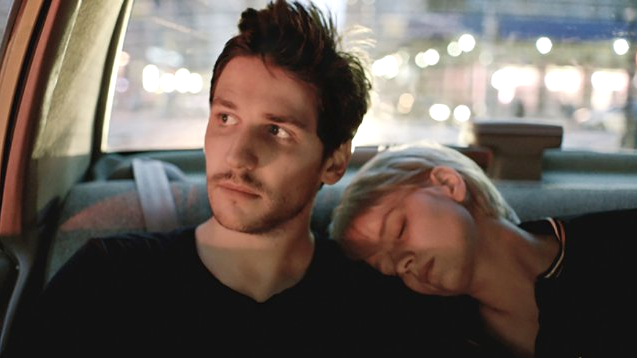 Top Photo: Paul spinning
Bottom Photo: Paul and longtime girlfriend "Louise" (Pauline Etienne)
Photo Credits: Carole Bethuel
Q: Does Eden pass the Bechdel Test?

No.
The woman in Eden do not interact much with one another. Instead, they love Paul and Paul loves them, before another time jump in the film and a new love interest appears.