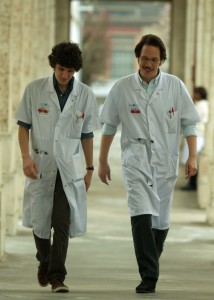 Full Title = Hippocrates: Diary of a French Doctor
Two Interns–one a fresh faced newby and the other an Algerian immigrant–test the limits of patient care from inside the hierarchy of a beleagured French public hospital.
Terrific performances by Vincent Lacoste and Reda Kateb. Excellent, low-key direction by Thomas Lilti who collaborated with a screenwriting team consisting of Pierre Chosson, Baya Kasmi, and Julien Lilti. (JLH: 4.5/5)
Review by FF2 Managing Editor Jan Lisa Huttner
A 23 year old French Intern begins his rotation on the medical floor of a large public hospital. He is young and fresh-faced and eager to learn… Oh boy, does he have a lot to learn!
Soon after, another man–someone much older and far more experienced–also begins his internship. In fact, he is already a doctor, but because he is an Algerian immigrant, he must start at the bottom to obtain French credentials.
Hippocrates: Diary of a French Doctor is a beautifully-crafted multidimensional drama that touches on many important contemporary topics.
First and foremost, Hippocrates is a hospital story about the care patients can expect to receive even when they are lucky enough to live in a progressive country  like France (which prides itself on universal health care). The truth, as always, is that the only resource that is not in short supply is ego (and most often male ego).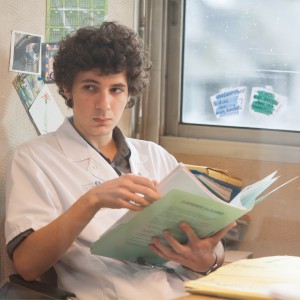 "Benjamin" (Vincent Lacoste) is a newby, and so he must learn the hard way that he can't always do everything he wants to do–and often knows he should do–to care for his patients. And "Abdel" (Reda Kateb) who is already battle-weary when he arrives at the hospital, knows that no matter how clearly he writes orders in a patient's chart, someone will make decisions for "his patients" without even bothering to consult his notes.
And yet, in the course of working together, they come to care for each other and see past weaknesses to the genuine strengths of the other. For a lovely moment at the end, prejudice melts away and life in the hospital–grim as it is sometimes–becomes radiant… And then Benjamin begins a new rotation.
According to IMDb, filmmaker "Thomas Lilti is also a general practitioner. He studied medicine and showed some of his personal experiences in his film Hippocrates." He has seven screenplay credits and five director credits (most of which are shorts for which he served as both). Julien Lilti has a much shorter IMDb page, so I am guessing he is Thomas Lilti's son, but I don't know this for a fact. Pierre Chosson has along list of IMDb credits, mostly as a screenwriter, but in a combination of features and documentaries. All three are new to me.
But Baya Kasmi is someone I already know as the screenwriter of The Names of Love, a film from a few years back that I really enjoyed. Like Hippocrates, one of the main characters in The Names of Love has an Algerian background. Her names is "Baya Benhmamoud" and even though she is played by actress Sara Forestier, it wouldn't surprise me to learn that that story was just a bit autobiographical too.
Bottom Line: However they have done it, Thomas Lilti, Baya Kasmi, and the whole cast and crew of Hippocrates: Diary of a French Doctor have made a beautiful film with great resonance and contemporary importance. Bravi!
© Jan Lisa Huttner FF2 Media (6/19/15)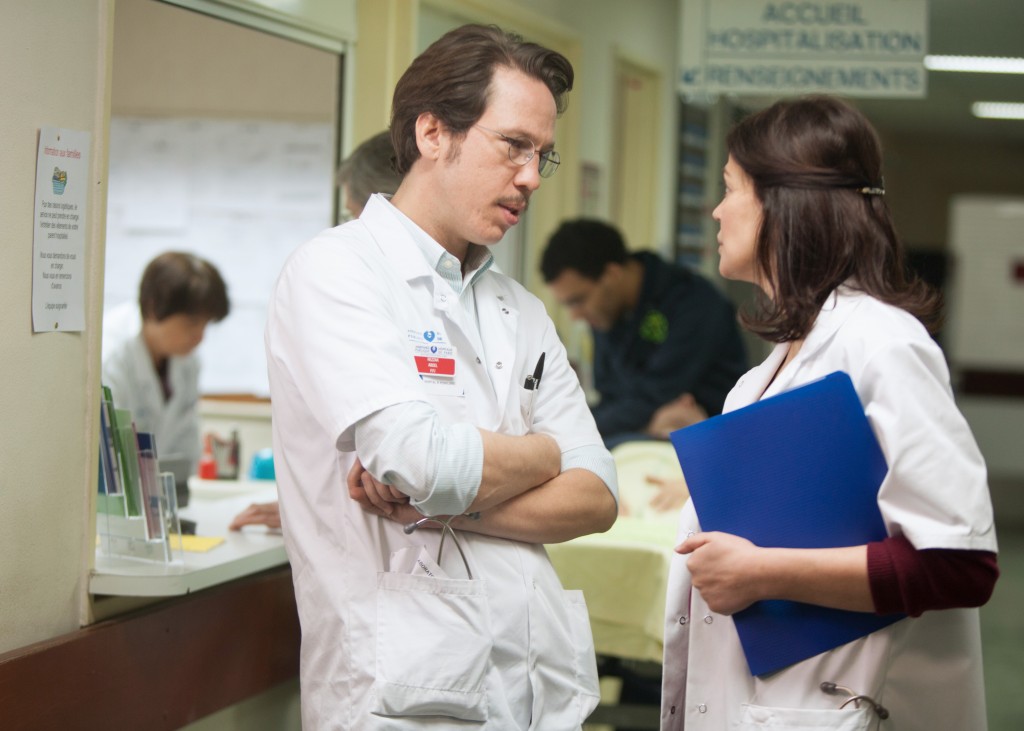 Top Photo: Vincent Lacoste as "Benjamin Barois" with Reda Kateb as "Abdel."
Middle Photo: Benjamin buried in patient charts.
Bottom Photo: Abdel finds himself in conflict with "Dr. Denormandy" (Marianne Denicourt). As the head of the unit, she has enormous power over him. If she gives him a bad review at the end of his rotation, his chances of being credentialed–and remaining in France–will diminish. Since he wants to stay in Paris, and one day even bring his wife and children from Algeria, Abdel struggles mightily to bite his tongue. But when Dr. Denormandy removes a self-administering pain pump from an elderly patient for budget reasons, Abdel finally loses control.
Photo Credits: ???
Q: Does Hippocrates pass the Bechdel Test?
No.
Hippocrates is a fine film, but women are definitely on the edges of this drama. A few women do plan important supporting roles in the evolving stories of Benjamin and Abdel, but even the women who have names never speak with one another.
6/22/15 Update: You may not recognize Reda Kateb, appearing in Hippocrates as he does in the clean white lab coats and authoritative poses of an experienced physician, but I sure did.
Just a few short years ago, Kateb was cast as "Ammar," the terror suspect who maintains his dignity through all the unspeakable acts inflicted on him in the first half hour of Zero Dark Thirty.
The New Yorker magazine has just published an excellent article on Senator Dianne Feinstein's attempts to investigate the use of torture by the CIA after 9/11. I read it on my Kindle last week and it appears on newsstands today. And even though he didn't mention this article by name (drunk as me was on the delicious presence of Dame Helen Mirren actually reading from the report), I am sure John Oliver also read this article as he prepared for last week's broadcast of Last Week Tonight.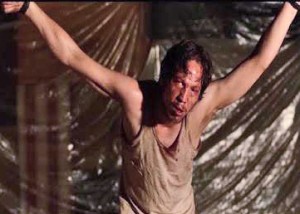 So I was not only totally won over by Kateb's performance in Hippocrates, I was also delighted to learn that he had won a Cesar Award for this performance. (The Cesar Awards are the French Oscars.)
From December 2012 through February 2013, I did a great deal of thinking, reading, and writing about Zero Dark Thirty (which I saw four times), and I will not rehash all those arguments here. Suffice it to say that Zero Dark Thirty never showed that use of torture resulted in actionable intelligence, and director Kathryn Bigelow never "endorsed torture" either morally or pragmatically.
But coming out of Hippocrates, I now know something new that I didn't know then: By casting Reda Kateb as "Ammar," Bigelow implicitly put the observant viewer on the side of the victim of torture and not on those who–in their misguided zeal–became torturers. While I am sure he is a good enough actor to be a scary villain when he wants to be, in both of these parts–in Zero Dark Thirty and in Hippocrates–Reda Kateb embodies the best in humanity. Bravo!
ZD30 Photo Credit: Jonathan Olley/Columbia Pictures Industries, Inc.