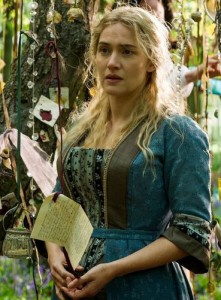 Twenty years after the release of Sense and Sensibility, Alan Rickman and Kate Winslet reunite onscreen in a period drama set in 17th Century Versailles. Rickman, with co-writers Alison Deegan and Jeremy Brock, create their own historical fiction by telling the story of King Louis XIV and his two landscape architects – the real André Le Notre and the fictional Sabine de Barra.
This good story had the potential to be great. It touches on love, loss and modernism with characters embodied by an extraordinarily talented cast. But going into the film with high expectations makes the end result seem slightly underwhelming. (BKP: 3.5/5)
Review by Associate Editor Brigid K. Presecky (with a few additional comments from Managing Editor Jan Lisa Huttner at the end)
The year is 1682. French Sun King "Louis XIV" (Alan Rickman) is in the process of moving his court from Paris to Versailles, and he wants mastermind landscape designer "André le Notre" (Matthias Schoenaerts) to oversee production on the new Rockwork Garden. If le Notre does not finish "The Bosquet de la Salle du Balin" in a timely manner, or on a budget, he knows that his future may include a guillotine. Feeling like he may have lost his creative touch, le Notre sets out to find another landscape architect to assist with the grand project.
His hiree? Widowed "Sabine de Barra" (Kate Winslet) a modern, talented designer unafraid to get her hands dirty or challenge le Notre's symmetrical process in order to make things more natural, more chaotic. She charms her way into the likings of Louis' bisexual brother "Philippe," who is played by the always-entertaining Stanley Tucci in a role similar to his characters in The Hunger Games and The Devil Wears Prada. As de Barra settles into her new role, a romantic relationship with le Notre predictably comes to fruition.
Their love story is constantly being interrupted by outside forces – either by Notre's unfaithful wife (Helen McCrory) or Sabine's haunting flashbacks to her traumatic past. Any tension or realism is bogged down by slow pacing and uncertainty about whether the script is meant to be funny, tragic or an awkward mismatch of both. 
One lingering scene does work, however, when Sabine mistakes King Louis (sans wig) for a gardener and the two engage in a long, meaningful conversation. Rickman and Winslet do what they do best, making the film all the more engaging when they do it together.
Curly wigs, intricate corsets and eloquent ballrooms are only some of the colorful imagery in A Little Chaos that gives you something to focus on when the script fails to grab your attention. Nonetheless, the filmmakers' intentions are evident and director Rickman creates beautiful moments that are scattered throughout. But like Sabine's garden, many elements feel messy and slightly out of place.
© Brigid K. Presecky FF2 Media (6/29/15)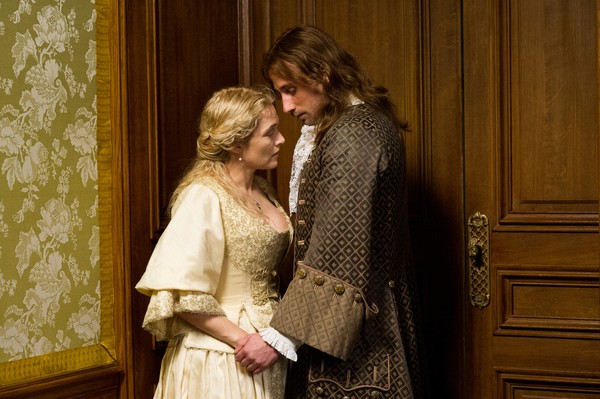 Top Photo: Kate Winslet as 17th Century designer "Sabine de Barra."
Middle Photo: Kate Winslet with director Alan Rickman as "Louis XIV."
Bottom Photo: Kate Winslet with Matthias Schoenaerts as "André le Notre."
Photo Credits: Alex Bailey/Focus Features
Q: Does A Little Chaos pass the Bechdel Test?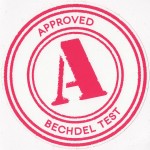 Yes.
Not only does Sabine find herself feeling out of place at the King's salon–filled with vain women–but there is also an interesting story arc about Sabine's traumatic past. (No Spoilers: It is better to see the specific details unfold on screen.)
Furthermore, Winslet's character is strong-willed, creative and a modern feminist for the era.
Hubby Richard & I just caught up with this on On Demand. Brigid is exactly right. We also wanted to love it, but the screenplay was so unfocused that we gave up hope midway through. Yes, the final scenes of Louis entertaining his Court in the new garden are splendid, but getting there is a chore. (JLH: 3/5)