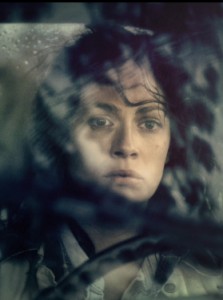 Writer-director Kimberly Levin perfectly captures the desperation of a family trying to keep their heads above water as agricultural conglomerates wipe out local farming. The detailed plot and layered relationships, enhanced by strong performances and vivid imagery, leaves you frustrated … in the best way possible. (BKP: 4.5/5)
Review by Associate Editor Brigid K. Presecky
Kimberly Levin's debut feature tells the story of "Betty Freeman" (Joanne Kelly), a strong woman driven to desperate measures to support her family. The film opens with beautiful imagery: sun peeking through the cornfields, haybales and barnyards in the distance. Betty's young son "Sam" (Kivlighan de Montebello) plays on the glistening creek with his best friend "Elena" (Rashel Bestard). But behind these beautifully-captured shots of quintessential American farmland, comes the darker, harsher realities of that disappearing way of life.
Betty's farm-supply salesman husband "Frank" (Neal Huff) struggles to make ends meet as a corporate competitor, Gigas, overtakes businesses and undercuts prices, making it nearly impossible for locals to compete. When the Freemans refuse a buyout offer from Gigas, they try to save their house from foreclosure while scraping together college tuition for their son "Finley" (Alex Shaffer) … not to mention Frank's impending medical bills. One solution? Take a well-paying, highly illegal gig from their neighbor "Scratch" (Tom Bower). Although Frank wants nothing to do with it, his well-meaning wife will go to whatever lengths possible to save her family.
Despite a somewhat contrived, melodramatic Halloween Night occurring in the film's climax, Levin's film feels exceptionally real. Cinematographer Hermes Marko captures an endless amount of stunning visuals from the crew's location in rural Kentucky. Levin, also acting as the film's editor, splices the location shots together and lets them linger on screen long enough to make you feel like you are a part of this beautiful, tragic world.
Instead of a statistical, documentary-style lesson on big business versus local farming, fiction allows the audience to experience this situation through the eyes of intriguing characters. And those characters are not cookie-cutter protagonists. Aside from the monopolizing corporation, Gigas, there are no clear-cut heroes or villains. Instead, it takes tough-loving Betty and places her at a crossroads of morality and desperation.
Runoff has slow pacing and silent moments that encourage reflection from viewers. How you would react in this situation? Would ethics come into play? What means would you go to in order to help your family? Kimberly Levin answers those questions while making a grander statement about America's infiltration of chemicals and the multitude of family-owned farms becoming obsolete.
Review © Brigid K. Presecky (6/24/15)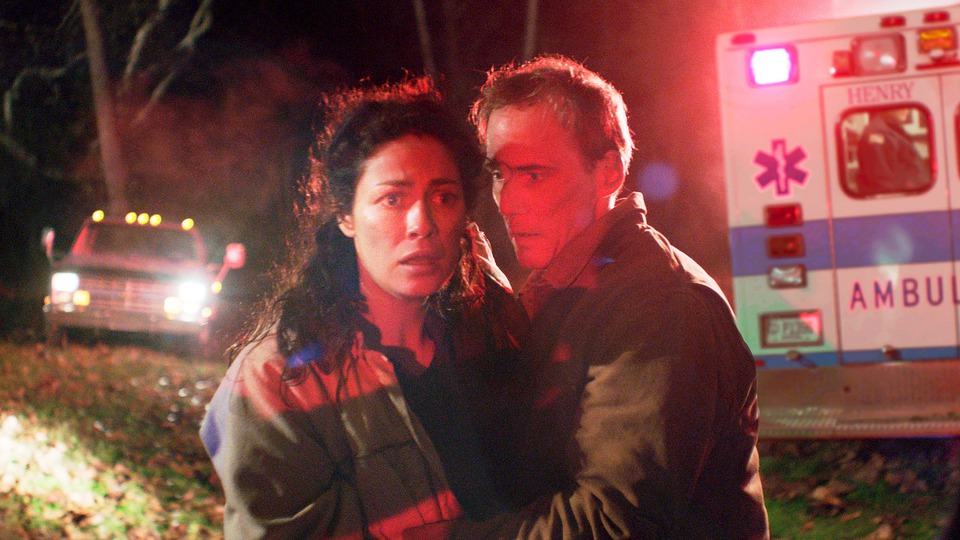 Top Photo: Neal Huff as "Frank"
Bottom Photo: Joanne Kelly as "Betty Freeman"
Photo Credits: ??
Q: Does Runoff pass the Bechdel Test?
Unfortunately, no.
Nonetheless, "Betty Freeman" (Joanne Kelly) is still a strong female character taking action to support her husband and two sons.

One song came to my mind as I watched Runoff that coincidentally matched Kimberly Levin's intentions: "Lord of the Dance," a 1963 hymn by English songwriter Sydney Carter. Literally, the lyrics sum up the whole of God's plan of creation and redemption as a dance. But figuratively, the song can relate to any religion, race, gender, etc. So how do the two unrelated subjects–a Celtic Christian anthem and a film about farming–connect? By a line in the fourth verse: "It's hard to dance with the devil on your back."
Granted, there is nothing in Runoff that points to a specific faith or religion, but that verse can easily parallel Betty's situation and her attempt to support her loved ones–even if morality and ethics are pushed to the sidelines.
At the end of the film, Betty drives her truck through the farmlands that are no longer fertile (thanks to the harsh chemicals that have wiped them out). She knows she has taken a part in their destruction by illegally peddling pharmaceuticals. Every action leaves her shaken and exhausted. Betty drives down the dirt road with tired eyes as it is difficult for her, as it would be for anyone, to dance with the devil on her back.