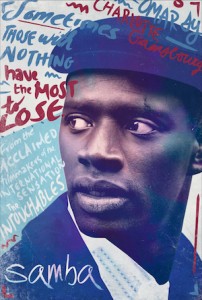 Samba blends genres of romantic comedy and harrowing drama into one narrative about a Senegalese immigrant. The handful of sweet and comedic moments become few and far between by the film's melodramatic third act. Overall, it is an easy watch with a good message. (BKP: 4/5)
Review by Associate Editor Brigid K. Presecky
Coming off of their success with The Intouchables, filmmakers Olivier Nakache and Eric Toledo (in collaboration with Muriel and Delphine Coulin) tell another tale of an unlikely bond. This time, it's between aspiring chef "Samba" (Omar Sy) and an immigration volunteer "Alice" (Charlotte Gainsbourg).
Cinematographer Stéphane Fontaine opens the film on a visually interesting note, as the camera follows a wedding cake from the dance floor to the back of a hotel kitchen. This is where we meet dishwasher Samba. For the past 10 years, he has commuted a lengthy distance to work from his less-than-ideal living situation. But none of this fazes him; he is merely happy to be living in France. Everything changes when the French immigration authorities order Samba to return to his native country. Before his hopes for a better future are crushed, Samba seeks help from Alice, an immigration volunteer dealing with her own issues. The two embark on a journey of romance, trust and mutual longing for a better life.
Outside characters are introduced, some which serve a purpose, while others could have been left on the cutting room floor. At Alice's immigration center, there's "Manu" (Izïa Higelin), "Maggy" (Jacqueline Jehanneuf) and "Marcelle" (Hélène Vincent). But the one supporting character that provides the majority of comic relief is Samba's best friend "Wilson," (Tahar Rahim). His recreation of a 1990s Diet Coke ad is one of the highlights of Samba, giving a light-hearted touch to a film that deals with serious issues of race, class and immigration.
Sy and Gainsbourg are convincing in their roles of Samba and Alice, although their chemistry lacked a sense of romantic spark. When Samba concludes, you are left with an evenly matched pros and cons list. There are many touching moments and messages throughout which humanize the characters. Whether Samba is sending money home to Senegal to support his mother and family or Alice is ignoring her supervisor's advice about emotional involvement with clients, the characters feel like real people. Tonal shifts and dramatic subplots get in the way of the film's potential, but ultimately tie together to make sense. There are great moments, there are not-so-great moments, but the overarching theme is both sincere and inspirational.
© Brigid K. Presecky FF2 Media (7/25/15)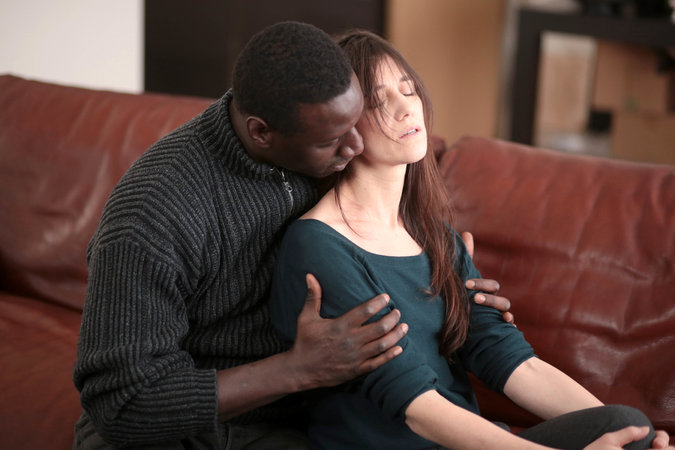 Photo: Omar Sy as "Samba" with Charlotte Gainsbourg as "Alice"
Photo Credits: David Koskas/Broad Green Pictures
Q: Does Samba  pass the Bechdel Test?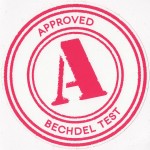 Yes!
Alice has scenes with her female co-workers, "Manu" (Izïa Higelin), "Maggy" (Jacqueline Jehanneuf) and "Marcelle" (Hélène Vincent).