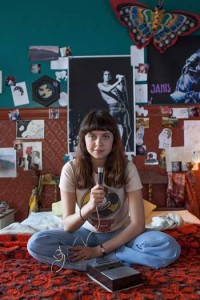 Writer-director Marielle Heller brings a graphic novel to life, telling the engaging and  refreshingly funny story of 15-year-old Minnie Goetze. Newcomer Bel Powley shines in her starring role as the 1970s teenager during a sexually-charged transformation. (BKP: 4.5/5)
Review by Associate Editor Brigid K. Presecky
"Minnie Goetze" (Bel Powley) just experienced an important milestone in her life: sex. She strides home with pride, her stream of consciousness acting as the voiceover for the opening of the film. It flashes to Minnie talking into a tape recorder. She recounts the details and timeline of the events that recently occurred. Who did she have sex with? What was it like? How did she feel?
Minnie answers every question and the audience goes along for the ride. It turns out, she had her first sexual encounter with her mother's boyfriend, the much older – and very handsome – "Monroe" (Alexander Skarsgård). Unlike other films, this relationship doesn't feel as scandalous as it should. Oddly, the 20-year difference doesn't feel wrong at all. Skarsgård plays Monroe as an aloof hippie, almost as if an immature teenager is trapped in a 30-something body. The atypical approach to this relationship keeps the film engaging and unpredictable as Minnie continues on her journey of self-discovery, sexual pleasure and her wanting to be wanted.
Kristen Wiig gives a strong performance as Minnie's selfish, cocaine-snorting mother. Yet again, filmmaker Marielle Heller never places her characters in cookie-cutter roles or preaches to the audience. Every character is unique, with every flaw and bad choice making them realistic and relatable. As Minnie changes, Powley is asked to do many different things: be silly, be vulnerable, be sexual, be confused – and she nails every single emotion.
Minnie looks at her naked body in the mirror and wonders"Will anyone love me?" … a question that can relate to many viewers, not only 15-year-old girls. Sure, there are shag carpets and bell bottoms, but the film still feels relevant to the 21st century. (Side note: the detailed sets and costumes immerse you in Minnie's 1970s world. Kudos to Susan Alegria and Carmen Grande.)
The Diary of a Teenage Girl feels a tad lengthy, with the somewhat unnecessary nods to the graphic novel. Since Minnie wants to be an artist, her drawings become characters of their own by popping in, out and around the screen. It adds to the story, but the peculiar drawings take up too much screen time. However, the overall pacing, tone and execution of the film is excellent. Along with steamy sex scenes and mother/daughter drama comes plenty of comedic moments, particularly in scenes with Minnie's "good kind of white trash" best friend named "Kimmie" (Madeleine Waters) or her geeky little sister "Gretal" (Abby Wait).
Writer-director Marielle Heller lined everything up to tell the best adaptation of Phoebe Gloeckner's book she could, from the exact words in the screenplay right down to the hair and costume department. The Diary of a Teenage Girl is different and engaging while telling a familiar tale of a teenage girl who is finding her place in the world – a story that will never get old.
© Brigid K. Presecky FF2 Media (8/8/15)
Top Photo: "Minnie" (Bel Powley) talks into a tape recorder diary
Middle Photo: Alexander Skarsgår as "Monroe" before he sleeps with Minnie for the first time
Bottom Photo: Minnie parties with her mother "Charlotte" (Kristen Wiig)
Photo Credits: Sam Emerson/ © Sony Pictures Classics
Q: Does The Diary of a Teenage Girl pass the Bechdel Test?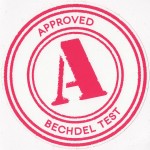 Yes … but on the outskirts.
Minnie has three important women in her life: her mother "Charlotte" (Kristen Wiig), her best friend "Kimmie" (Madeleine Waters), and her little sister "Gretal" (Abby Wait).
Although there are many scenes between the combination of women, they mostly revolve around "Monroe" (Alexander Skarsgård). However, there are a handful of scenes that do pass the Bechdel Test.