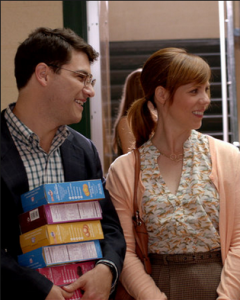 Adam Pally and Sarah Burns star as two nerdy, bookish co-workers who transform into "cooler" versions of themselves to try and find happiness. The laugh-out-loud romantic comedy knows it's cliche, but gives the audience a ride that is thoroughly enjoyable. (BKP: 5/5)
Review by Associate Editor Brigid K. Presecky
High-school librarian "Anne" (Sarah Burns) loves books, her cat sweater and tidying up Red Solo cups at parties. Her best friend, high school guidance counselor "Jeff" (Adam Pally) has little luck in the love department and spends his weekends with his book club buddies. When school lets out for the summer, Anne and Jeff decide to make a change in their lives.
How can they be cool? How can they find love? Anne ditches her librarian wardrobe for skin-tight black dresses and flashy jewelry. Jeff trades in his glasses and khakis for bandanas and leather jackets. At first, everything is fun with Anne and Jeff testing different personas during nights on the town. In typical romantic comedy fashion, things go too far until Jeff and Anne realize they truly have become different people.
As typical as it sounds, screenwriter Matt Serword and co-directors Don Argott and Sheena M. Joyce keep you laughing by the minute. During one of Jeff's book club meetings, his friends ask "Lenny" (Bobby Moynihan) about the last time he went on a date. Lenny looks up and says, "What's today? Sunday? … 1986." The humor resonates because it feels so real. Even in smaller scenes with Jeff's parents, the dialogue about party preparations is spot-on. As clever as Serword's script is, the blooper reel indicates that improvisation was a major component of Slow Learners. Pally, Burns and the entire cast deliver their lines with impeccable comedic timing.
The third act feels a bit extreme, with Anne and Jeff seeming like completely different characters – but that is exactly the point. Aside from the romantic or comedic aspects of the film, there is a deep underlying message. Should you be yourself and not have what "everyone else" has? Or should you alter your personality to fit in, losing what you love in the process? Anne and Jeff slowly learn that there is a fine line between the two … they only need each other to figure it all out.
© Brigid K. Presecky FF2 Media (8/22/15)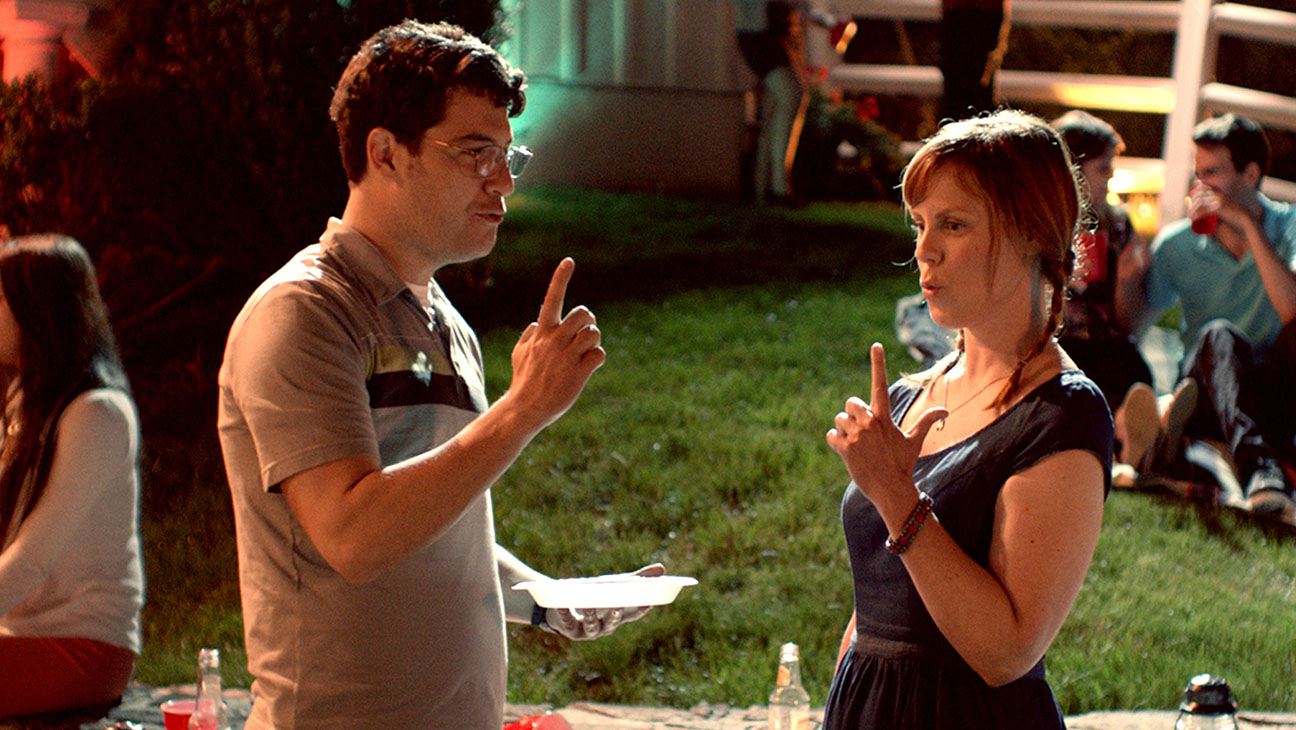 Photos: Adam Pally as "Jeff" and Sarah Burns as "Anne"
Photo Credits: Chase Bowman/Sundance Selects
Q: Does Slow Learners pass the Bechdel Test?
Definitely!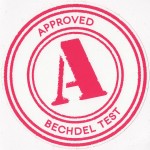 While the film gives Jeff other storylines aside from his romantic entanglements (his parents, his buddies) screenwriter Matt Serword also focuses on Anne's relationship with her other best friend, recent mother "Julia" (Catherine Reitman).
A typical romantic comedy would have the sidekick be attentive and 100% invested in Anne's love life. Instead, Slow Learners shines a realistic light on what happens to friends once one becomes a mother and one is still single. The dynamic changes. Julia doesn't become a patronizing witch just because she has a newborn, a refreshing change from the typical portrayal of new mothers. Their friendship reaches a turning point as both women grow and evolve, giving Slow Learners yet another interesting plot line.