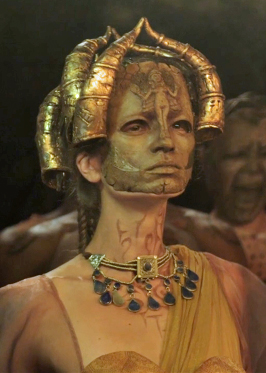 In her stunning new film, writer/director Deborah Kampmeier uses familiar images from her prior films (e.g., the naked women in the lake in VIRGIN, the snakes in HOUNDDOG, etc) to go in daring new directions that are even deeper, darker & more rewarding.
Amy Ferguson is very good as "Inanna" (an actress piecing together a career in New York's Indie Theatre scene), but Morgan Spector is a revelation as "Derek" (a tormented artist who makes brilliant theatrical masks which seem to have been born in Julie Taymor's worst nightmares).
SPLIT is not for the faint of heart & I have no doubt it will prove to be just as controversial as VIRGIN and HOUNDDOG. But remember this: no one knew Elizabeth Moss before Kampmeier cast her as the lead in VIRGIN, and Dakota Fanning had only played kid roles before Kampmeier cast her as the lead in HOUNDDOG. She also cast Robin Wright in key supporting roles in both films. So if actresses of this stature have put their trust in Deborah Kampmeier, then so should you!
NOTE: I have only seen SPLit in a preview version. Eager to see it again as "finished" as Deborah intended 🙂

Photo Credits: ???