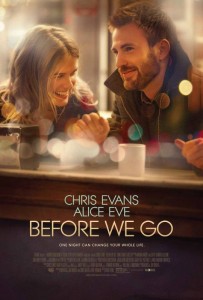 Chris Evans and Alice Eve star as two strangers who make an unexpected connection during an eventful night in New York City. Despite the contrivances, Before We Go is an interesting character study and realization of "two ships passing in the night." (BKP: 4.5/5)
Review by Associate Editor Brigid K. Presecky
Imagine you're a beautiful blonde woman walking down a darkened New York City street at night. A couple of thugs walk towards you. You don't know what to do. Before you can even think, Captain America whips his arm around you, pulls you in tight and pretends he's your boyfriend. Like magic, the thugs disappear.
That scenario is an example of what makes Before We Go a little too good to be true. Nonetheless, it is enjoyable watching said-Captain America (Chris Evans, also the film's director) play broken-hearted trumpeter "Nick" opposite art critic "Brooke" (Alice Eve).
After Brooke's purse is stolen and her cell phone dies, she wanders around Grand Central Station pondering her next move. Where is she going to stay? She doesn't know anyone in the city. She can't take a taxi or a bus; she has no cash.
Nick, avoiding an ex-girlfriend at a nearby wedding, kindly offers help to Brooke find her stolen purse and the two set off on their own adventure. As the night progresses, the two strangers bond over their commonalities and broken relationships by flirting, fighting and masquerading as a couple. Sound romantic? It certainly is. And the spark lit between Evans and Eve in the very first minutes lasts until the credits roll.
The briskly-paced screenplay (written by Jen Smolka, Ronald Bass, Chris Shafer and Paul Vicknair) focuses heavily on dialogue, giving its characters rich histories without ever using flashbacks or time-jumps. You feel as though you are the third wheel in this relationship, eavesdropping on Nick and Brooke's private conversations and witnessing a blossoming romance. Despite the somewhat contrived situations they find themselves in, their nightlong journey is a joy to witness.  
© Brigid K. Presecky FF2 Media (9/07/15)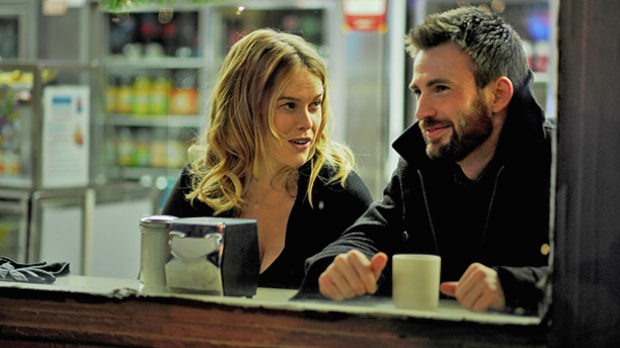 Photo: Director Chris Evans and Alice Eve as "Nick" and "Brooke"
Photo Credits: Radius
Q: Does Before We Go pass the Bechdel Test?
No.