Director Geeta V. Patel follows her brother Ravi on his quest to fulfill his parents' wish – finding a wife. A laugh-out-loud, real-life romantic comedy unfolds with heart and humor captured in every moment. The best documentary I have seen in 2015. Highly recommended! (BKP: 5/5)
To read FF2 Media's chat with the Patels, click HERE!
Review by Associate Editor Brigid K. Presecky
Ravi V. Patel had just broken up with his girlfriend of nearly two years. Instead of dating a traditional Indian woman with Patel ancestry, Ravi was in love with "Audrey," a redhead from Connecticut. Fearing disapproval from his parents, Ravi kept his relationship a secret, leading his mother "Champa" and father "Vasant" to believe he had never had a girlfriend. Cue "Matchmaker, Matchmaker."
On a family trip to India, Geeta (the film's director, often heard but rarely seen) turns on her camera and records Ravi's journey of finding love. Champa and Vasant, providing so much of the documentary's humor, want – more than anything in the world – for their son to get married to a traditional Indian woman. Their mission to find Ravi a wife commences! An arranged marriage has worked for them for 35 years, so why wouldn't it work for Ravi?
Soon enough, Ravi is sending out "bio datas," (otherwise known as a dating resume) and starts speed-dating around the United States. He attends marriage conventions, gets set up on blind dates and struggles with his breakup with Audrey.
But the story goes much deeper than finding the perfect bride. Yes, it is a story of finding love, but it is also the story about familial love. The bond between brother and sister, father and son, and mother and son are all evident through each and every moment filmed on camera. Even if you are unfamiliar with Indian culture, the values and ideals of these "characters" feel universal.
With a unique editing style and perfect comedic timing, the documentary is strung together like a romantic comedy (the good kind). Geeta V. Patel captures uncomfortable encounters, hilariously awkward conversations and – ever so slyly – catches heartbreakingly real moments while her family thinks the camera is turned off.
Meet the Patels is a feel-good journey enhanced by humorous filmmakers and an incredible editing team. One of the best documentaries I have seen in a long time. Highly recommended.
© Brigid K. Presecky FF2 Media (9/11/15)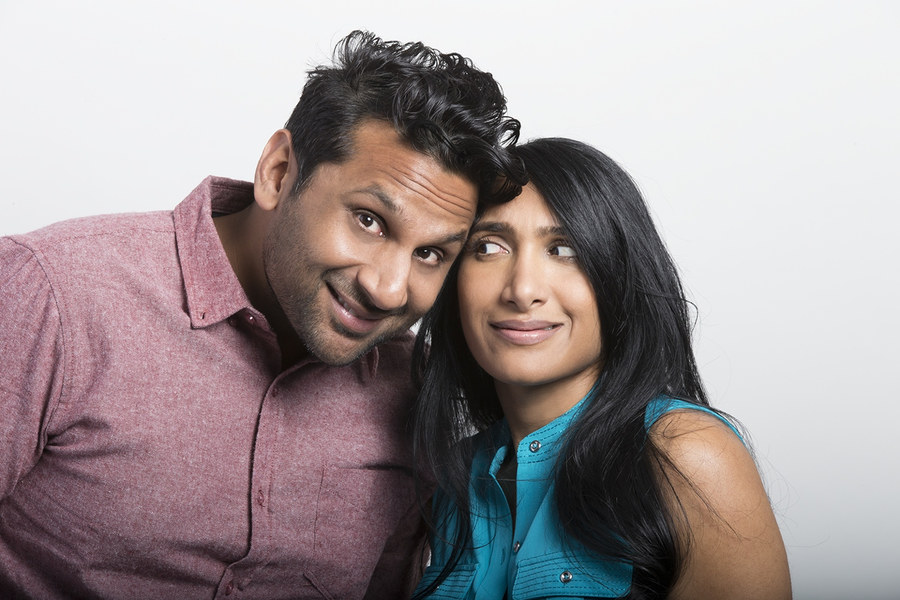 Top Photo: Parents Champa and Vasant Patel
Bottom Photo: Director Geeta V. Patel and the documentary's subject, her brother Ravi V. Patel
Photo Credits: Alchemy
Q: Does Meet the Patels pass the Bechdel Test?
No.