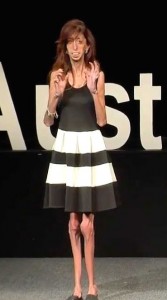 Full Title= A Brave Heart: The Lizzie Velasquez Story
A Brave Heart: The Lizzie Velasquez Story is a stunning documentary that tells the story of one incredible woman named Lizzie Velasquez. Lizzie was born with an extremely rare syndrome that affects her physical appearance, as she is unable to gain weight. As a young girl she was tormented and bullied for her appearance, but fought back through light and positivity. Today she is an incredibly influential speaker, fighting for safe schools and fighting against bullying. (JEP: 5/5)
Review by Contributing Editor Jessica E. Perry
Directed by Sara Bordo, A Brave Heart: The Lizzie Velasquez Story is an inspirational documentary about a young woman who overcame adversity, standing up to bullies in a unique way.
Lizzie Velasquez was born with an undiagnosed syndrome that does not allow her to gain weight and also left her visually impaired. Her parents loved her for exactly who she was, never raising her any differently from other children. Up until the time Lizzie started school, she had no idea that she looked different from everyone else. So the day she started kindergarten was a terrible awakening for this five year old; the other students were afraid of Lizzie, they did not want to include her, and the bullying began.
While in school, Lizzie faced torment and constant bullying for her unique appearance. One day when Lizzie was "supposed to be doing homework," she decided to search YouTube for new music instead. She happened upon a video entitled "The World's Ugliest Woman." When she clicked on the video, a photo of her face came up on the screen—8 seconds, no sound, just a still photo with over 4 million views and a slew of hateful comments that no one should ever have to read about themselves.
But while this film begins Lizzie's hardships and the bullying she endured, its true focus is on Lizzie's achievements including–but not limited to–her fight against bullying.
After seeing the YouTube video Lizzie fought back, not by bulling, but by encouraging the exact opposite. She started her own YouTube channel with the goal of helping to make the Internet a happier and more supportive community. Each week she would put up a new video, and slowly but surely the comments went from being largely negative to
almost entirely positive. As her YouTube presence grew, so did her confidence. Her successful channel then led to an invitation to give a TED Talk.
Note: The film contains some footage of her incredibly inspirational TED Talk (which now has over 9.5 million views) but it is an absolute must watch from start to finish in addition to the film!
Since the TED Talk, Lizzie has become a successful motivational speaker, traveling the world to tell her story and to fight against bullying. In addition to speaking, Lizzie has traveled to Washington D.C. to lobby for safe schools, and continues to inspire others through a multitude of avenues.
She stresses that what other people say about you does not define you. Instead, you are the one who gets to define you. Insofar as Lizzie wanted her achievements and successes to define her–not her outward appearance–she has certainly accomplished all this and more.
I cannot express how wonderful this documentary is. Lizzie's story, her incredible personality, and her perseverance make for an inspirational feature. Director Sara Bordo utilizes interviews with Lizzie, her family, and her teachers to tell the story. Paired with footage from Lizzie's speeches and encounters with important figures (such as Hilary Clinton), Bordo has brought us a winner.
Bottom line. Do yourself a favor and see this documentary. See it now!
© Jessica E. Perry FF2 Media (9/26/15)
Top Photo: Lizzie mid TED Talk.
Middle Photo: Lizzie and Tina Meier prepare to lobby in D.C.
Bottom Photo: A poster for this award-winning documentary.
Photo Credits: Cinedigm
Q: Does A Brave Heart: The Lizzie Velasquez Story pass the Bechdel Test?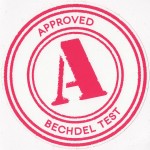 100% yes!!!!
Lizzie has conversations with her mother, sister, Hilary Clinton, Tina Meier (cyber bullying advocate and mother of teen Megan Taylor Meir who committed suicide after being bullied online), and more.
Absolutely NONE of their conversations revolve around men, but instead, focus on embracing yourself for who you are and advocating to stop bullying.