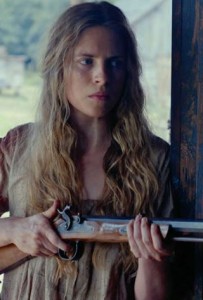 The Keeping Room, a film that has been deemed the "the feminist Western" is an engaging look at an untold part of history. Brit Marling leads the trio of women–two sisters and their former slave–as they encounter the threats, dangers and hardships during the final days of America's Civil War. Directed by Daniel Barber with screenplay by Julia Hart. (BKP: 4.5/5)
Review by Associate Editor Brigid K. Presecky (with 2 CENTS at the bottom from Managing Editor Jan Lisa Huttner)
With their father and brother unlikely to return from the war, sisters "Augusta" (Brit Marling) and "Louise" (Hailee Steinfeld) are left to tend to their family's rundown Southern farm – with the help of their former slave "Mad" (Muna Otaru). The three women care for the property and care for each other, attempting to survive and avoid the dangers that loom around their land.
Director Daniel Barber and Writer Julia Hart set the tone from the opening act, giving the audience a fearful uneasiness as two Union soldiers (Sam Worthington and Kyle Soller) desert the military and murder innocent women in cold blood. Back on the farm, life is quiet – and so is the film, constituting of wide shots of abandoned land and shells of houses once filled with happy, prosperous families. 
When Louise becomes ill after being bitten by a
raccoon, Augusta rides into town on horseback in search of medicine. At the same time, the two Union soldiers continue their rape/kill/pillage spree, winding up in the same tavern as Augusta. Their gruesome, evil behavior–especially towards women–inevitably affects her life and the life of the two people closest to her, Louise and Mad.
Unlike many other films about the Civil War, The Keeping Room focuses on what life would be like for young women left to fend for themselves. From sobbing at her sister's bedside to bravely holding a rifle on horseback, Brit Marling gives a stunning performance as the film's lead actress. Augusta is the epitome of a strong lead character: caring, resourceful and a pillar of confidence even in her her most vulnerable state. Likewise, Steinfeld and Otaru give powerful performances as sickly Louise and wise Mad.
The harsh realities of this era, with wince-inducing brutality perfectly depicted in the film, will resonate with audiences. It personifies a piece of history typically brushed over in classrooms or printed in small text in a museum exhibit. These women existed. How did they survive on their own? How did they deal with the loss of their loved ones? How did they rebuild? The Keeping Room is a fictionalized answer to those questions, yet this story, set in 1865 South Carolina, makes you feel emotions that are very much real.  
© Brigid K. Presecky FF2 Media (10/22/15)
Top Photo: Brit Marling as "Augusta."
Middle Photo #1: Brit Marling as "Augusta" with Muna Otaru as "Mad."
Middle Photo #2: Muna Otaru as "Mad."
Bottom Photo (from left): Muna Otaru as "Mad" with Hailee Steinfeld as "Louise" and Brit Marling as "Augusta"
Photo Credits: Drafthouse Films
Q: Does The Keeping Room pass the Bechdel Test?

Absolutely!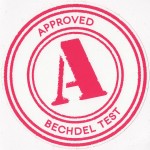 "Augusta" (Brit Marling), "Louise" (Hailee Steinfeld) and their former slave "Mad" (Muna Otaru) share many scenes together, discussing everything from the absence of their loved ones–especially their mother–to their own survival.
It is an interesting depiction of the women during this era, especially these three characters who are emotional, tactful and above all else – strong. Highly recommended!
The Keeping Room is a spare, intense drama set at the tail end of the Civil War in which three young women learn to cope with lives very different than the ones they were raised to expect. (JLH: 4.5/5)
"Augusta" (Brit Marling) and "Louise" (Hailee Steinfeld) are sisters. "Mad" (Muna Otaru) is their former slave. When the film opens, Augusta and Louise have already been on their own for years. Their mother is dead. Their men went to the war and never returned.  Mad stays with them first because she has nowhere else to go, and second because she is still hoping that her husband "Bill" (Nicholas Pinnock) will return.
Because she is the older sister, Augusta has become "the man of the family," taking responsibility for most of the hunting while Mad works the vegetable plot. They both indulge Louise who is younger and more delicate, but when Louise tries to exert her old authority over Mad, Augusta quickly realizes their new interdependence and insists that Louise both show more respect and start taking a larger role in getting work done.
Crosscut with the daily fight for sustenance on the farm is the story of two renegade Union soldiers who have lost all sense of civilization. Brutalized by years of combat experience, "Moses" (Sam Worthington) and "Henry" (Kyle Soller) take what they want without regard. Nothing in their grasp is safe from predation.
It goes without saying that these lives eventually cross paths, but the causes and effects are more subtle than anticipated, and all three protagonists are irrevocably changed by the encounter.
Although this story is definitely told from the POV of the three women, screenwriter Julia Hart has written strong scenes for both Sam Worthington ("Moses") and Nicholas Pinnock ("Bill"). And even though Kyle Soller ("Henry") is little more than a villain, he still has our sympathy knowing what we know now about PTSD and the stress of combat.
Worthington–a bonifide multiplex "hero" frequently seen in huge blockbusters like Avatar and Terminator Salvation–expands his range here. Amid the violence and onscreen chaos, he and Marlin have scenes together which quietly suggest that in a rational world they would be a natural pair. Meeting her has touched something deep inside him, reminding him–perhaps–of the hopes and dreams of the parents who named him Moses.
But in the end, the commanding presence in The Keeping Room belongs to Brit Marling–one of the best young actress/filmmakers on the current scene. I have admired every film she has done since her breakthrough in Another Earth (nominated for multiple Independent Spirit Awards and named one of the Top Ten Independent Films of 2011 by the National Board of Review). I hope directors like Daniel Barber continue to cast her and challenge her to new heights, and that she keeps building the box office power required to express herself onscreen for many years to come.
10/23/15 UPDATE: I am delighted to see that Brigid saw the same film I saw, all the more so because as of today (10/23/15), The Keeping Room as a barely there score of 67% Fresh on Rotten Tomatoes 🙁
Click HERE for theatres showing The Keeping Room (which has been scheduled for a rolling release across the USA). Click HERE to queue The Keeping Room on GoWatchIt.
© Jan Lisa Huttner FF2 Media (09/24/15) Update (10/23/15)