Labyrinth of Lies is a superb German film written by Elisabeth Bartel and Giulio Ricciarelli about the Frankfurt Auschwitz trials, which ran from 1963 to 1965 and convicted 22 men for their roles in the Holocaust. A young and driven lawyer, "Johann Radmann" (Alexander Fehling), seeks to bring the truth to light about the crimes committed during the Holocaust, and to get justice for the countless victims. (JEP: 4.5/5)
Review by Contributing Editor Jessica E. Perry
Labyrinth of Lies was written by director Giulio Ricciarelli and Elisabeth Bartel. Additionally, Amelie Syberberg is credited on IMDB with a screenplay collaboration credit.
This foreign language film tells a powerful story with a new take on Germany and World War II. The film focuses not on the horrors of the Holocaust during the war, but instead on the aftermath, and the horrific actions committed by German citizens. Labyrinth of Lies focuses on one pressing question: how does Germany move forward after World War II?
"Johann Radmann" (Alexander Fehling) is a young lawyer stuck with minor traffic cases, itching to make a difference with his work. One day a journalist named Thomas Gnielka (André Szymanski) enters the law offices and causes quite a commotion, insisting that a man teaching young children was a Nazi commander of the Auschwitz concentration camp during the war. Gnielka protests that a man, who has murdered countless, should not be allowed to teach children. Every lawyer scoffs at Gnielka's claim, turning a blind eye to the truth. Every lawyer except for one that is…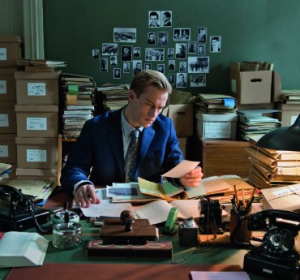 After the other men disperse, Johann pulls Gnielka's article from the trash and promptly begins his search for the truth. Johann and Thomas become allies, working to bring to light the truth of the criminal acts so many German men committed during the war, and to get justice for the countless victims. Johann begins to interview survivors of concentration camps, moved to action by their stories. He must connect a murderer with his victim, as too much time has passed to convict these men on any lesser charges. Thirteen years after the end of the war means the only way to get any justice is to convict on the charge of murder.
Johann's life begins to unravel as he becomes consumed with these cases. He loses his girlfriend Marlene Wondrak (Friederike Becht) to his work, accusing her father of being a member of the Nazi party. Johann cannot forgive Germany for what it has done. He sees a murderer in the face of every man he passes on the street, and must learn to forgive his country in order to continue his important work.
The film is loosely based upon the Frankfurt Auschwitz trials, the first of their kind in Germany, which ran from 1963 to 1965 and convicted 22 men for their roles during the Holocaust at the Auschwitz concentration camp. The film will have you engaged for the entirety of its two-hour run time, whether or not you speak German. Giulio Ricciarelli and Elisabeth Bartel succeed in delivering an emotionally moving and powerful film that will stay with you long after the credits have rolled. Alexander Fehling delivers a stunning performance as Johann and is supported by a wonderful cast.
© Jessica E. Perry FF2 Media (10/31/15)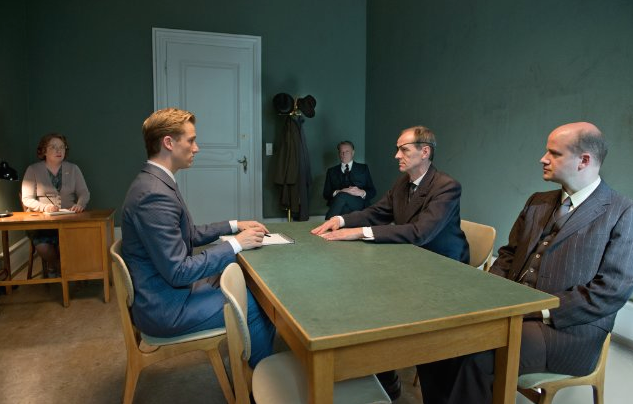 Top Photo: Labyrinth of Lies poster.
Middle Photo: Johann pours over countless files, building his case.
Bottom Photo: Johann begins his first interview, opening up the case.
Photo Credits: Heike Ulrich
Q: Does Labyrinth of Lies pass the Bechdel Test?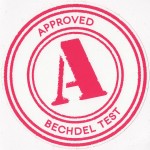 Barely, but yes.
Johann's girlfriend Marlene starts a dressmaking business and speaks to her clients who would like to purchase custom dresses.