Mississippi Grind is an underwhelming dramatic comedy, written and directed by Anna Boden and Ryan Fleck about a down on his luck gambler "Gerry" (Ben Mendelsohn), who meets a younger, slightly more successful gambler "Curtis" (Ryan Reynolds) and the two take to the road to win back some cash. (JEP: 2.5/5)
Review by Contributing Editor Jessica E. Perry
"Gerry" (Ben Mendelsohn) is a gambler … and not a very successful one at that. He does not know when to fold, and if he wins a little he puts it all back into the pot to win a lot. Yet he seldom ever does. Gerry has amassed quite a debt, his life is in shambles, and it is time to pay up.
One night at a card game, Gerry meets "Curtis" (Ryan Reynolds) a charismatic young man who appears to have a much better knack for gambling than Gerry ever has. The two strangers play nice and spend a few nights playing cards together at local spots. Gerry holds a slight fascination for the ever-confident Curtis, but Curtis is the kind of guy who will never tell you where he's from, only where he's going.
One night he leaves Gerry in the parking lot after earning some small winnings, and announces that he's off to somewhere new. As Curtis walks away Gerry suddenly finds himself held at knifepoint, the perp insisting that he knows that Gerry came away with some winnings, and demands the cash. But Gerry being Gerry has already gambled away his winnings and has nothing to offer. The perp stabs him anyways (don't worry just a small flesh wound) and runs off.
The next morning the reality of Gerry's situation hits him like a slap in the face. He owes a lot of money to some dangerous people, and if he doesn't pay up the next day he will be "reminded" until he does. His solution? Leave town and make some quick cash (by gambling of course).
Gerry thinks his luck will be much better if his new buddy Curtis is around, and even though Curtis left town Gerry gives him a call. Surprise, he never left. Curtis won tickets to some sports game and he stayed an extra night. Then, even more coincidentally, Curtis walks into the same bar Gerry is sitting in while the two men are on the phone. Gerry takes it as a sign, and the two men take to the road to win back some cash.
There are some B and C storylines interwoven into the road trip, like Gerry's estranged daughter and Curtis' on again off again love for "Simone" (Sienna Miller). But I definitely would not say that Miller and Analeigh Tipton—who plays Simone's friend "Vanessa"—are leads in the film like its marketing suggests. They appear in a few quick scenes, and then never reappear again.
Unfortunately, I found Mississippi Grind to be an extremely underwhelming film where the characters learn nothing and change little. Mississippi Grind boasts a talented cast, and the performances were not bad, they simply were not enough to save the film from monotony. Admittedly, writer/director pair Anna Boden and Ryan Fleck lost me half way through. Now, the film has been received fairly well, so maybe I'm missing something, but Mississippi Grind left me bored and checking the clock.
© Jessica E. Perry FF2 Media (10/25/15)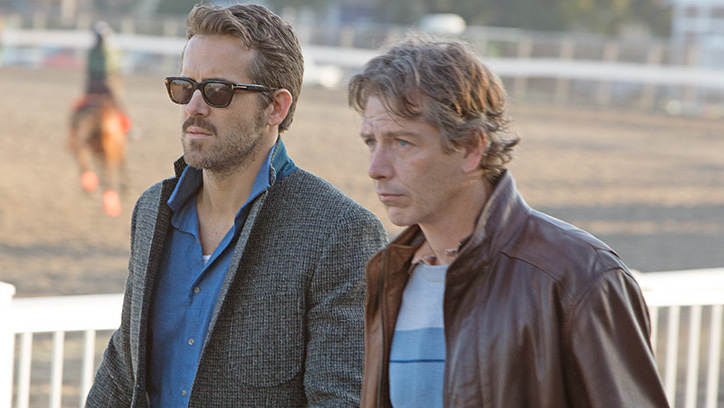 Top Photo: Mississippi Grind movie poster.
Bottom Photo: Curtis and Gerry at the racetrack to bet on a winner.
Photo Credits: Patti Perret
Q: Does Mississippi Grind pass the Bechdel Test?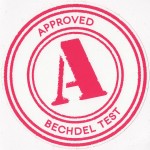 Nope.