Three views, two reviews: Brigid & Jessica both say their say about The Intern, then Jan weighs in with her own two cents 🙂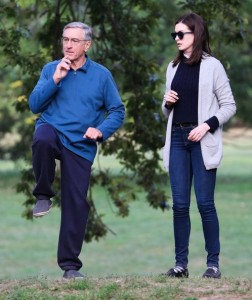 Review of The Intern by Associate Editor Brigid K. Presecky 
Robert De Niro leads a classic-Nancy Meyers comedy about a 70-year-old intern working opposite 30something boss Anne Hathaway. A refreshing, heartfelt film about friendship and pseudo-parental guidance. (BKP: 4.5/5)
********************
If your father ever worked an office job for decades, carrying a worn leather briefcase in his hand and a handkerchief tucked in his pocket… Writer/Director Nancy Meyers might kill you with emotion. When "Ben" (Robert De Niro) becomes bored with retirement, he accepts a "Senior Internship" at an online clothing outlet, assisting a fashionable, workaholic mother "Jules" (Anne Hathaway). Watching Ben become acclimated to the millennial workplace is an amusing wakeup call to how things have changed: he dresses in a suit and tie rather than a sweatshirt, brings a calculator instead of an iPhone, and prefers to talk face-to-face rather than sending an email.
Hathaway rekindles her comedic timing and slides back into a relatable, awkward role as successful businesswoman Jules. With her company booming, she feels pressure from her Board to hire an "experienced" [read male] CEO, as well as pressure from her husband "Matt" (Anders Holm)–a stay-at-home Dad–to slow down. Her nervousness and dissatisfaction become apparent to the most observant person in the office – Ben.
Through circumstantial events, Ben not only becomes her assistant, but also becomes a chauffeur, a babysitter, a shoulder to lean on, a friend and a father-figure to Jules. Witnessing the arc of their relationship is satisfying and tear-inducing (see above: Nancy Meyers killing you with emotion).
With talented actors like De Niro and Hathaway, it would be too obvious a statement to say they are perfect in their roles. Supporting actors Andrew Rannells (Girls), Adam Devine (Modern Family) and Zack Pearlman (Mulaney) round out the gang of sarcastic, endearing characters who create the setting of a modern, 21st-century workplace.
As strong as the "A" storyline is, there are a few "B" plots that add unnecessary time to an otherwise enjoyable film. When Ben and the young interns go on a heist to retrieve Jules' mother's laptop from her home, the entire sequence feels out of place – like a deleted scene that accidentally made it into the final cut.
Aside from a few weak spots in its final act, The Intern is a welcome change from superheroes, spy missions or teenagers facing the apocalypse. The film touches on serious subjects like gender roles and age discrimination, yet channels those messages through believable, realistic characters without being too preachy. In typical Nancy Meyers form, she makes you laugh and makes you cry; makes you smile and makes you think. She reminds you that older people might not know how to sign up for Facebook or use an iMac, but they can use their life experience and wisdom to give you advice that Siri can't.
© Brigid K. Presecky FF2 Media (9/25/15)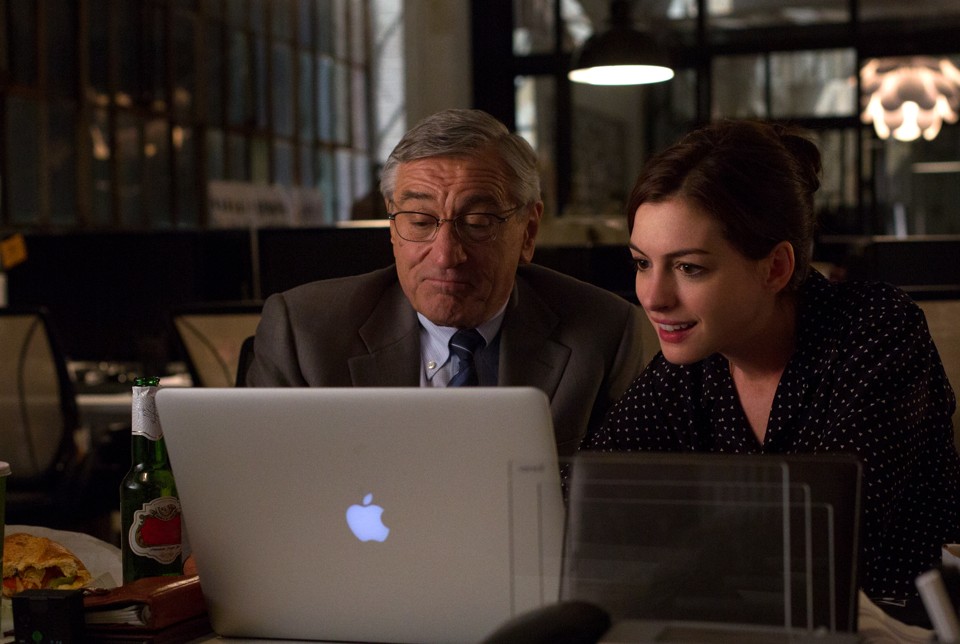 Photos: Robert De Niro as "Ben" and Anne Hathaway as "Jules."
Photo Credits:Warner Bros.
Q: Does The Intern pass the Bechdel Test?
Yes!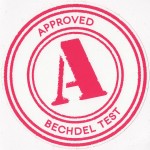 Jules feels judged by other moms at her daughter's school. The scene actually seems a bit judgmental in itself, stereotyping all stay-at-home mothers as caricatures of mean-spirited Stepford wives who gossip in the park.
However, there are other elements that also pass the Bechdel Test: Jules is very demanding of her 24-year-old assistant "Becky," (Christina Scherer) a young Penn-graduate who provides much of the comic relief. Jules also has a sweet young daughter, "Paige" (JoJo Kushner) who bonds with her fill-in babysitter Ben.
Review of The Intern by Contributing Editor Jessica E. Perry 
Writer/director Nancy Meyers brings us another feel-good film about retired widower "Ben" (Robert De Niro) who returns to work as a "senior intern" for an online startup. Working under founder "Jules Ostin" (Anne Hathaway), the two find they each have things to teach the other and a friendship grows. (JEP: 4/5)
********************
"Ben" (Robert De Niro) is a retired widower. His wife passed a few years back, and the sad truth is that attending friends' funerals is becoming a fairly regular occupation. It's not that Ben is unhappy; he just needs something new to keep him moving, to keep from dwelling on the monotony that has become his life.
A flyer on the street catches his eye. It is advertisement for a startup company that is seeking "Senior Interns." The humor isn't lost on Ben, but he decides to apply anyway. In a brilliant opening sequence, Ben records his video interview for the position, and simultaneously captures the audience in his first few words.
"Jules Ostin" (Anne Hathaway) is a mother, wife, and the dedicated founder of an online fashion site. Her business has grown exponentially in the past few months, and things are getting hectic. Jules has no time, juggling all her work responsibilities, while trying to be there for her family in the process.
One hectic workday, Jules is reminded of the "Senior Intern Program" (which she does not remember agreeing to), and "to set a good example"
agrees to hire Ben as her personal intern.
So Ben begins his internship the Brooklyn based company, with a few other new members, including only one appropriately intern-aged intern "Davis" (Zack Pearlman).
After working together for just a little while, Jules wants to move Ben to a different department. Her reason? He is too perceptive, and with her guard up high, perception is not a good thing. But Jules begins to realize that maybe Ben is just the kind of "intern" she needs, someone with a world of experience and the advice to ground her in the huge shifts going on in both her personal and professional lives.
De Niro and Hathaway both shine in their respective roles. And as a growing fan of Adam DeVine, I thought he was just as funny here as "Jason"—the young employee who seeks relationship advice from Ben—as he is in Pitch Perfect and Modern Family. The Intern is a well-made, well-acted, and feel good film, with a stellar cast and a whole lot of heart.
© Jessica E. Perry FF2 Media (9/30/15)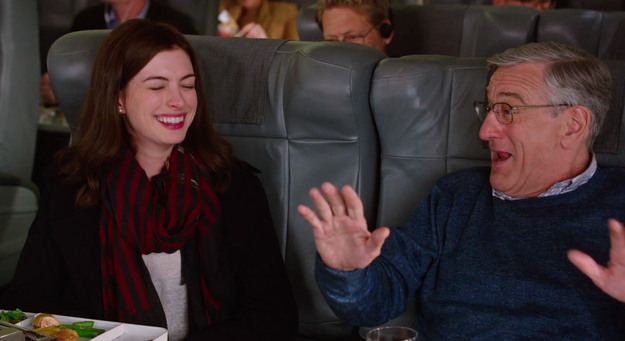 Top Photo: Ben brings little Paige to a birthday party in the park.
Middle Photo: Jules rides her bike through the office to make up time.
Bottom Photo: Jules and Ben laughing on a business trip.
Photo Credits: Warner Bros.
Q: Does The Intern pass the Bechdel Test?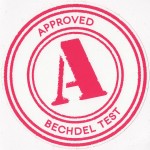 Yes.
Jules has a brief encounter with two catty and antagonistic moms who resent her for being a working mother. They tell Jules that she must bring guacamole for the school gathering, but she can just buy it since she obviously won't have the time to make it by hand.
Jules and her adorable daughter "Paige" (JoJo Kushner) also talk about birthday parties and mommy daughter days.
I basically agree with Brigid & Jessica that the office scenes in The Intern are perceptive as well as fun. For those of us who think The Devil Wears Prada is an underrated classic, watching "Jules Ostin" transform into "Miranda Priestly" is highly satisfying evolution for Anne Hathaway (who has had a few unfortunate cinematic disasters–like Song One— since winning her Oscar as "Fantine" in Les Miserables a couple of years ago).
What didn't work–for me–were the scenes with husband Matt (Anders Holm). Learning Matt was cheating on Jules was a cliched time-waster that bogged down Act Three. I would have much preferred to spend more time with Ben and "Fiona" (Rene Russo)–now THAT's an affair to remember 🙂
Score? JLH: 3.5/5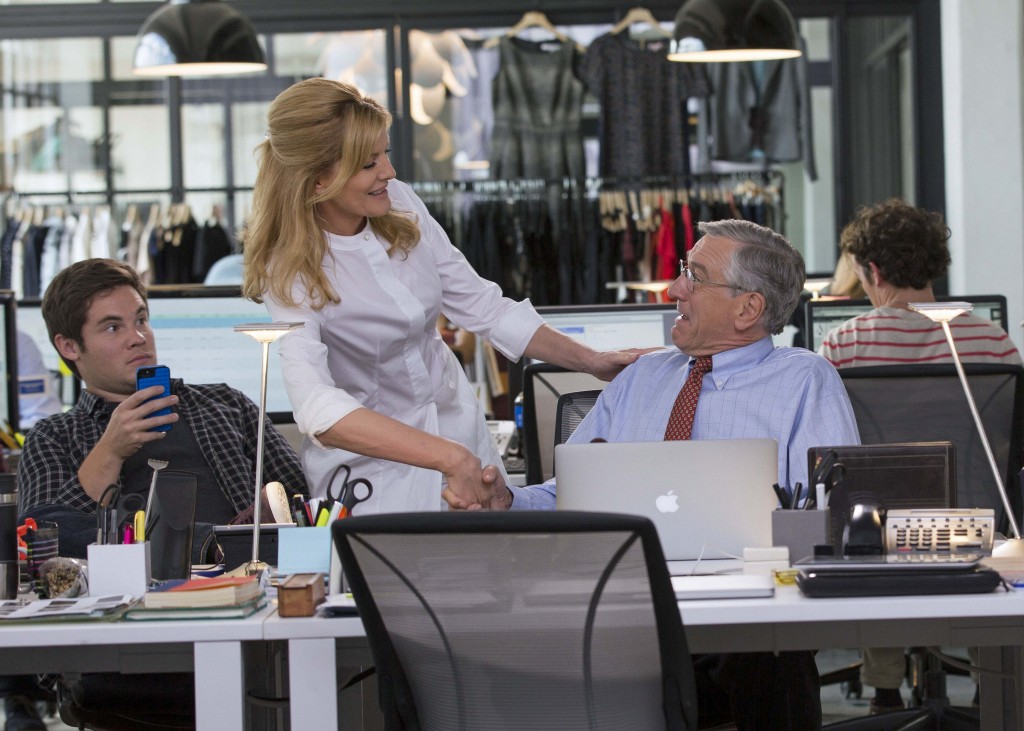 Bottom Photo: Ben's first meeting with in-office masseusse "Fiona" (Rene Russo) proves to his young colleagues that the old guy's still got "it" 🙂