Addicted to Fresno, written by Karey Dornetto and directed by Jamie Babbit, is a quirky comedy about two sisters living monotonous lives as hotel maids, when everything is suddenly turned upside down when they find themselves covering up a murder. (JEP: 3.5/5)
Review by Contributing Editor Jessica E. Perry
"Martha" (Natasha Lyonne) is satisfied with her life. She's a homeowner, has a steady job, and a routine. But when her sister "Shannon" (Judy Greer) moves back into town—all her baggage included—Martha's normal life gets turned on its head.
Shannon is a recovering sex addict, whose life has fallen apart to the point that she's been forced to move back home to Fresno and into her little sister's house. Martha gets Shannon a job working with her as a hotel maid. Naturally, Shannon takes none of it seriously.
Shannon is also sleeping with her married ex-therapist "Edwin" (Ron Livingston). One day, while at work, Edwin calls Shannon to deliver the good news that he has left his wife (just like Shannon previously asked him to do) and only loves her. Shannon's reaction: to freak out when actual feelings are involved, and to use sex to alleviate the pain instead. So after yelling at Edwin, and calling him a fool, Shannon walks over to the room of a male hotel guest and asks if he wants to sleep with her.
Naturally, Martha is concerned about her flighty and troubled sister who has suddenly disappeared from work, and goes looking for her. Walking in on Shannon and said male hotel guest, Martha assumes that he is taking advantage of her sister. A commotion ensues, and Shannon accidentally…. kills him. Oops.
As a registered sex offender Shannon insists that they can't call the police. Martha reluctantly agrees to help Shannon cover up the murder, and they bring the body to another of Shannon's ex-lovers "Gerald"—played by the always-hilarious Fred Armisen—who runs a dog cremation business. He agrees to cremate the body, but only if they bring him $25,000 so he can leave Fresno and start a new life in another obscure town with his current girlfriend. Sufficiently blackmailed, the two sisters set off to acquire twenty five grand, and the plot gets more and more ridiculous (but in a good way) from there.
With appearances by other hysterical actors, such as Molly Shannon and Aubrey Plaza—as "Kelly," Martha's gym instructor who has no qualms about expressing her romantic feelings for her—Addicted to Fresno is charming, quirky, and unexpected. Filmmakers Jamie Babbit and Karey Dornetto have done their jobs, bringing together a great cast and an original narrative.
The film boasts a wonderful female cast, and Greer, Lyonne, Shannon, and Plaza all deliver strong comedic performances. As incredible as all these women are here (and in every role they take on), the surprising scene stealer was actually Malcolm Barrett who had a small role as Greer's love interest "Eric." His performance was so open and endearing, I found myself wondering why I hadn't seen him in more films, and disappointed when his character suddenly disappeared from the narrative.
Thoroughly entertaining, Addicted to Fresno was quirky, funny, and ridiculous yet grounded in the familial bond between two sisters.
© Jessica E. Perry FF2 Media (10/4/15)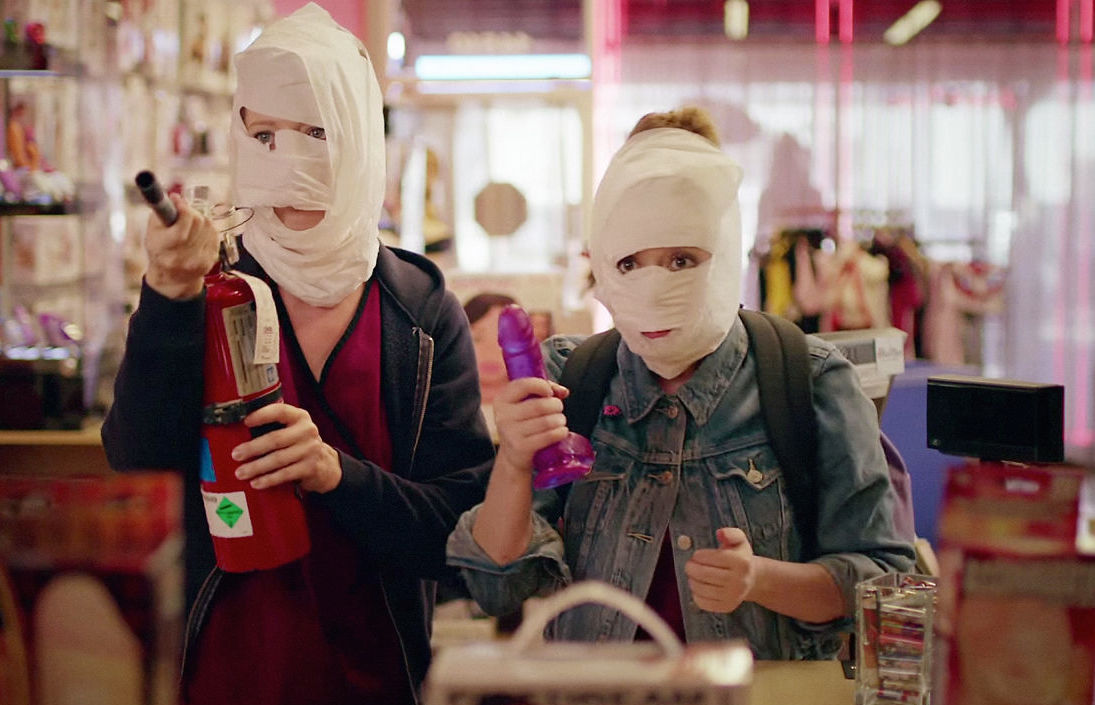 Top Photo: Martha finally decides to let Kelly in.
Middle Photo: Shannon and Martha on the job, adorned in their hotel maid uniforms.
Bottom Photo: The two sisters rob a sex toys store to get their $25,000. Unfortunately, all they manage to steal is a cart full of dildos.
Photo Credits: Aaron Epstein
Q: Does Addicted to Fresno pass the Bechdel Test?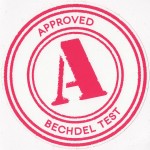 Yes!
"Kelly" (Aubrey Plaza) has a heated discussion with "Martha" (Natasha Lyonne) expressing the feelings she has towards her, and questioning why they aren't enough. Martha truly is dealing with the stresses brought on by her sister and the murder, but her excuses no longer cut it with Kelly.