Founder of The Bechdel Test Fest, Corrina Antrobus, was dismayed at the poor representation of women in film. In 2013, only 15% of the top 100 films released had a female protagonist. By June 2014, less than half of cinematic releases passed the Bechdel Test (a scene with two female characters talking about something other than a man).
With a background in film marketing, Antrobus noted the lack of both women on screen and diverse audiences … and the idea for a festival was born. "So many of us gain an understanding of the world through cinema and I just didn't see my reality reflected back – the one full of women doing brilliant and inspiring things," Antrobus says. "There are so many female-led films that don't get noticed and I thought, through a festival, I could help highlight these great movies."
After a year of research and preparation, Antrobus' love of film and feminism culminated in the launch of The Bechdel Test Fest. Premiering to a sold-out crowd in February 2015 with the event "Reclaim the Rom Com," the fest has since evolved into an organization that hails positive representation in cinema. Every event, run entirely by a team of volunteers, tackles various areas of female representation in film, aiming to attract diverse audiences and spark much-needed conversations.
The Bechdel Test Fest is set to host a screening of Carey Mulligan's upcoming drama Suffragette on Friday, October 23, at Picturehouse Central in London. The screening will be followed by a discussion, "Votes for Women," with panelists including producer Faye Ward, author Sophie Mayer (Political Animals: The New Feminist Cinemas) and Helen Pankhurst, the great granddaughter of Suffragette Emmeline Pankhurst.
Also set for October 23 is a screening of Magic Mike at the Prince Charles Cinema, specifically focusing on negative representations of masculinity in film. The fest will also partner with London Fields Free Film Fest to screen a series of horror films, "The Horror Hareem," to debate empowerment and misogyny in the genre.  
Through social media and an expanding online presence, The Bechdel Test Fest promotes female-led film releases every Friday (for cinema) and every Monday (for rental and purchase). The team aims to combat negative press about women in film by utilizing Facebook on a weekly basis and writing monthly-roundup blog posts entitled, "Good Things To Happen For Women in Film."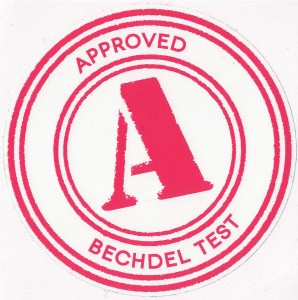 With plans to expand nationwide, Corrina Antrobus reflects on the overwhelming support from fest-goers and the bittersweet notion that "we're fulfilling a hunger that shouldn't be there in the first place." She says, "but it feels worthwhile when you sit at the back of the cinema and feel your audience respond so positively to the experience."
© Brigid K. Presecky FF2 Media (10/09/15)
To learn more about The Bechdel Test Fest, visit: www.bechdeltestfest.com
Twitter: The Bechdel Test Fest (@BechdelTestFest) Director Corrina Antrobus (@corrinacorrina) Facebook: /BechdelTestFest Instagram: @bechdeltestfest
Photo: Carey Mulligan in "Suffragette"
Photo Credit: Focus Features