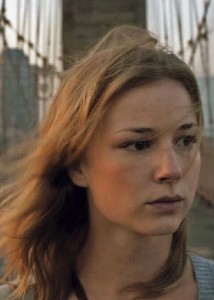 Intriguing first feature written and directed by filmmaker Marya Cohn puts a new spin on the sexual betrayal of a fourteen year old girl. This victim appears to come from the best of homes, but her abuser can see that she has no one to protect her, so he takes what he wants with no concern for consequences.
Cohn–directing a terrific cast–adds unexpected depth and empathy to some situations which are unfortunately already all too familiar. Brava! (JLH: 4/5)
Review by FF2 Managing Editor Jan Lisa Huttner
What's up with Alice?
Twenty-nine year old "Alice Harvey"(Emily VanCamp) presents as a textbook case of Arrested Development. Although she is obviously intelligent and attractive, she is clearly blocked. She feels thwarted at work, she has trouble relating to peers and potential partners, and she is unable to participate fully in her writing class even though she thinks of herself as a writer. What's going on?
Filmmaker Marya Cohn has made an intriguing first feature that takes some relatively familiar situations and adds unexpected depth and empathy. It's no surprise that Alice has been the victim of sexual abuse; what is surprising is who the abuser is and how willfully blind everyone is to the way his actions have affected her life choices.
Cohn deftly manages the flashback sequences, and her two lead actresses Emily VanCamp (as Alice-Age 29) and Ana Mulvoy-Ten (as as Alice-Age 14) do a convincing job of conveying one dynamic personality (even though they don't look much alike).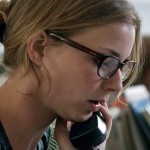 From start to finish, Alice's life is dominated by her father–well-played by Michael Christofer–who never gets a name beyond "Dad." Dad is accomplished, Dad is erudite, and Dad's home–the place in which Alice grows up–is an upscale Manhattan dream apartment filled with books and framed by windows that look out over Central Park. But Dad sucks the air out of every room he is in just as surely as he steals the food off of every plate. (First Dad orders for everyone at the table and then he "samples" until he has had his fill.)
Physically commanding and used to having his way, this monster is also one of Manhattan's most prominent literally agents. In the flashback sequences, Dad is preoccupied with managing the rising career of a promising new author. When Young Alice tells Dad that "Milan Daneker" (Michael Nyqvist) has also begun visiting her in the afternoons to "help her with her writing," Dad pushes the implications to the back of his mind. Even when Dad reads Daneker's manuscript (which turns out to be about the sexual awakening of a teenage girl), he refuses to connect the dots.
Dad's behavior at this critical time is just further evidence of what Alice already knows: As far as Dad is concerned, Alice is barely visible. Since Dad has no boundaries, all he can see in Alice is an extension of himself. And after years spent as Dad's daughter, Alice has come to accept that her own needs have no significance… even to her.
Casting Michael Nyqvist as Alice's abuser was a stroke of brilliance on filmmaker Marya Cohn's part.
Nyqvist is best-known to American audiences as "Mikael Blomkvist," the journalist character who played opposite Noomi Rapace's "Lisbeth Salander" in the Swedish version of Stieg Larsson's Millennium Triology (The Girl with the Dragon Tatoo, The Girl Who Kicked the Hornet's Nest, and The Girl Who Played with Fire). He is a warm and generous actor with low-key sex appeal and a face that is almost–but not quite–homely. Nyqvist's European accent also marks him as a stranger in a strange land who has few local friends to take up his time (or to independently monitor his behavior).
So, in their early scenes together, it is easy to believe that Milan Daneker is sincerely interested in Alice. But Daneker is not only watching Alice, Daneker is also watching Dad. Once he realizes he can have his way with Alice, Daneker's "charm" becomes ever more insistent. Alice is uncomfortable. She does not want their relationship to have a physical component. She is, in fact, desperate for boundaries… but she has no ability to build them. Her defenses are breached at age 14 (FOURTEEN!!!), but the two men in her life–men who are adults and should act like adults in the presence of a child–see absolutely nothing untoward in what has happened. No harm. No foul.
It takes 15 years–more than double her age at the time of her trauma–for Alice to reclaim her life. Finally, at the cusp of 30, Alice orders her own dinner… and this tiny moment thrilled me. I had gone the distance with Alice and I left the theatre exhilarated!
© Jan Lisa Huttner FF2 Media (12/11/15)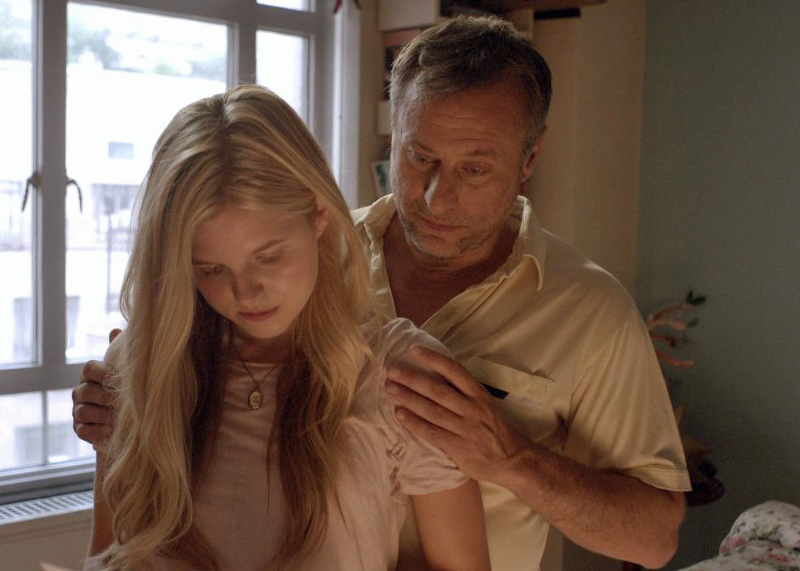 Top & Middle Photos: Emily VanCamp as "Adult Alice" (age 29).
Bottom Photo: Ana Mulvoy-Ten as "Young Alice" (age 14) with Michael Nyqvist as "Milan Daneker" (her abuser).
Photo Credits: Adhat Campos/Freestyle Releasing
Q: Does The Girl in the Book pass the Bechdel Test?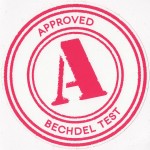 Yes!
From everything I have said above, you might well assume that the answer would be no, but in fact, three women play small but critical roles in The Girl in the Book (two successfully, one less so).
Ali Ahn provides strong and continuous support as Adult Alice's BFF "Sadie." Sadie arranges a surprise party for Alice's birthday and she invites someone named "Emmet" who becomes a major character in the second half of the film. But none of the Alice/Sadie conversations in Act One are about Emmet, and most of the conversations in Acts Two and Three are about other things too.
There is no indication that Sadie has any understanding of Alice's true relationship with Milan Daneker. When they discuss him, their conversation is work-based. To Sadie, Milan Daneker is a famous author who was once Dad's protégé. Daneker's most successful novel–originally published fifteen years ago–is about to be re-released as an eBook, so Alice asks Sadie to build a website for her as part of her PR campaign responsibilities. The fact that Sophie doesn't know Alice is "the girl in the book" is a sign of how successfully Adult Alice has buried all outward traces of Young Alice.
Female character number two is an aspiring novelist. Alice tries to champion her book, but she is rebuffed by her insufferably arrogant [male] boss. Then Alice asks Dad to read the book, and of course he completely takes over. When she–this female character–first arrives in the office, she thinks Alice is just a secretary and she treats her very dismissively. But later she circles back. She tells Alice that her agent has revealed that Alice is her true champion, and she asks Alice to work with her directly on her next book. I am sure this character has a name, but I'm afraid I didn't catch it, so I can't tell you the name of the actress who plays her. And yet, it's a lovely little grace note, so I want to be sure to mention it.
And Talia Balsam plays Alice's mother…
Much as I liked this film, this is the point at which I must admit that filmmaker Marya Cohn let me down. Although she does a good job of alluding to the tension between Dad and Mom (who–like Dad–gets no first name), she doesn't use it when it counts.
One can only assume that Mom feels even more oppressed than Alice does by Dad, and I think it's safe to assume that Dad is a serial adulterer, so she probably hates him as well. Why then does Mom not fly into a holy rage when Alice tells her about her relationship with Daneker? Even if she were just as self-absorbed as Dad, surely this would have been a splendid occasion for Mom to take her revenge, right? Talia Balsam is a fine actress, and Mad Men fans would probably have cheered en masse had she let loose on Dad.
Perhaps Cohn just didn't want to deal with Mom because she wanted to keep her focus on Dad? Fair enough. But then she should have found another way to dispose of Mom before the climactic cab ride. I like to think that if I were Mom, I would have walked out on Dad long ago… Just sayin'