Written by a team of writers including Natasha Sahgal, and directed by Bejoy Nambiar, Wazir is quite an odd combo—part action film, part Chess playing drama.
When a cop loses his young daughter from the bullet of criminal he was after, he befriends an old man who also lost his daughter at the hands of another. The two men find common ground in their grief, and use strategy from the game of chess to take their revenge. (JEP: 3/5)
Review by Contributing Editor Jessica E. Perry
Wazir opens with a slow motion montage painting the picture of a happy family. Police officer "Daanish Ali" (Farhan Akhtar) is happily married to his beautiful wife "Ruhana Ali" (Aditi Rao Hydari). They soon welcome a baby girl into the world, and as their daughter grows they remain a tight-knit and loving family.
Until one day, when everything abruptly changes…
Daanish is in the car with his wife and daughter and they are running late for an engagement—presumably a dance performance—that Ruhana is eager to get to. But part of her outfit breaks and they must make a quick stop to have it repaired.
"I'll just be two minutes," Ruhana assures her husband. So Daanish and their young daughter sit in the idling car waiting for Ruhana. Suddenly, Daanish spots a criminal in a black SUV, who was thought to be out of the country. Daanish pulls away from the curb, deciding to pursue the disappearing vehicle. He makes a call to his superiors, reporting the find and continues to speed through the streets as his daughter calls out for him to slow down.
Now the whole time this is happening, you will want to yell at the screen, "Why is he going on a car chase in pursuit of an extremely dangerous man, with his young child in the back seat?" And alas, the little girl gets caught in the crosshairs once guns are drawn, and it is her passing that serves as a catalyst for the rest of the film.
Daanish blames himself for his daughter's passing and Ruhana is unable to forgive him. Having lost both the women he loves, Daanish is ready to take his own life. Until a car in the night flashes its lights at Daanish, momentarily breaking him from his all consuming sorrow.
Daanish finds a wallet on the ground that was presumably dropped from the car. The contents inside lead him to the house of an old man, "Pandit Omkarnath Dhar" (Amitabh Bachchan) who runs a school teaching young children chess.
It just so happens that Daanish's daughter came twice to learn from Pandit. Moreover, Pandit has also lost a daughter. The two men find common ground in their shared sorrow, and take up a mission to exact revenge for their daughter's deaths.
Okay, what can I say? This is an action movie … about chess. Chess. Action films and chess are not usually one in the same. Now, culturally I'm sure chess holds more significance for Indian audiences, since the game is said to have originated there, but for American audiences I fear it turns an action movie into a complete bore.
Now, if you have an affinity for chess, I suppose the chessboard metaphor that comes in towards the end of the film may be quite exciting. Me? I found it a bit too on the nose. Wazir opens as an action film and closes as such, but the whole hour in the middle is a boring drama about two men sitting over a chessboard. Snooze.
However, I will applaud director Bejoy Nambiar and the writers—including Natasha Sahgal—for two successful plot twists that their viewers may not have seen coming. Aside from the muddled second act, Wazir is an exciting action drama about two men on a revenge mission to get justice their fallen children … But of course, there is that second act.
© Jessica E. Perry FF2 Media (1/12/16)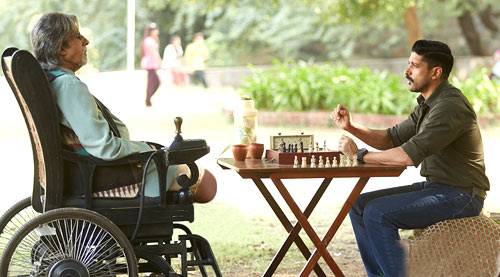 Top Photo: Wazir poster.
Middle Photo: Ruhana and Daanish lean on each other to cope with the loss of their daughter.
Bottom Photo: Pandit teaches Daanish the game of chess.
Photo Credits: Mind Blowing Films
Q: Does Wazir pass the Bechdel Test?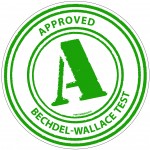 No.