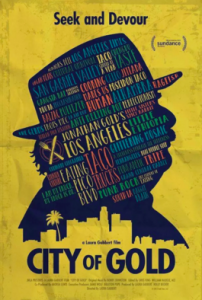 Laura Gabbert documents the life and career of a longtime Los Angeles food critic in her new film, City of Gold. Its subject, the Pulitzer Prize-winning journalist Jonathan Gold, entertains audiences by driving the streets of Los Angeles, meeting people from all walks of life and documenting the vast array of rich, flavorful and authentic foods he has critiqued for decades. (BKP: 4/5)
Review by Associate Editor Brigid K. Presecky
"Thousands of places are great for a thousand different reasons," food critic Jonathan Gold tells documentarian Laura Gabbert. From taco trucks to weiner carts, from Koreatown to Beverly Hills, Gold has spent his adult life critiquing foods for the Los Angeles Times. What makes this man so interesting?
In today's technological age, "reviews" of restaurants and business are readily available on mobile devices of potential customers. But what sets Gold apart from the everyman is his decades-long experience in the industry. He has tasted foods from every culture, points out his favorite spots from the front seat of his pickup truck and informs viewers that he has eaten at every restaurant on the 15 mile stretch of Pico Boulevard. Instead of only reviewing high-end French dining like the reviewers of decades past, Gold made it his mission to critique foods and businesses from every level of economic status. All of that experience has to mean something, right?
After years of writing for the Times, Gold accrued loyal readers, following his tracks through Los Angeles and taking advice on menu items to order. Charming Gold keeps viewers interested as the documentary features restaurant after restaurant, shedding light on the process of cooking food for customers – a process the average consume takes for granted. Each chef, each owner, each waitress has a story to tell – all you have to do is notice.
Editing makes City of Gold seem like a fast, enjoyable watch. Moments on Jonathan Gold linger as voiceovers and stock footage weave in and out of a well-told narrative. There are serious moments as Gold reads old poetry or reminisces about his childhood, but the documentary retains its lightheartedness throughout. Some of the most entertaining clips come from Gold and his friends eating less-than-appetizing foods like hagfish (which he describes as bland and gelatinous) or (apparently delicious?) fried grasshoppers.
Gabbert documentary is enjoyable from start to finish, thanks to her captivating subject and the effort from the film's post-production team. Word of advice: eat dinner before you see City of Gold or your stomach will be rumbling for a solid hour and a half … give or take the hagfish.
© Brigid K. Presecky FF2 Media (3/18/16)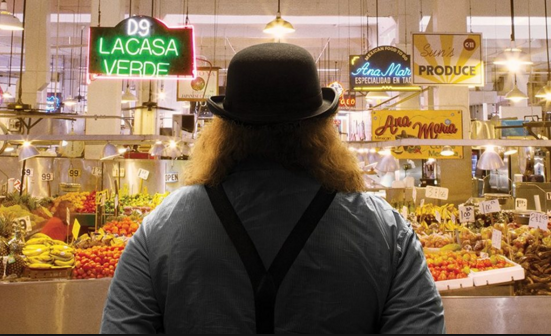 Photos: Jonathan Gold, Los Angeles Times Food Critic
Photo Credits: JMLA
Q: Does City of Gold pass the Bechdel-Wallace Test?
No.