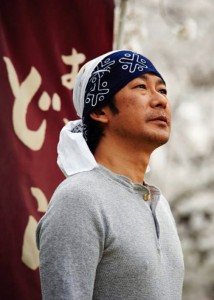 Directed and adapted by Japanese filmmaker Naomi Kawase, Sweet Bean tells the story of a pancake shop, its caretaker "Sentaro" (Masatoshi Nagase), and of the people who find refuge there. When elderly "Tokue" (the absolutely charming Kirin Kiki) offers her expertise at making the bean paste for Sentaro's pancake confections, the caretaker realizes what her help and companionship could mean for him. Though some details of the characters' relationships are left uncomfortably ambiguous, Sweet Bean's characters are winningly sweet, and Kawase deals with their secret tragedies subtly and elegantly. (AEL: 4/5)
Review by FF2 Intern Amelie E. Lasker
With time changes indicated by seasonal montages of the peaceful buzz of life in a small Japanese town, Sweet Bean is very grounded in its place, taking on the sweet lightness of the cherry blossom trees so often prominent in its visuals.
One particularly sunny afternoon, "Sentaro" (Masatoshi Nagase) serves his pancakes to a giggling bunch of students making their daily visit after school. "Tokue" (Kirin Kiki) arrives, looking both unintentionally goofy and dazzlingly cheery in her sun hat, asking for work. Sentaro rejects her at first, on account of her old age and presumed weakness.
"Wakana" (Kyara Uchida), the schoolgirl who is quieter and separate from the others, and to whom Sentaro offers the rejected pancakes each day, implores Sentaro to let Tokue try. It's as if she's reminding him of the relief the shop has provided over the years, both to Wakana and to Sentaro himself, as protection from loneliness and from financial trouble. When Tokue shows Sentaro her incredible ability at making the "an," or bean paste, for the pancakes, he finally agrees to accept her as an employee. Tokue immediately gives him the affectionate name of "Boss," and in this way their new little family is created.
Sweet Bean's delicately enjoyable qualities really shine through in the ensuing scenes of Sentaro and Tokue working in the shop. Like Tokue's deft patience in ma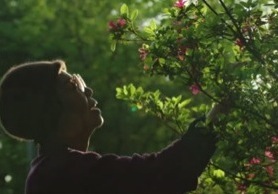 king her bean paste, filmmaker Kawase demonstrates her skill in the patience with which she lets these moments play out. I relished watching Tokue cook the beans so lovingly, describing their changing scent and texture at each phase of cooking. In her explanations of this process, Tokue's unique humor also comes out. The beans and sugar need time to soak together before they cook, because, Tokue explains, "The young couple needs to get friendly."
Tokue's humor and skill come as a relief to Sentaro. The joy he and Wakana take in Tokue's company is a sanctuary from the darker mysteries of all three of their lives. Gradually, we learn about the debt that ties Sentaro to this doriyaki shop, and about the difficult relationship Wakana has with her mother that leads her to drop out of school and run away.
Tokue has the most difficult secret of all, having lived all her years since teenagehood in a refuge for lepers, and having spent many of those years confined in the refuge before the law changed and allowed lepers to walk freely "where the sun shines." The poignancy of Tokue's character is in the optimism she teaches to her two younger companions, most plainly conveyed through her gentle smile. "Boss," she chides Sentaro, "smile when something is delicious."
Some of the movie's running metaphors are quite obvious: the yellow bird Wakana keeps in a cage that Tokue eventually releases, Sentaro's inability to enjoy sweets despite working in a pancake shop, Sentaro and Wakana's lives flourishing anew with the return of spring. Still, the story's patience and heartfelt acting carry all these threads through gently enough that they're more than palatable.
While the metaphors are obvious, many of the character details are not obvious enough, a gap that can be glaring at times because the characters' relationships are so central to the movie. Wakana's situation throughout the story is often unclear: we never find out where she stays when she runs away from home so young, and we're never quite sure how she and Sentaro became close or what their relationship entails.
Despite some transgressions, the movie's pacing is masterful. Tokue's wise humor and gentle charismatic smile are delightfully comforting. The sounds and scents of the small town and the doriyaki shop are so soothing that I came to appreciate the doriyaki shop as sanctuary just as much as the characters did.
© Amelie E. Lasker FF2 Media (4/14/16)
Top Photo: Masatoshi Nagase as "Sentaro."
Middle Photo: Tokue examines her garden in a poignant montage.
Bottom Photo: Kirin Kiki as "Tokue" with Kyara Uchida as "Wakana."
Photo Credits: Kino Lorber
Q: Does Sweet Bean pass the Bechdel-Wallace Test?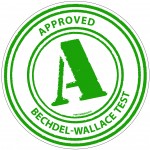 Yes!
In one of the many scenes where they keep each other company and provide advice as mother and daughter figures, Tokue and Wakana talk about Wakana's choice to drop out of school and run away. They decide that Tokue will take care of Wakana's yellow bird until she finds a better home for them.