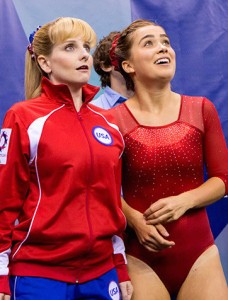 Screenwriter and star of The Bronze, Melissa Rauch (The Big Bang Theory) brings us a quirky comedy about a retired Olympic gymnast "Hope Ann Greggory" (Rauch) who is desperately clinging to her fifteen minutes of fame years after winning her bronze medal. Approached with a deal including a whole lot of cash, Greggory must decide if she is willing to sacrifice what's left of her hometown glory to coach a new up and coming young gymnast, who's career may be even more promising than Greggory's ever was. (JEP: 3.5/5)
Review by Contributing Editor Jessica E. Perry
"Hope Ann Greggory" (Melissa Rauch) was a member of the U.S. Olympic Gymnastics team in the 2004 games. She was quite a star in the gymnastics world, but when she ruptured her Achilles during her balance beam routine, it appeared that her dream of winning the gold was lost. But Hope persevered, sticking the landing on her final bar routine despite her injury. That routine led Hope to win the bronze medal, which is no gold, but earned her national fame as the girl who won a medal despite a career ending injury.
Flash forward, and Hope is still riding her fifteen minutes of fame. Passing the time by watching old competition videos, Hope is clearly stuck in the past unable to move on with her life now that her gymnastics career is over. She lives in her father "Stan's" (Gary Cole) basement, still wears her Team USA uniform, and her hair is always pulled high with a classic scrunchy.
Naturally, all of Hope's endorsement deals have long since dried up, so she amuses herself by stealing money from stranger's birthday cards from the back of her dad's mail truck. And even though her worldwide fame has come to a screeching halt, Hope remains a hometown hero in her small town of Amherst, Ohio. So she milks it for all its worth, claiming her designated parking space on Main Street and demanding free milkshakes and food from the local businesses who still hang her signed photograph on their walls.
When Hope's old coach takes her own life, a letter arrives in the mail promising Hope a large sum of money if and only if she agrees to be the new coach to "Maggie" (Haley Lu Richardson), the next promising young gymnast from Amherst slated to go to the Olympic Games. We know by now that Hope is far from selfless, and even the promise of hundreds of thousands of dollars does not immediately convince her help the one girl that could strip her of her current status of "Hometown Hero."
But since money is tight for Hope and her father, she eventually—albeit reluctantly—agrees to coach Maggie. However, Hope's coaching "techniques" are intended to sabotage the young gymnast, until gold medal winner—and the obnoxious jerk who popped Hope's cherry—"Lance" (Sebastian Stan) arrives in town threatening Hope's place as coach, and in turn, her money. So Hope begins to take the job seriously, in an effort to best Lance, but along the way she grows up a little too finally facing the truth of her broken career.
The Bronze was written by Melissa Rauch—who we all know and love from the hit CBS comedy The Big Bang Theory—and her husband Winston Rauch. Melissa's role as Hope is a far cry from the character she plays on TBBT. Hope is vulgar, crass, and every other word out of her mouth is one that gives the movie its R rating. But The Bronze also marks a refreshing performance from Melissa Rauch, giving her audience something they've definitely never seen from her before.
Directed by Bryan Buckley, The Bronze plays on a very specific type of humor that may not be for everyone. But director and screenwriters alike seem to acknowledge the film's bold comedic style, laughing at itself along the way. So if you don't mind a whole lot of swearing and a ridiculous gymnast on gymnast sex scene including naked flips and cartwheels, then The Bronze will have you laughing out loud.
© Jessica E. Perry FF2 Media (3/29/16)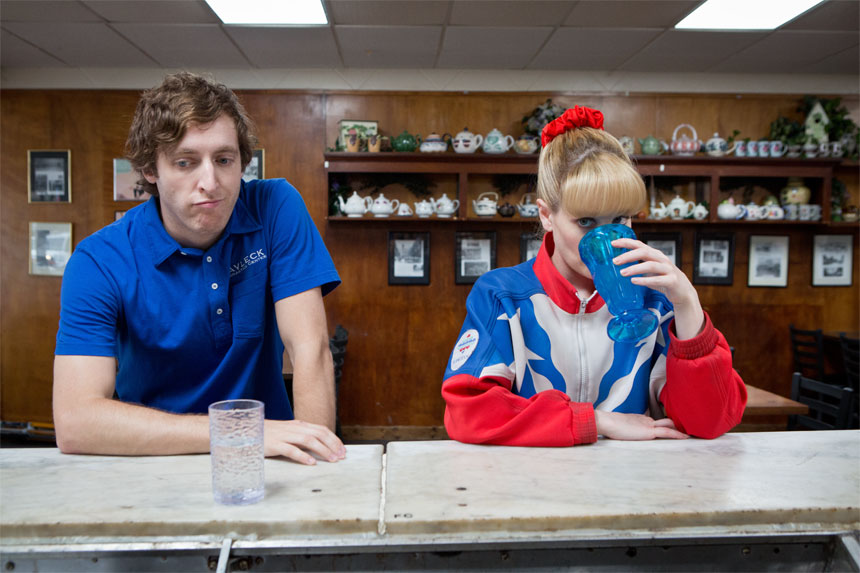 Top Photo: Maggie and Hope wait anxiously for Maggie's competition results.
Middle Photo: Lance resents that Hope's glory for winning the bronze with an injury overshadowed his winning of the gold.
Bottom Photo: Hope and her love interest "Ben" (Thomas Middleditch) sit down for her daily milkshake.
Photo Credits: Alicia Gbur
Q: Does The Bronze pass the Bechdel-Wallace Test?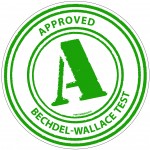 Yes!
Focusing on her career, Hope, Maggie, and Maggie's mother "Janice" (Cecily Strong) discuss Maggie's training schedule, her goals, and more.