Editor's Note: Seen at the 2016 Athena Film Festival. Follow this link for additional screening information. No theatrical release date has been announced yet for Radical Grace, but hopefully that will happen soon!
*************************
Written and directed by debut documentary filmmaker Rebecca Parrish, Radical Grace tells the story of the US nuns who have been leading nationwide social justice efforts for decades. Beginning with the first threats of the Vatican's investigation of US nuns' potential misconduct in 2012 and finishing with the Vatican's triumphant decision to allow the activists to stay in the Catholic Church in 2014, Parrish follows three radical feminist nuns as they reach out to underprivileged communities, lead road campaigns, and witness the selection of Frances I, a new Pope committed to helping those in need. (AEL: 4/5)
Review by FF2 Intern Amelie E. Lasker
As part of a nationwide effort by American nun activists, the three women featured in Radical Grace have visions for change that vary widely in scope and in area of life, but they all bring something important to the cause. Sister Simone Campbell runs the "Nuns on the Bus" campaign and speaks in front of the Democratic National Convention in an effort to help pass the Affordable Care Act. Sister Chris' radical feminist speeches to her congregations address issues of patriarchy within the Church. And Sister Jean visits prisons and teaches a high school equivalency program to provide encouragement and guidance to adults in her community.
Nun activism and world involvement can seem comically incongruous. The film doesn't ignore that incongruity, and even plays into it. Opening images of public rallies for the nuns zoom in on the childishly cautious lettering "HONK! for nuns!" Even the nuns acknowledge the irony. Sister Chris identifies her idol, saying with a laugh: "This guy taught me everything I know about community organizing⎯Cesar Chavez." The title of the "Nuns on the Bus" campaign is itself a funny image. In its irony, though, the nuns' story is even sweeter.
The nuns' choices to act seem strange for a reason. Underneath the humor, their decision to speak out is exceptionally brave. In their atmosphere of fun and camaraderie, it can be difficult to understand just how much these women are risking. News segments and statements by political figures and religious leaders help to situate the nuns' story within a political framework. Powerful male leaders–secular and religious alike–feel offended and even threatened by the nuns' radical momentum, and these leaders express that anxiety by threatening the nuns' membership in the Catholic Church.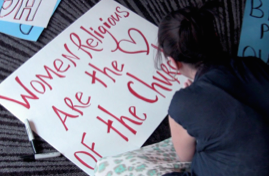 The nuns risk not only losing their communities, but also losing their livelihoods and all hope of future security. I found it especially poignant that the nuns themselves are reluctant to complain. In a rare moment of confession, Sister Jean reflects, considering the risks she's taken to help people, "It's almost like God said to me—why didn't you walk away? And I'm still thinking about it."
Faced with such blatant disapproval from Church authorities, the activists have to reconsider their place within their religious community and its history. The filmmakers follow a visit to a cathedral, where the nuns look for women portrayed in Catholic art. They find a portrait that shows women working alongside the well-known male disciples, proving that women were right there with Christ from the beginning. The message they articulate is a beautiful one: Women are not marginal members of Christianity, but active and vital participants throughout its history.
Filmmaker Rebecca Parrish handles the story poignantly and with respect, lauding the nuns' achievements—both personal and political—without minimizing their challenges. To me, her most charming touch is her celebration of the nuns' unique personalities. The film takes the time to show that the three women featured here are witty and clever even as they solve important problems. My favorite scenes center on Sister Jean, as she visits prisons and adult education programs just to talk to people. Sister Jean's love for the people she works with is pure and attentive, and it's obvious how much she charms everyone she encounters.
Sister Jean, Sister Simone, and Sister Chris embody the values of hope and bravery, even when seen by some as outsiders in their own community, and their message resonates far beyond members of the Catholic Church.
One handwritten sign encapsulates the sentiment of those who support them: "We Are All Nuns." The sentiment hits us in the audience just as much as it must have hit the nuns when they first saw it.
© Amelie E. Lasker (3/14/16) FF2 Media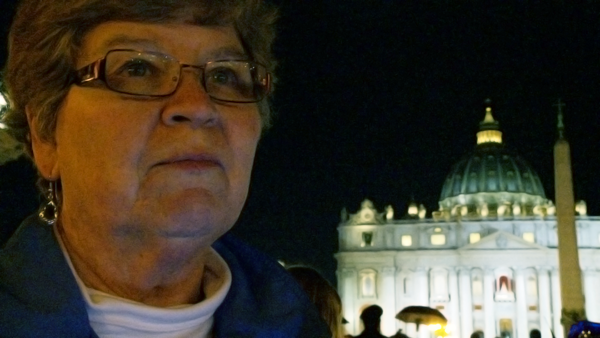 Top Photo: Sister Simone Campbell waives to the crowd as she steps out of the "Nuns on the Bus: bus.
Middle Photo: A fan makes a sign to help support and encourage the nuns for a rally.
Bottom Photo: Sister Chris watches as the new Pope is announced at St. Peter's Basilica.
Photo credits: Rebecca Parrish
Q: Does Radical Grace pass the Bechdel-Wallace test?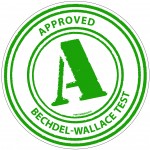 Yes! All of the prominent figures featured in the film are women.
In one scene, Sister Simone Campbell and her "Nuns on the Bus" campaign partners watch as the SCOTUS decision on the Affordable Care Act–ObamaCare–is announced on their portable TV.
They're overwhelmed when they see that the act was upheld, because that means that everything they've done to help this campaign has been successful.