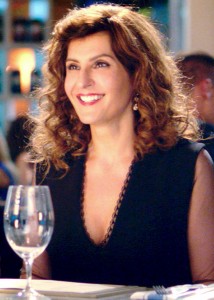 Ditzy, delightful new sequel to Nia Vardalos' 2002 surprise hit My Big Fat Greek Wedding.
Way back in the day Toula married her non-Greek dream boat Ian… then the years few by. Now their daughter Paris is getting ready to start college, prompting Toula to wonder what to do with the rest of her life. But not to worry, there's always something bubbling away on every stove in the huge Greek-American Portokalos Family 🙂
Just for the fun of it. (JLH: 4/5)
Review by Managing Editor Jan Lisa Huttner
In 2002, Nia Vardalos came out of nowhere to grab a coveted Oscar nomination in the Best Original Screenplay category for her surprise hit My Big Fat Greek Wedding. Critics–mostly male–panned it; audiences–mostly female–loved it.
At the end of MBFGW, the Vardalos character "Toula Portokalos"–having transformed herself from ugly duckling into lovely swan–married her non-Greek dream boat "Ian Miller" (John Corbett). Vardalos whispered "There's no place like home," clicked her ruby red slippers three times, and suddenly My Big Fat Greek Wedding was in the record books as one of the most successful Indie films in movieland history. Happily ever after 🙂
And then the years flew by…
In truth, these years have not been kind to Vardalos. She wrote several screenplays in which she created starring roles for herself, and she acted in many films written and directed by other filmmakers. No luck. But now, with support from director Kirk Jones, she has reassembled the old team for another go and they're all game.
Once again, Michael Constantine and Lainie Kazan are perfectly matched as Toula's restaurant-owning parents "Gus" and "Maria," but now Gus is older, more fragile, and staring mortality in the face. Revelations about his determination to leave Greece and get to America fifty years back give this bear of a man more heart than before, and also explain Maria's time-tested combination of loyalty and exasperation. Given the choice–knowing all she knows–would Maria marry Gus again? That is one of the big crisis questions in MBFGW #2.
The other big crisis question concerns the imminent high school graduation of Toula's daughter "Paris." Raised in an intellectual home by Toula and Ian (who was a teacher and is now a high school principal), Paris has the grades to go anywhere she wants, so where dos she want to go? Does Paris want to go somewhere close to home or does she want to go somewhere far away?
Toula–the girl who fought for her own education in MBFGW #1–wants Paris to spread her wings. But Toula–the mom in MBFGW #2–wants her chick to stay close to the nest. 
Elena Kampouris–the girl cast as Paris–obviously has no counterpart in MBFGW #1 (which ended with the wedding of her parents); she had to find her way in a pre-formed cast. So it is my pleasure to announce that she is a perfect fit and a total delight.
Looking her up in IMDb, I find that Elena Kampouris also played the difficult role of an anorexic teen in Men, Women & Children (a film that I liked a lot although it seems no one else did). Blonde and very thin in 2014, Kampouris is dark, curvy, and totally adorable in 2016. Most important of all, she is also totally believable. This is just the daughter people like Toula and Ian would raise.
Finally, Andrea Martin returns the "Aunt Voula"–a huge personality in a body so tiny and tight that she threatens to implode on screen. This outsized bundle of energy holds all the disparate pieces together from beginning to end, and she's a hoot.
Make no mistake: If you did not like MBFGW #1, then don't waste your time going to MBFGW #2, and more to the point, please don't waste our time by complaining about it or pointing out all its flaws–yak, yak, yak.
But if you loved MBFGW #1–as I surely did–then by all means treat yourself to a second helping of flaming spanakopita: Opa!
© Jan Lisa Huttner (3/26/16) FF2 Media
Top Photo: With coaching from Aunt Voula, Toula (Nia Vardalos) dresses up for a rare date night with Ian.
Middle Photo: Toula's daughter Paris (Elena Kampouris) is ready to finish high school… but first PROM!
Bottom Photo: Aunt Voula (Andrea Martin) holds court in flaming red. Paris is behind her trading back with gray for gray with black. Her non-Greek grandparents–Rodney Miller (Bruce Gray) and Harriet Miler (Fiona Reid)–are on the left edge of row two. Otherwise everyone else is Greek, Greek, Greek. Otherwise, why would their weddings be so big 😉
Photo Credits: © 2015 – Universal Pictures
Q: Does MBFGW #2 Pass the Bechdel-Wallace Test?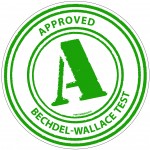 Yes!
OK, so sure, there are a few occasions during which two women with names actually do "talk about a man," but that's a rare occurrence in MBFGW #2.
And although Paris gets all gussied up for Prom, there is not a single discussion about her date–not one–because Toula is totally obsessed with the college question. How refreshing is that?!?