Official Title = BaddDDD Sonia Sanchez
Seen on March 25th at the 9th annual International SWAN Day sponsored by NYWIFT & partners at Manhattan's SVA Theater 🙂
********************

Directed by Sabrina Gordon, Janet Goldwater, and Barbara Attie, BaddDDD Sonia Sanchez focuses on the life and work of the 81-year-old African-American poet. Sonia Sanchez, regarded as "a lion in literature's forest," is not only an esteemed poet, but also an unapologetic activist for civil rights, black empowerment, women's liberation, and world peace. The filmmakers make use of Sanchez's own passion for music and spoken word to unfold an intimate documentary, inviting the audience to understand the deep humanity the poet holds for the world. (PS: 3.5/5)
Review by FF2 Intern Peier Shen
Sonia Sanchez, Philly's first Poet Laureate, is BaddDDD. It takes skill to pronounce it right. After reaching the satisfying vowel, you have to grab and stay with that resilient d and keep your tongue busy as it repeatedly hits your palate until finally, the seemingly insignificant consonant bursts into a sonorous D. Just like Sanchez's poems, BaddDDD Sonia Sanchez, the brainchild of three local female documentary filmmakers, demonstrates her multifaceted career as well as the evolution of this literary giant who continues to amaze us.
The film, structurally fragmented yet intimately connected by Sanchez's poems, takes on the impossible task of illustrating "this woman with razor blades between her teeth." Indeed, how does the public grow to love this radiant yet sometimes intimidating poet with neat dreads, whom at the age of 81 is still writing and teaching with zeal? How does the poet explore her generation's struggle with racial and gender identity?
These are some of the questions this documentary tries to answer, yet the film would only be half-alive, owing most of its success to the poet's own genius, if it chose to simply lay out Sanchez's achievements. A biography will do. Confronting the risk of repeating what the already extensive footage and interviews on Sanchez have shown and established, the filmmakers are challenged to justify the need of cinema for the portrayal of this leading African American literary figure.
The effort to assert BaddDDD Sonia Sanchez as a work of art in its own right produces a poetic narrative structure. Strolling effortlessly through many poems like "Dear Mama," "Sister Haiku (for Pat)," and "Poem at 30," the film lays bare of Sanchez's political engagement, her personal life, and her teaching career without necessarily adhering to a strict chronological order.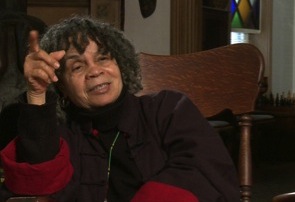 In a way, the documentary, very much like Sanchez's spoken word performances, is sonically linked. Not only does Sanchez perform, but Ursula Rucker, Bryonn Bain, Nikki Giovanni, and many other guest speakers also read her poems, which touch on seemingly sporadic subjects such as racial tension, female sexuality, dietary suggestion, and motherhood. This inventive device weaves the disconnected narratives closely together. As the guest speakers' voices merge with that of the poet, the film underscores how reading Sanchez's poems creates such a collective experience that contemporary readers are still gripped by her words, still moved, still shocked, and still inspired by her courage and strength.
Sabrina Gordon, Janet Goldwater, and Barbara Attie, acknowledging the eclectic cinema, do not shy away from using plastic arts. They skillfully adapt and change those materials into vital cinematic forms. An imitative dolly camera movement is often seen as the filmmakers isolate the figures of photographs from their backgrounds and then actively blur the surroundings while enlarging the images. This technique, repeatedly used throughout the movie, is incredibly effective at conveying dynamics within the frame.
The film also offers a rare opportunity for the audience to witness Sanchez's writing process. As she feverishly goes through pages and pages of materials, crossing, uncrossing, and sifting through words, the audience is introduced to the written form of Sanchez's passion. The rack focus, switched between Sonia Sanchez and her pages, diminishes the emotional distance between her and her readers, depicting the poet not as an aloof genius but as a relentless and ardent talent that holds love for the world around her. She writes about reality that is not unfamiliar to us. Because of that, she becomes approachable.
BaddDDD Sonia Sanchez leaves one thing painfully explicit: the job to fight against oppressions and to champion world peace is unfinished. The best example of this is a distinct visual parallel between Sanchez's struggle and anguish in the 1960s and what is still happening today around the globe. Others have to come to defend what the poet holds so dear. It's our battle now.
© Peier Shen FF2 Media (4/11/16)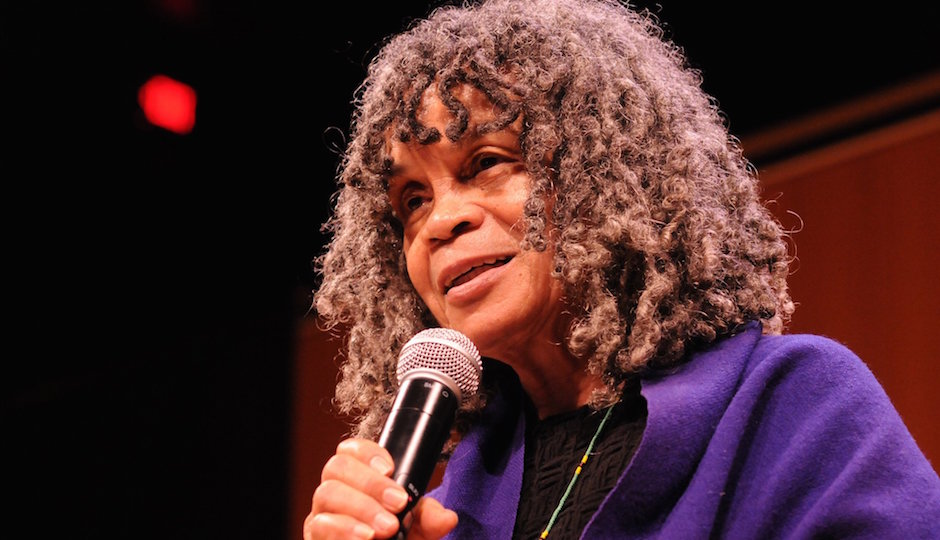 Top Photo: A young Sonia Sanchez reads from her book, "We a BaddDDD People." New York, 1970.
Middle Photo: Sanchez does an interview.
Bottom Photo: Sonia Sancehz performs at "Sonia Sanchez Tribute" event in Philadelphia in 2011.
Photo Credits: California Newsreel
Q: Does BaddDDD Sonia Sanchez pass the Bechdel Test?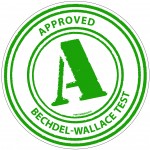 Yes.
Three female filmmakers strive to depict a seminal female literary figure. And as a poet, Sanchez ponders over many particular female issues such as sexuality and beauty. Though there are not many dialogues in this film, many female artists rigorously engage with Sanchez's works, reading her poems and sharing her impact on their own artistic endeavors.