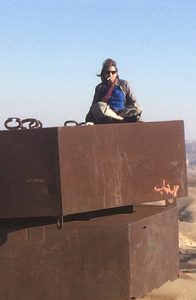 Akerman says in one of her interviews, "I always say that a good fiction film includes some documentary and vice versa. Just by the framing. As soon as you frame something it's fiction." Chantal Akerman's films belong to six decades and at least three transatlantic cities. They capture the incredible range of Akerman's own experience and the depth of her attention. Marianne Lambert's documentary I Don't Belong Anywhere shows us parallels between Akerman's films and the events of her life, but it's also a gallery for Akerman's art, a set of connections between Akerman herself and her work that turns her into something of a fictional figure. Like one of her shows in a museum exhibit, with thirty screens showing clips from Akerman's work, we get a whole celebratory sampling of the world of Akerman. (AEL: 4/5)
Review by FF2 Intern Amelie E. Lasker
I Don't Belong Anywhere begins with New York sliding by, viewed from the Staten Island Ferry. Chantal Akerman tells how, in the true spirit of a young filmmaker, she got the money to produce her movies however she could. She worked at a gay porn movie theater, and she would tear tickets in half to hand out, pocketing the excess money, until she had enough. New York is the first stop in a kind of world tour documentarian Marianne Lambert weaves for us, showing us through clips and interviews how Akerman has made each city, from New York to Paris and home to Brussels, her own.
In a clip from News From Home (1977), we watch the activity on a New York subway platform, as people shuffle up and down, looking bored or distressed or, mostly, nothing at all, and we watch long enough to see a train come in, dispel its passengers, and slide away again. In voiceover, we hear letters from Akerman's mother, detailing the tiny triumphs and tragedies of home life in Belgium. Akerman explains that she is highlighting the incongruity of these small tidings with the grand activity of the American city. At the same time, the documentary is framing for us an essential effect of Akerman's films, that of appreciating those small impressions scattered over whole places and histories.
In an interview, filmmaker Gus Van Sant explains the particular "architecture" of Akerman's films. He describes how it is strange that Akerman frames her actors as if they are part of the rooms they inhabit. Akerman's camera always returns to the same angles for each particular room, and it is always directly parallel to the walls. Akerman also talks about her own unique play with time. Most filmmakers, she says, want to move so quickly and gracefully that the viewer does not have a sense of the time passing. Akerman, by contrast, wants to make us feel every minute as it goes by. In a clip from her 2011 film La Folie Almayer, we watch several minutes of man sitting at a table not eating his bowl of porridge. He soon gets up, moves toward the door, and leans on its frame, looking incredibly forlorn throughout. In all that time, he only mumbles one thing: "Tomorrow I shall have forgotten."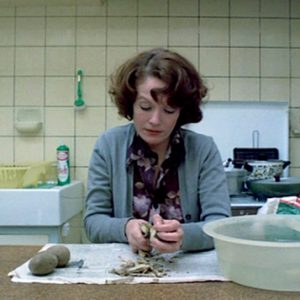 Of course, the rigidness of Akerman's composition and this kind of use of time can make the films difficult to watch. Akerman plays on this difficulty. She also plays with difficulty of subject matter. Her film 1975 Jeanne Dielman features scenes of a woman's caged life of chores of varying degrees of banality and unpleasantness, derived directly from Akerman's mother and that generation of housewives. Akerman wonders in an interview whether it was "ungenerous" of her to have shown her mother that film, since her mother would inevitably have recognized herself in it. Akerman is not afraid of being difficult. In fact, she seems to see difficulty even where it isn't readily obvious. She describes a scene from her 1993 film D'Est, in which the camera pans across people standing in the cold: "To me it's more than waiting for the bus. To me it's people waiting for death, waiting for the crematory oven, so to speak."
Like any filmmaker documenting other filmmakers, Marianne Lambert deals with the difficulty of how to show the filmmaker's style through a layer of her own, whether to adopt the filmmaker's "architecture," to appreciate her idiosyncrasies in a more multi-media way, or to let them speak for themselves. With the likes of Chantal Akerman for a subject, this task is particularly complicated, especially because Akerman often emphasizes the importance of her film's specific ways of unfolding, ways that can't be summarized well through clips or descriptions. Lambert gives all the clues to Akerman, the strange cinematography and the difficult reality of her subjects, with her own coherence, capturing with sympathetic grace a number of particularly funny or poignant moments in a progression of films and themes of Akerman's own life.
© Amelie E. Lasker FF2 Media (1/4/16)
Top Photo: Akerman gives an interview in style.
Middle Photo: Delphine Seyrig as the title character in a featured clip from Akerman's Jeanne Dielman (1975).
Bottom Photo: Akerman on the Staten Island Ferry.
Photo Credits: Icarus Films
Q: Does I Don't Belong Anywhere pass the Bechdel-Wallace Test?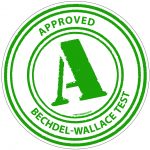 Definitely.
The best example is the Skype call Akerman has with her mother. Akerman explains, in an interview just before, that her mother is everything in her work, and now that her mother has passed away, she's not sure what will happen to the work. Now, here is her mother on the screen, smiling warmly from far away, and we can only feel the strange tenderness of that kind of presence more because we know she'll be gone soon. Akerman tells her mother she'll be coming to visit soon, and the two of them plan for it with an easy delight. This is how Akerman approaches all of her disparate homes. She thrives as a nomad, but she loves the places she's come from, she knows how important each has been, and she is sure to go back to them when she needs to.