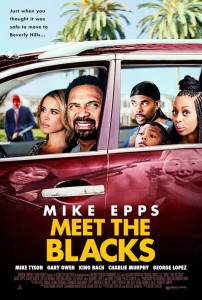 A comedic spoof on The Purge films premise, Meet the Blacks follows "Carl Black" (Mike Epps) as he moves his family out of Chicago and into Beverly Hills. Hoping to give his family a better life, and thinking the Purge can't touch them in this upscale neighborhood, Carl Black has many skeletons in his closet that all come out to haunt him and his family the night of the Purge. Written by Nicole DeMasi and director Deon Taylor, the film is all parts ridiculousness, quickly spiraling into an unwatchable mess. (JEP: 2/5)
Review by Contributing Editor Jessica E. Perry
"Carl Black" (Mike Epps) comes into new money, refusing to tell his new wife "Lorena" (Zulay Henao) how he got it. But he tells his audience. Claiming the money as his after a notorious drug dealer was apprehended by the authorities, effectively leaving his stash and money behind. So Carl takes his newfound (stolen) wealth and moves his family out of the dangerous streets of Chicago and into a posh gated community in Beverly Hills.
Unfortunately, prejudices exist in this neighborhood as well. When Carl arrives at the gated entrance of the community, the black security guard does not immediately let him in because "no black people live in this neighborhood." And a pretentious headset-wearing neighbor drives by their new home in his smart car, openly outraged that a black family has moved into his perfect white neighborhood.
While out on a walk with Lorena, his kids "Carl Jr." (Alex Henderson) and "Allie" (Bresha Webb), and his criminal brother "Tyrone" (DeRay Davis), the Blacks meet the "Smiths" (Phil Austin and Kate Enggren) a seemingly welcome but suspect couple who lives down the street.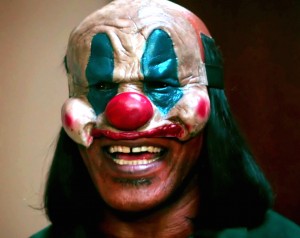 Feigning neighborliness, the Smiths warn Carl and his family of the Purge happening that night, urging them to retreat to the safety of their home when the first alarm sounds.
So the Blacks make their way back to their new mansion, but Carl refuses to believe that the Purge exists in this safe Beverly Hills neighborhood. When the "President" (George Lopez) comes on the TV announcing this as the night where all laws are thrown out and murder is allowed, Carl's frightened family urges him to board up the windows and retreat to the safe room. But Carl refuses to listen. That is until people from his past, and skeletons from his closet, begin forcing their way into his home to exact their revenge on the night of the Purge.
We are to suppose that filmmakers Nicole DeMasi and Deon Taylor intended their film to provide some sort of commentary on the prejudices and stereotypes that still exist today between racial groups, while delivering their message in a lighthearted way through this comedic spoof on a horror film premise. Unfortunately, the spoof aspect of the film causes the end result to be completely insensitive, quite possible offending itself in the process. Meet the Blacks is so ridiculous and borderline offensive in its humor, that without the support of strong dialog and strong acting, the film quickly unravels into a barely watchable mess.
© Jessica E. Perry FF2 Media (4/12/16)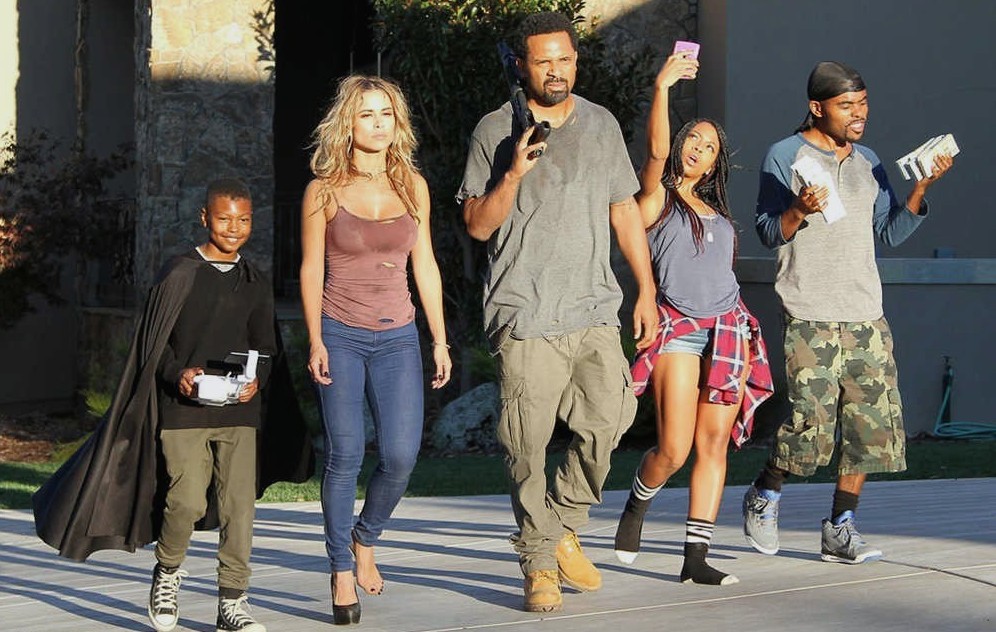 Top Photo: Meet the Blacks poster.
Middle Photo: During the Purge many of those who come to take their revenge on Carl and his family are notable names, like the case here with Mike Tyson.
Bottom Photo: The Black family exiting their home the morning after the Purge.
Photo Credits: Freestyle Releasing
Q: Does Meet the Blacks pass the Bechdel-Wallace Test?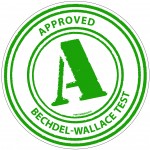 Yes, actually.
Lorena goes to Allie to have a discussion about their relationship, insisting that she wants them to get along and is sick of their fighting. So Lorena gives Allie a necklace she received from her own mother to protect Allie during the Purge, the moment marking a change in their newfound (step) mother-daughter relationship.