"Ruby" (Keenan Kampa) is a first year ballerina at a performing arts conservatory in Manhattan. As she struggles to shine in her coursework, Ruby meets a broody violinist busking in the New York Subway, and the as the pair grow close, they put their musical talents to use entering a performance competition with a high stakes prize.
Directed by Michael Damien, and written by Michael and Janeen Damian, High Strung is a new take on the young adult romance, featuring classical music and artfully choreographed danced sequences of various styles. (JEP: 3.5/5)
Review by Contributing Editor Jessica E. Perry
"Ruby" (Keenan Kampa) is a talented ballerina who is one of only a select few to receive a scholarship to the prestigious Manhattan Conservatory of the Arts. After a teary farewell with her mother, "Mary" (Miranda Wilson), Ruby moves into her new dorm, meets her bubbly second-year roommate "Jazzy" (Sonoya Mizuno), and begins her classes at the conservatory.
On her way back to her dorm, Ruby finds herself instantly intrigued by a handsome young English violinist "Johnnie" (Nicholas Galitzine) busking in the New York City subway. She sees him, her train pulls away, and that seems to be the end of it. But Ruby takes that train daily, and Johnnie needs the cash, so he plays often in the same bustling NYC subway station.
When a dance crew battle breaks out inside the station, Johnnie comes to Ruby's rescue when the battle gets out of hand. Amidst the chaos, Johnnie's prized violin gets stolen. Ruby insists on helping him find it, but Johnny resents her help at first, pushing her away. Ruby's persistent, however, always believing the best in people.
Johnny's visa has long since run out and he is trying desperately to get a green card. But until then, his only form of income was busking in NYC subway stations. With his violin gone, Johnny is strapped for cash, and his rent due any day. When Ruby brings him a loner violin from her school, along with an opportunity to enter a music competition where the winner receives a full scholarship to the Manhattan Conservatory of the Arts—solving Johnny's green card problem—and $25,000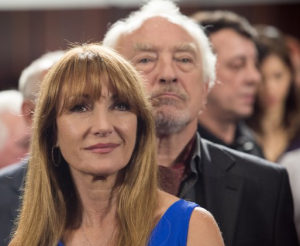 —solving his cash problem—Johnny rejects her help, his pride and attitude getting in the way.
Luckily for him, the dance crew that lives in the apartment below his own knows of another way for Johnny to make some money under the table. Cue fate, when Johnny and Ruby run into each other again, this time at a prestigious gala where Johnny is working as a cater waiter (thanks to his new dance crew friends), and Ruby is there on the invite of cocky violinist and womanizer from her conservatory, "Kyle" (Richard Southgate). The two boys let their pride get the best of them, as they proceed to "fight" for the girl in a duel of the violins.
After Johnny is kicked out of the gala for disrupting the peace, Ruby and Johnny can no longer deny their connection. As the two grow closer, Johnny softens, letting Ruby in and letting himself truly want something for the first time. The pair decides to enter the music competition after all, putting a twist on their set, and going up against Kyle and some of the best musicians and dancers at the conservatory.
High Strung is filled with extremely talented dancers and musicians, but sadly, not many talented actors. It is glaringly apparent that a few members of the main and supporting cast were selected for their superb dance talent, and not at all for their acting chops. Keenan Kampa does her best as Ruby, but her performance truly shines only when she is dancing. However, one must applaud Nicholas Galitzine for his portrayal of an extremely talented violinist, as he had no prior training, and learned the instrument for the film.
What's more, screenwriters Janeen Damian and Michael Damian deliver an intriguing narrative, but with subpar dialog, the audience is left wanting more from them. With that said, High Strung is filled with beautiful dance sequences, featuring various styles, including everything from ballet to modern and hip-hop. If you can pardon the poor acting and choppy dialog, the film fully delivers on its promise of a thoroughly enjoyable teen/young adult romance.
© Jessica E. Perry FF2 Media (4/15/16)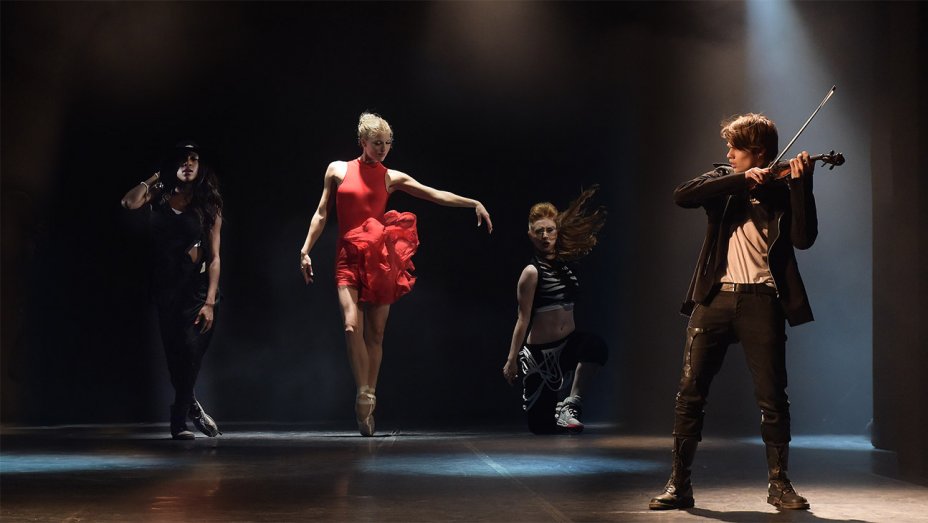 Top Photo: Ruby performs a pointe routine at the conservatory.
Middle Photo: Ruby's instructors "Oksana" (Jane Seymour) and "Kramrovsky" (Paul Freeman) proudly watch her perform in the competition.
Bottom Photo: As it all comes together, Ruby and Johnny give it their all in the final performance of the competition.
Photo Credits: Cos Aelenei
Q: Does High Strung pass the Bechdel-Wallace Test?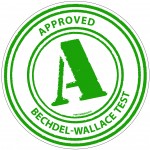 Yes!
Ruby's roommate Jazzy shows her around the school giving her the ins and outs on how to navigate a new place.