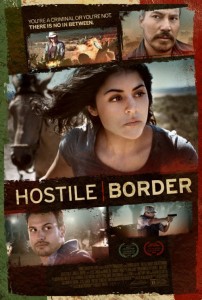 A gripping drama directed by Michael Dwyer and written by Kaitlin McLaughlin, Hostile Border follows one young woman as she is deported back to Mexico when she is found guilty of credit card fraud. Alone in a new country, and unable to speak the language, she must learn who to trust in order to survive. (JEP: 3.5/5)
Review by Contributing Editor Jessica E. Perry
"Claudia" (Veronica Sixtos) known to those around her as "Pocha"—a term given to a Mexican-American female who speaks little or no Spanish—has grown up in the United States. She lives with her mother who brought her to the U.S. from Mexico years ago for a better life. Claudia has only known life in the states, and speaks no Spanish. But even though she considers the U.S. home, legally, Claudia is an undocumented illegal immigrant.
Claudia paves her way by working for a "business" stealing credit card information from restaurant clientele. When she insists on going in on one last run, the FBI make their move, and Claudia is caught and arrested for credit card fraud. Once in government custody, there is nothing she or her mother can do. Claudia is promptly deported and sent back to Mexico. Unable to speak the language and knowing no one, she's a stranger to her homeland.
Before being taken away, Claudia made a promise, a promise to return home to her mother. But until she is able to find a way back across the border, Claudia must find her estranged father "Andres" (Julio Cedillo) in Mexico for safety and a place to stay. So she makes her way to her father's farm with the assistance of a few helpful strangers. When she arrives, the state of their relationship is unclear. Has Claudia ever met her father? Does she remember a life with him in the picture? These questions are left achingly unclear. But no matter their circumstance, Andres willingly takes Claudia in.
Forced to work on her father's farm, Claudia agrees to the manual labor only if she can work along
side the young, attractive farmhand "Arturo" (Jorge A. Jimenez). One day while they are mending fences out in the field, Arturo receives a phone call that leaves him on edge. A few moments later, a truck barrels across the field towards them. Arturo flees on foot as the truck rams into the vehicle Claudia is trying to use as her escape. A group of men—led by a young man named "Ricky" (Roberto Urbina)—exit the truck, chase Arturo down, and drag him back to where Claudia is being held.
It is not entirely clear what exactly it is that Ricky does, but it is glaringly apparent that despite his pretty boy looks, he is not someone to be messed with. Ricky uses Andres' farm to smuggle some sort of cargo across the land to his men on the other side. Arturo has been working for Ricky, but did not follow through on the last job, a mistake that will cost him his life. All Claudia can do is watch as Arturo is led away. She nods her head in agreement as Ricky places Arturo's cell phone in her hand, passing his responsibility on to her. In order to secure her own safety, Claudia agrees to be Ricky's next employee, helping him smuggle his goods across the farmland.
From this point on, Claudia must keep Arturo's grave fate a secret from her father, while taking up his work with Ricky. While the work earns her extra cash and a potential way across the border, Ricky is dangerous, and getting in too deep with him may not be worth the price she has to pay to get what she wants.
Screenwriter Kaitlin McLaughlin delivers a gripping narrative, and director Michael Dwyer gives McLaughlin's story life on screen with ample suspense and intrigue. But unfortunately, the filmmakers leave too much for the audience to infer. We aren't given all of the information we need to fully understand our protagonist and her relationship to those around her. With that said, Hostile Border has it's moments; moments that will have you on the edge of your seat anxious for Claudia as her tumultuous story unfolds.
© Jessica E. Perry FF2 Media (4/20/16)
Top Photo: Hostile Border poster.
Middle Photo: Claudia leads Ricky's men across the farmland.
Bottom Photo: Claudia unsuccessfully tries to use the truck as an escape from Ricky.
Photo Credits: Samuel Goldwyn Films
Q: Does Hostile Border pass the Bechdel-Wallace Test?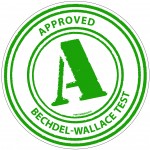 Yes!
After she is arrested, Claudia promises to find a way back to her mother after she learns that she will be deported back to Mexico. While in Mexico, Claudia receives guidance and advice from her grandmother "Lita" (María de Carmen Farias).