Directed and co-written by French filmmaker and actress Fabienne Berthaud, Sky follows "Romy" (Diane Kruger) as she drives through the open skylines and cities of the American Southwest. Romy is newly separated from her stifling marriage, and she searches for meaning in her new adventures. The fascinatingly dark characters she meets, along with a beautiful soundtrack and well-lit shots of Las Vegas and the Texas desert, help to tell a story that is enjoyable if not incredibly complex. (AEL: 3/5)
Review by FF2 Intern Amelie E. Lasker
"Romy's" (Diane Kruger) husband "Richard" (Gilles Lellouche) points his wife out to the women he's just met in a bar while the couple is on vacation somewhere in Texas. "The one where–not happy," says the native French speaker in halting English, gesturing toward his wife, who waits for him distractedly in the corner. He doesn't hesitate to share with the women that his wife is barren, and in this cruel way we, too, learn this fact about our protagonist. All Richard's new lady friends laugh.
While they laugh, we can see that Romy is not ignoring them deliberately, but looking at a piece of art on the bar's wall, part of her interest in Native American culture. As is characteristic of her, Romy seldom says what's on her mind. We wonder about how Romy got here, and about what occupies her mind as she sits so often looking pensive, though not entirely "not happy."
Romy makes her first decisive action when Richard tries to pressure her sexually. She begs him not to, and finally smashes a lamp over his head, leaving him bleeding on the motel room floor. It's not clear yet to Romy or to us whether he is alive or dead. In shock, Romy sets out to continue the road trip on her own.
The American Southwest Romy navigates is increasingly alien and surreal. At a late-night diner somewhere along the road, a motorcyclist across fro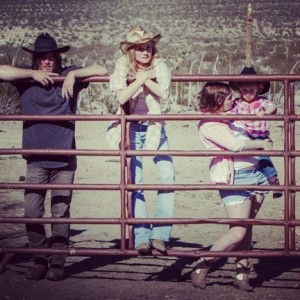 m Romy stares at her rudely and somewhat threateningly. Later as Romy drives away from the diner, she passes the wreckage of that same motorcyclist, dead from a car accident. When Romy arrives in Las Vegas, she briefly befriends showgirl "Charlene" (Laurene Landon), who offers her work, though lanky Romy proves too innocent for the Vegas show scene, and Charlene soon loses interest in her. It's as if everywhere in this world Berthaud has constructed, strange and horrible people and dangers are working together to frighten Romy and to make her regret her new freedom.
Romy does get to make the choice of this terrifying new landscape over that of her marriage, and that choice is to her credit as a character. She turns herself in to the police and discovers that her husband is only injured, and that she did not kill him. She then chooses to leave him anyway. This decision, unlike the original violent one in the hotel room, is deliberate and informed by her new experience being alone.
Romy finally meets "Diego" (Norman Reedus), who at first seems to be nothing but another floating face in Romy's alien world. They first meet when he mistakes her for a call girl and makes an offer to her accordingly. She rejects him, but soon, inexplicably, she decides to attach herself to him. Diego's only allure seems to be in his mysterious jadedness. He'll accept Romy as a companion for now, but he's reluctant to make her particularly significant in his life. His approach, in contrast to her husband's, might be just what endears him to her.
 Berthaud has constructed a world around Romy that is almost absurd in its cruelty, as well as a romantic hero who doesn't come across as any less unpleasant than the slew of detestable men Romy encounters before him. Romy's new freedom from her original married life is decisive and lasting, but she doesn't seem to know what to do with it. It doesn't help that Diane Kruger's acting, while creating a quiet sadness fitting for Romy's past, lacks the subtlety to show Romy's reactions to this new world she's discovering. Though Romy meets as many kind and fascinating characters as abhorrent ones, her exploration of this new landscape seems poorly spliced together.
© Amelie E. Lasker FF2 Media (5/28/16)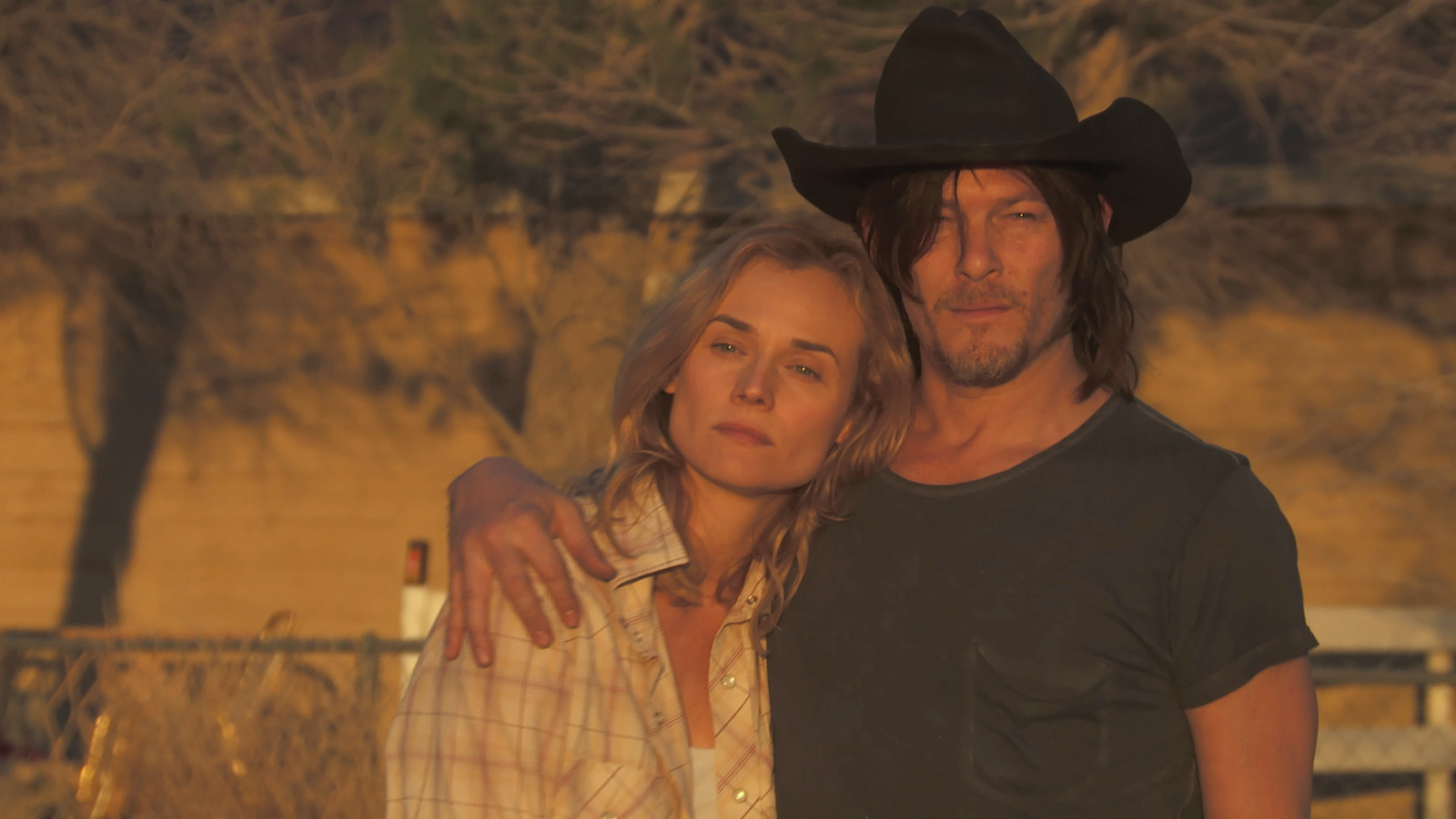 Top Photo: Sky poster.
Middle Photo: Romy and Diego visit Diego's in-laws.
Bottom Photo: Diane Kruger and Norman Reedus as "Romy" and "Diego."
Photo Credits: Nathalie Durand
Q: Does Sky pass the Bechdel-Wallace Test?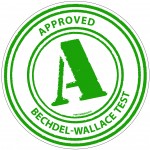 Yes!
Romy meets "Missy" (Q'orianka Kilcher) and "Grandma Sioux" (Arnita Swanson) when they let Romy stay on their Native American reservation. Grandma blesses Romy and renames her "Sky."
Throughout her travels, Romy also makes female friends in "Charlene" (Laurene Landon) and later "Billie" (Lena Dunham), and they all talk about their different priorities in life, including freedom and family.