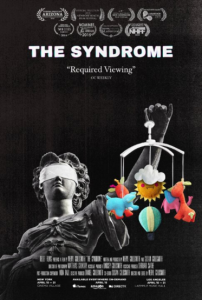 Director Meryl Goldsmith and co-writer/producer Susan Goldsmith attempt to pick apart the science behind SBS (Shaken-Baby Syndrome) and shed a light on wrongly-accused "abusive" parents. As controversial as the subject is, the filmmakers make a purposeful statement: people are villainized in America's mainstream media. (BKP: 2.5/5)
Review by Associate Editor Brigid K. Presecky
SBS, known as Shaken-Baby Syndrome, was covered in the "media," with pictures of abusive parents in the criminal court system and brain-damaged babies hooked up to machines. In The Syndrome, the filmmakers set out to disprove the theory that it was caused by human behavior. By interviewing medical experts and journalists, Meryl and Susan Goldsmith pull the curtain back on what they believe has been greatly exaggerated.
Some doctors back the claims, some don't. So what is the truth? One of the truths is how multimedia journalism like to sensationalize and villainize people, stories and situations. If every media outlet is looking for their next great sound bite or catchy, clickable headline … will the truth ever be revealed?
These documentarians make an interesting overall argument while pinpointing one case: SBS. They show doctors violently shaking dummy dolls and demonstrating the horrific acts of abusive parents. However, they argue that these parents may not have shaken their baby at all and are being wrongly accused. There is scientific evidence to back their case: that this is not human-caused.
The film is edited together in typical documentary fashion: talking heads, b-roll of scientfiic studies and brain scans and voiceovers to tie everything together. The choppy editing and (at times) redundancy of the final product makes for a sleeper of a documentary. The Goldsmiths make a compelling argument, but unfortunately, that is the only thing compelling found in The Syndrome.
© Brigid K. Presecky FF2 Media (4/22/16)
Photo: Documentary focuses on one case of SBS, in particular, of Louise Woodward
Photo Credits: Reset Films
Q: Does The Syndrome pass the Bechdel-Wallace Test?
No.