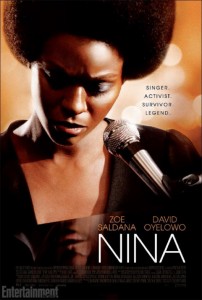 Zoe Saldana stars as famed musician Nina Simone in the later part of her 70-year life. She drinks, smokes and falls into a vessel of self-destructive behavior. But despite Saldana's efforts and the remaining – and impressive – supporting cast, Cynthia Mort's script misses the mark. (BKP 3/5)
Review by Associate Editor Brigid K. Presecky
The story of singer/pianist "Nina Simone" (Zoe Saldana, in heavy makeup and prosthetics) begins in her late 60s, when she is on the brink of lunacy. After pointing a pistol at a record company executive, Simone is forced into psychiatric hold in a Los Angeles hospital. The only person who can help her? The nurse, "Clifton Henderson" (David Oyelowo). With little persuasion and a $2000 per week salary, Clifton agrees to be her assistant and bring her back to the South of France.
The duration of the film, or at least a generous portion, is spent on Simone's erratic behavior: drinking, smoking, shattering glass bottles on the walls, etc. She deals with the fallout of her career, her exile from the United States and her impending biopsy results. As a viewer with little knowledge of Nina Simone's musical history, the film had me ask a simple question, "Why do I care about this woman?" Unfortunately, that question is never answered.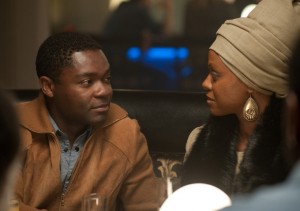 Nina drags on with the only true highlights coming from the performances, which, even when impressive are terribly underutilized. Are we supposed to believe that 30-something Saldana is this elderly musician? Or Oscar contender Oyelowo is this asexual or homosexual (the film never speficies) assistant? They bring their natural abilities to the film, but with a mediocre story, it's hard to save.
It's as if Nina Simone's life were a map and writer/director Cynthia Mort through a dart to decide what part she should write about. It may sound harsh, but that is only because the problem lays within the plot: everything else has amazing potential. Furthermore, if the film aimed to gain a younger audience, some background and history of Simone's music would have made them more invested. But that care for the characters never fully forms. Viewers are better off viewing an FF2 Media favorite, Liz Garbus' documentary, "What Happened, Miss Simone?"
© Brigid K. Presecky FF2 Media (4/28/16)
Middle Photo: David Oyelowo as "Clifton Henderson" and Zoe Saldana as "Nina Simone"
Bottom Photo: Zoe Saldana as "Nina Simone"
Photo Credits: Ealing Studios Entertainment
Q: Does Nina pass the Bechdel-Wallace Test?
No.