"Maggie" (Greta Gerwig) has a plan: for herself and for everyone else around her. She's single, living in New York City, with a steady job, and loyal friends. What she doesn't have is a partner. And what she wants is a baby. So Maggie decides to have a child on her own. But when she begins to connect with a married man, love and life take their twists and turns, as Maggie tries desperately to plan for fate.
Written and directed by Rebecca Miller, Maggie's Plan hits all the right notes, grounded in real emotion while hitting all of its comedic beats. (JEP: 4/5)
Review by Contributing Editor Jessica E. Perry
"Maggie" (Greta Gerwig) is a bit quirky, but she's kind and has her life together. Even though she is ready, Maggie hasn't reached the point in her life where marriage and kids are on the table. But her best friends, "Tony" (Bill Hader)—who Maggie dated briefly in college—and "Felicia" (Maya Rudolph) have reached this point. They are happily married with a son, and Maggie desperately wants what they have.
Well, in all honesty, she desperately wants kids. The love part is not a necessary component of the plan, since Maggie's decided that she's incapable of staying in love with one person. So one afternoon at the farmer's market, Maggie announces to Tony that she's decided to have a child on her own. Her artificial insemination is scheduled, and she's found her sperm donor, "Guy" (Travis Fimmel), a mathlete who Maggie and Tony both know from school.
But when Maggie meets "John" (Ethan Hawke), a married professor at the institution where she teaches, it's safe to say that a wrench is thrown into Maggie'
s plan. John is unhappy in his marriage to brilliant tenured Columbia professor "Georgette" (Julianne Moore). He is a neglectful father to his two children "Justine" (Mina Sundwall) and "Paul" (Jackson Frazer), focusing his time instead on writing his novel. Maggie, convinced that his marriage is already failing, falls hard and fast for John.
Flash forward an undetermined amount of time, but we assume it's been a few years from the young girl Maggie carries her hip. It seems to us that Maggie's plan was brought to fruition, as she laughs with her adorable daughter "Lily" (Ida Rohatyn). But it is not immediately clear if the child is hers alone, or if John is still in the picture. That is until Maggie and Lily walk into their new home, where John is sitting in front of a computer dutifully typing out the same novel he was working on when the couple met.
John and Georgette are divorced. John and Maggie are married. John is still consumed by his novel years later, forcing Maggie to support their small family. What started as an affair turned into much more, but a few years in, Maggie is stuck. She is no longer happy in her marriage, but feels too guilty about the role she played in John's last unsuccessful marriage to ask him for a divorce. So instead, Maggie crafts a new plan. A plan to get John and Georgette back together, absolving herself of her guilt. But Maggie must come to terms with the fact that planning other people's lives is not her place, and that sometimes to live the fullest life, you must let go of the plan, letting what will be, be.
Director Rebecca Miller lets her film run on a bit too long, losing her audience for a moment in the third act. But ultimately, she is able to get us back by the end. Filled with great performances from a noteworthy cast, Maggie's Plan is endearing and thoughtful, Miller artfully blending the film's unique comedic style with moments grounded in honesty.
© Jessica E. Perry FF2 Media (5/23/16)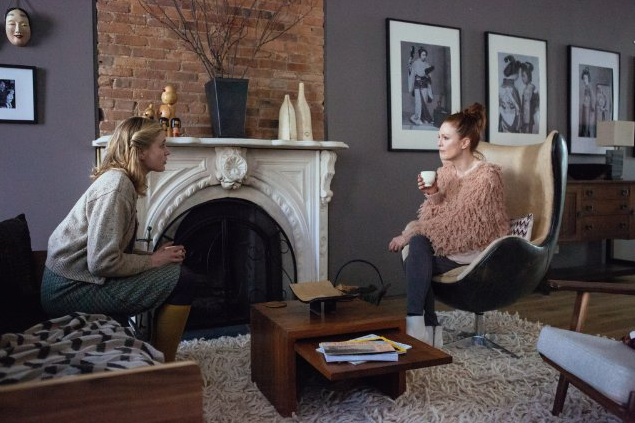 Top Photo: Maggie's Plan poster.
Middle Photo: Maggie and John grow close as she gives him feedback on his pages for his novel.
Bottom Photo: Maggie sits Georgette down for a chat to explain her new plan.
Photo Credits: Jon Pack
Q: Does Maggie's Plan pass the Bechdel-Wallace Test?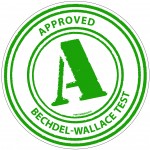 Yes, but it only just squeaks by.
Surprisingly, almost all conversations between women in Maggie's Plan revolve around men…well specifically, one man. The only small conversations Maggie has that stand on their own are the adorable ones between her and her young daughter "Lily" (Ida Rohatyn).