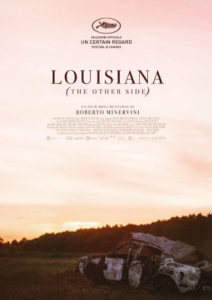 Director Roberto Minervini and writer Denise Ping Lee create a raw, hard-to-watch picture about life in a poor Louisiana town of West Monroe. This depiction of America's lower class is jarring, bizarre hybrid of documentary and feature that will leave your soul completely drained. (BKP: 3/5)
Review by Associate Editor Brigid K. Presecky
Viewers initially meet "Mark Kelley" (as himself) in his au naturel state, living his miserable, crystal meth-addicted life in West Monroe, Louisiana. Director Roberto Minervini succeeds in painting a picture of this ramshackle town, ranging with degenerates from pregnant strippers on drugs to a hateful group of political commentators in wife-beaters.
Although the narrative is unrelated to Darren Aronofsky's acclaimed drug-utopia film, Requiem for a Dream, the tone and feel is eerily similar. Bearing witness to the poor decisions of these people is difficult to digest and makes you want to walk out of a theater or turn of the television and make you reflect on this terrifying aspect of our country.
Aside from crystal-meth loving Mark, the story features war veterans who spend their time discussing the impending doom of the apocalypse. These zealots spew hatred for the leaders of the country, particularly President Barack Obama, and fear that their guns will soon be taken away. If only they put half as much energy into dentistry as they did for the Second Amendment.
This off-putting documentary is completely opposite of enjoyable, yet, I understand the purpose of it. Minervini and Ping Lee are doing something admirable, actually. They are shedding a light on a culture of the United States of America, most notably in the deep South, that exists and typically overlooked (although I understand why).
Minervini and Ping Lee accomplish their goal, no matter how laborious the film is to get through, and use the town of West Monroe to the inform audience of the bigger picture. They examine the incompetence that plagues people in these rural towns, full of Confederacy-loving racists and scum-of-the-earth drug addicts. But for the average person who witnesses enough ignorance reported on the 24-hour news cycle, The Other Side might be one to skip. To quote one of the older men in the film, "We done paid our dues."
© Brigid K. Presecky FF2 Media (5/17/16)
Middle Photo: "Uncle Jim"
Bottom Photo: Citizens of West Monroe, Louisiana
Photo Credits: Agat Films & Cie, Okta Film, Arte France Cinema
Q: Does The Other Side pass the Bechdel-Wallace Test?
Not a chance.