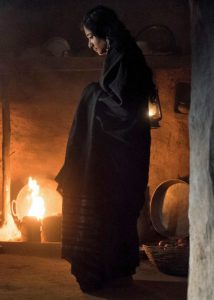 Filled with stunning visuals and full of heart, Parched is a force to be reckoned with. India-based director/writer Leena Yadav tells an inspiring tale that celebrates female independence: three women in rural India rebel against oppressive patriarchal rule.
The film reminds a stolidly complacent audience that the nightmare is not over, and that in many places in the world there are women who are unloved, beaten, forced into doomed marriages, and deprived of happiness.
However, Yadav also makes sure to include Bollywood fun, and most importantly, love. Though confined to a parched desert, her leading ladies have tenderness that nurtures and warms hearts. (PS: 4/5)
Review by FF2 Intern Peier Shen
Set in rural India, Parched revolves around "Rani" (Tannishtha Chatterjee), a young widow who begins the film with a trip to another village to arrange a marriage for her son. Accompanied by her friend "Laijo" (Radhika Apte), Rani completes negotiations with the family of a teenager named "Janaki" (Leher Khan), then Rani and Laijo bring Janaki back to their village for the wedding ceremony.
In addition to Rani, Janaki, and Laijo (who is a talented seamstress), the fourth main character is their bolder yet equally fragile friend "Bijli (Surveen Chawla), a showgirl/prostitute (with luscious hair) who creates trouble for Rani when she tries to participate in the wedding festivities.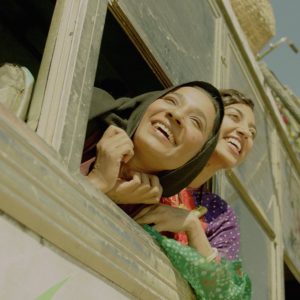 Each woman has to slay her own demon–usually embodied by a savage man, but sometimes manifested by the woman's own traditionalist values and superstitions.
Witnessing the brutality of her son "Gulab" (Riddhi Sen) with the doe-eyed Janaki, Rani remembers being raped by her own often-intoxicated husband. Inherently kind yet tormented by traditions, Rani has to decide on her role in this viscous cycle of domestic abuse.
Laijo (who is regularly beaten by her jealous husband because she is unable to bear children) has to resist and learn to appreciate her own worth. Bijli (growing older and afraid that her beauty is fading) has to rebel against the stigma of sex work, and to garner the courage to start a new life.
Indian director/writer Leena Yadav certainly does not shy away from portraying men as monsters. In fact, except a few good-hearted ones, most of the men–and even the boys–in Parched are booze-fueled, sadistic, androcentric, and sex-crazed. These men project their conflicting fantasies upon women, depriving them of the opportunity to find their own identities.
As a result, women–shackled to their own homes–are taught not to think, yet blamed for their stupidity; they are forbidden from exploring their sexuality, yet punished for their innocence. However, when some emerge as intelligent and sexually progressive, they pose such a threat to masculinity that these women have no standing in their society.
These are just some of the gender issues Yadav takes on with her film. Siding unapologetically with her leading ladies, Yadav uses cross-cutting and vivid sound design to make sure that the pain of each hit received by a woman is felt by the audience as well. In one scene where Laijo confronts her husband about infertility, Yadav daringly cuts to the celebration of Dussehra (a Hindu festival that celebrates the victory of good over evil). This intellectual montage, intensified by the fast cuts, camera movements, and raging flames, irrefutably condemns men while celebrating the good (represented by Laijo, Rani, and Bijli).
Facing the challenge of weaving a many social references into an already crowded narrative with multiple leads, Yadav chooses a loose way of storytelling which leaves some subplots abandoned and unexplained. The inevitable ellipses in the plot sometimes puzzle its audience, making them question the functions and destinies of various minor characters. Yet all the emotional beats are marked with precision, making the audience laugh and cry on cue.
For these scarred women, their friendship quenches their thirst for love. Whether they are cleaning each other's wounds or resting at a riverbank, Rani, Laijo, and Bijli nurture each other with their companionship and compassion. Their affection for each other, which is as pure as water (and notably the opposite of alcohol), helps them heal and grow.
Of course, Parched, has something of a fairy tale sensibility. Since it is a moral tale, it promises that its heroines will emerge from their trials unscathed. Always bright-colored, Yadav's frames provide enough optimism and hope that the audience truly wishes that life would finally imitate art. However, Yadav also gives the men's retribution a fantastical tone, leaving her viewers with an eerie understanding that such sweet triumph will likely dissipate in reality.
© Peier Shen (6/20/16) FF2 Media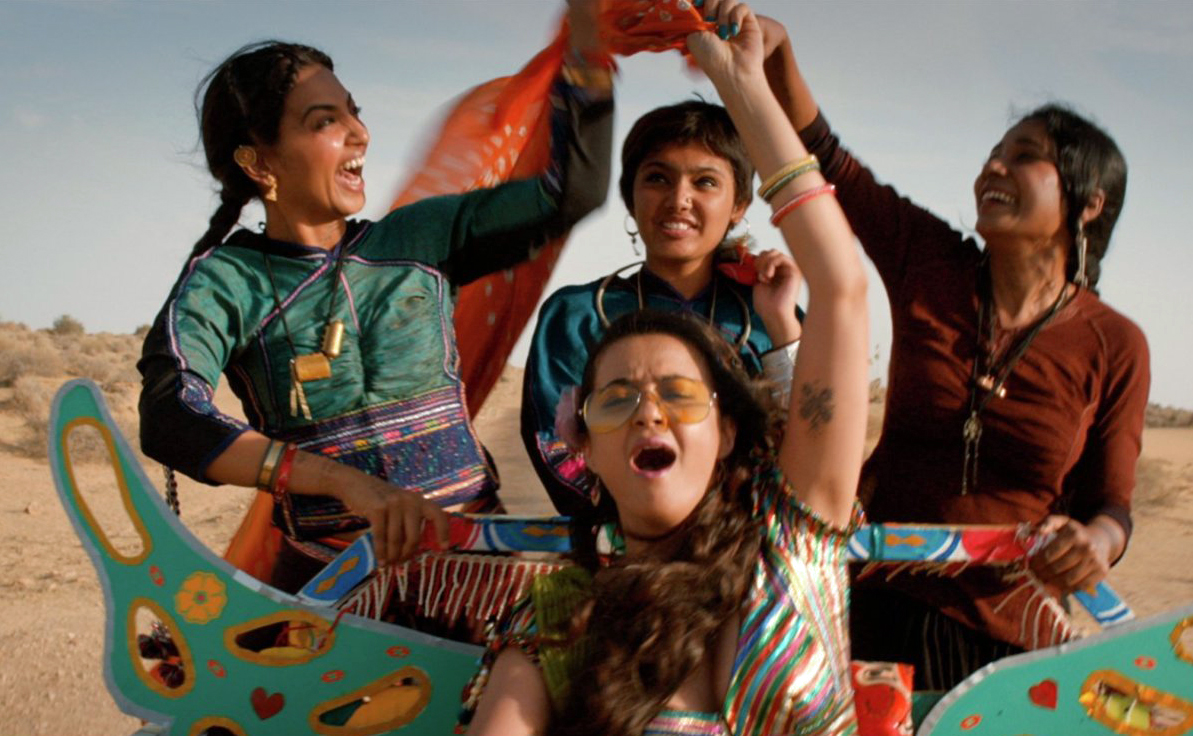 Top Photo: Tannishtha Chatterjee as Rani.
Middle Photo: Rani (Tannishtha Chatterjee) with Laijo (Radhika Apte).
Bottom Photo (from left): Laijo (Radhika Apte), Bijli (Surveen Chawla), and Janaki (Leher Khan) with Rani (Tannishtha Chatterjee).
Photo Credits: Courtesy of IMDb
Q: Does Parched pass the Bechdel-Wallace Test?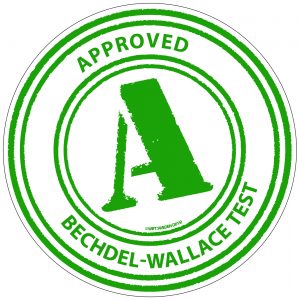 Definitely yes!
Armed with strong female characters, Parched works consciously through various women's issues, including domestic abuses, a lack of financial independence, the common fear for infertility, and etc. Subsequently, the friendship, fostered among Ms. Yadav's female characters, is a form of healing, and thus proves once again, that women not only are able to, but also have the responsibilities to empower one another!
Peier Shen's Interview with Writer/Director Leena Yadav
Q: How did you collaborate with your writing partner for Parched?
A: Oh Mr. Supratik Sen, okay. So the story actually began with conversations that I had with these women and coming back with those conversations to Bombay, the story expanded for me because I realized that similar things were happening right in my backyard.
So my collaborator is another story. I wanted to get a new perspective, also actually Supratik and I have collaborated in the past and I find him to be extremely sensitive writer, so … and I always like dialogue with another writer when I'm writing because I want somebody to challenge me. It's very easy to get lost in the writing process. So that's when Supratik came and after I had a storyline, Supratik has been there, almost there, and then we started.
Q: Yeah, so what about the production challenges, especially about finding the village that allows such a story to take place in and so how does that….
A: Yeah, so actually the biggest challenge was getting finance for the film. Nobody wanted to touch a film like this. I don't have any new protagonists, no big stars, and then it's getting a different story that is very much away from the Bollywood formula, so that was extremely challenging for me to find finance for the film. That's when my husband decided to produce the film and he said he'd raise the finances and we finally got finance from two very, very beautiful human beings who were private investors who supported the film and they supported my vision too.
Yes, and it's very difficult to get a village to shoot in and that was a pretty big story because I went to a lot of villages. And when I went to the village, the men of the village would say that my being there would pollute their women's thoughts. So finally then we found a village, which wasn't very occupied. It was a very dilapidated and broken down village. So I mean like any film, honestly every film has lots and lots of challenges, but the thing is every person who working on the film was so committed that even the challenges didn't feel like challenge to us.
Q: How does the theme of the movie, which is really about the struggle of the woman in these villages, which frankly the Americans are really not very familiar with, reflect or demonstrate the political landscape, meaning that current women movement in India right now?
A: The stories of the village have risen in cities, in the bigger cities, not just in India but across the world, and that's me speaking from my personal experience after having traveled half the world. So basically what I'm trying to show in the film is people just conditioning in the system, which haven't caught up with education and progress. I mean look at America, it's still fighting that women don't have enough freedom and power. For instance, there's not enough women filmmakers.
What I'm getting here in this village, which at least has an excuse that they don't have education and they don't have information. Well what's the excuse for professors exactly? What's the excuse for having similar story happening right in my backyard here? So I believe that what I'm trying to say in this film in the small little village has the ability to reflect on universalities and generations.
Q: Despite the gravity of the topic, the movie is so mixed with a certain sense of optimisms and some sort of Bollywood fun. Were you adamant about having a happy ending for these women in this film?
A: That is my belief system: I feel that nothing can be down and nothing exists without hope and I think that's the same with life too. It's all up and down. It's not just because somebody has a bad situation doesn't mean she's going to be depressed and sad all the time. In fact the more you're depressed, the more you seek up laughter. You want to laugh. But for me, that's my view of life, that it's never only one storm. Life is very plentiful. And I feel the same about films. If I'm trying to tell you about some very hard facts, I cannot leave you at the end of the film to go out and beat the world. So I know that I would always want to end with hope because there is nothing without hope.
Q: Yes. So there are a couple moments in the film that can be misinterpreted as romantic, so like how – – between the women, how should we really understand the relationship between the characters, especially the female characters in Parched?
A: Especially about the scene that you're talking, yeah, I mean everything is presentation. You will read emotions from your perception of what your life has been, so I would not like to restate what that means. But for me, especially the scene between the two women was, as a filmmaker, I was highlighting something, which I want to talk about, and that's touch. We are forgetting to touch each other and we need that. As human beings, we need to be touched. We are forgetting to touch each other, and that is a sensor experience that is much stronger than seeing. So for me, it was doing the scene between these women where they have a whole conversation by just touch without speaking a single word.
Q: So FF2 Media has a Penny Blog that focuses on female filmmakers. I'm actually wondering whether you have some advice for upcoming women artists to support them.
A: First thing, forget any restricting belief, which has ever been put into your head about you being a woman and not being able to do anything. Look at your sense as an individual. So as a woman, firstly don't have any restrictions and, secondly, don't ask for privileges. You're an individual and you're different from everybody else and that's the only thing you have to remember because that is what creativity comes from. And don't let anybody tell you that you cannot do anything. And if you really want to put something out there and to get a story, there will be a way, and don't give up on that.