I don't know what it's like to have grown up with the original Ghostbusters, but I do know what it's like to love a movie for its pure fun and to take comfort in going back to it. To me, that feeling explains the excitement surrounding Paul Feig's 2016 Ghostbusters, a fittingly zany new story that is a welcome revival of the world populated by green-gooey, glowing supernatural creatures. (AEL: 3.5/5)
Review by FF2 Intern Amelie E. Lasker
I've noticed that writers of female protagonists in recent comedies tend to emphasize these characters' unique energy, a kind of childish inability to submit to the seriousness of the world. The new Ghostbusters, reimagined by writers Katie Dippold and Paul Feig, are no exception.
Physics professor "Erin Gilbert" (Kristen Wiig) has to suppress her personality in order to get tenure, "Abby Yates" (Melissa McCarthy) and "Jillian Holtzmann" (Kate McKinnon) love playing with their gadgets while conducting supernatural studies no one wants to fund, and their newest team member "Patty Tolan" (Leslie Jones) is persistently and optimistically friendly to inattentive New Yorkers at her monotonous MTA job.
Unlike the original Ghostbusters, this new team finds it a real challenge to make people understand the importance of their mission. For one, the four make up an extremely enthusiastic group. When they set out on ghost-hunting missions, they blast through the city, siren blaring, in a brightly painted hearse. Worse, the movie's New York public is very unwilling to believe in the coming of a supernatural apocalypse, and "Mayor Bradley" (Andy Garcia) and his assistant "Jennifer Lynch" (Cecily Strong) are reinforcing the people's complacency.
The audience knows, of course, that the Ghostbusters are going to save New York City despite all their kooky noise, and that their energetic banter is actually (pseudo-) scientific. When the outcome of events proves the Ghostbusters right, it's satisfying to see them finally taken seriously.
The movie is mostly action, heavy special effects, and silliness. Appearances by original Ghostbusters cast members–including Billy Murray (a funny addition as famed ghost-debunker "Dr. Heiss") and Sigourney Weaver–add to the fun.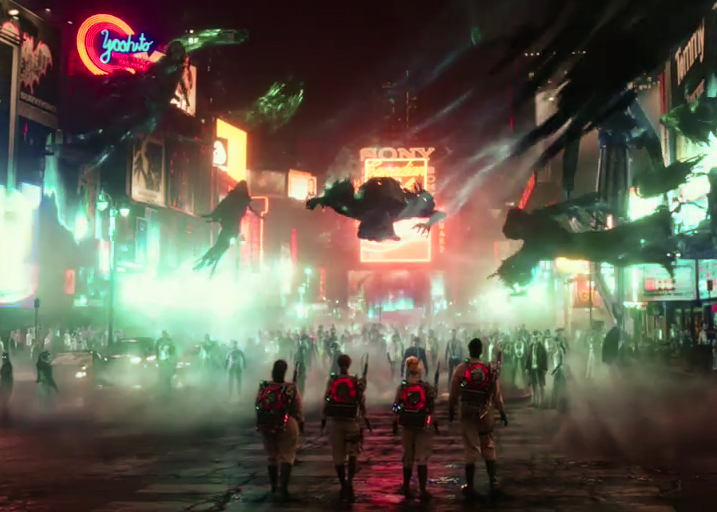 Top photo: Melissa McCarthy as "Abby" and Kate McKinnon as "Jillian" capture a ghost.
Bottom photo: Melissa McCarthy (Abby), Kristen Wiig (Erin), Kate McKinnon (Jillian) & Leslie Jones (Patty).
Photo Credits: Hopper Stone
Q: Does Ghostbusters (2016) pass the Bechdel-Wallace Test?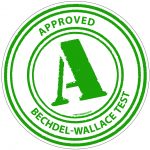 Of course! The four Ghostbusters, and a number of female supporting characters (as real estate agents, reporters, and mayor's assistant), have all kinds of saving-the-world to discuss.
© Amelie E. Lasker FF2 Media (7/18/16)