I ain't afraid of no ghost girls.
Katie Dippold and Paul Feig's remake of Ivan Reitman's '80s classic offers up a funny, enjoyable ride through the green-slimed streets of New York City. Although the special effects create a fun movie-going experience, it's the real-life comedians and surprising cameos that make Ghostbusters a fun holdover during Saturday Night Live hiatus. (BKP: 4/5)
Review by Managing Editor Brigid K. Presecky
Comedians don't typically have grand green screens and busy streets to work with when they're standing on a constructed stage in Studio 8H in Rockefeller Plaza, The Second City in Chicago or The Groundlings in Los Angeles. Maybe that's why the funniest moments in 2016's Ghostbusters remake came without proton blasters, evil pilgrim balloons or glowy vortexes. 
Kate McKinnon, Melissa McCarthy, Kristen Wiig  and Leslie Jones team up as three scientists and local a MTA employee trying to take down the growing number of supernatural spirits roaming New York City. The combination of comedy (Wiig's mumbling, McKinnon's zingers, McCarthy's shrillness and Jones' timing) make for a believable chemistry that carries the film through the silly, extended plot.
Numerous cameos from Paul Feig favorites provide a bulk of the laughs, like Cecily Strong, Michael McDonald and Saturday Night Live writer/producer and Freaks and Geeks alumnus Steve Higgins. Even if you walk out of the theater and can't remember their specific lines of dialogue, it was the presence of these comedians that made you smile. And when an actor's presence can immediately make you laugh (here's looking at you, Zach Woods) there's something to be said for their talent.
Dippold and Feig never stoop to low jokes or a mockery of the female-led cast. In fact, they let the characters be their smart, tech-savvy selves and leave the "dumb blonde" role to a perfectly cast Chris Hemsworth. At one point, Wiig's character explains her sad backstory in an attempt to make the characters seem vulnerable and purposeful, but her spectacular dramatic acting almost felt suited for a different film. Wiig is so good that it felt out of place in this blockbuster comedy, in which all of her signature SNL characters make an appearance simply through her facial expressions (Target Lady, Penelope, Aunt Linda, etc.). However, it also shows the range that these actresses can go to while still keeping the viewers laughing.
Director Paul Feig took to Twitter on the day of the film's release, saying, "GB's now open here. It's been quite a ride, gang. Supporters, you rock. Haters, I've heard you all. Now let's all just have fun. We need it." …. We most certainly do.
© Brigid K. Presecky FF2 Media (7/15/16)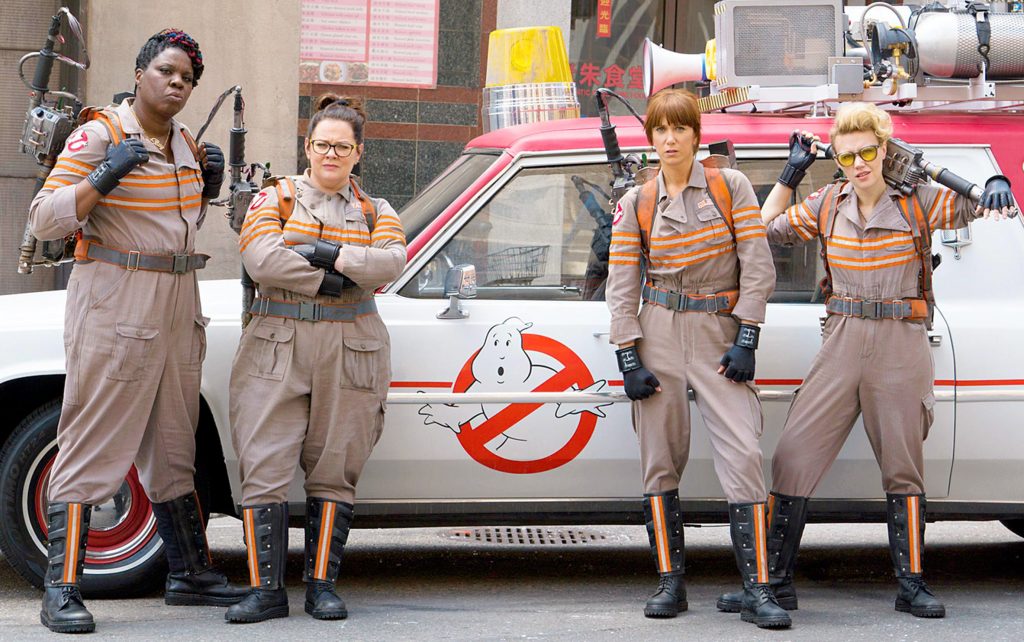 Top Photo: Brigid (on right) with Jasmine. Photo Credit: Jessica Perry
Bottom Photo: Who Ya Gonna Call? From Left: Leslie Jones (Patty), Melissa McCarthy (Abby), Kristen Wiig (Erin) & Kate McKinnon (Jillian).
Photo Credits: Hopper Stone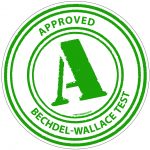 Q: Does Ghostbusters (2016) pass the Bechdel-Wallace Test?

D'Uh!!!